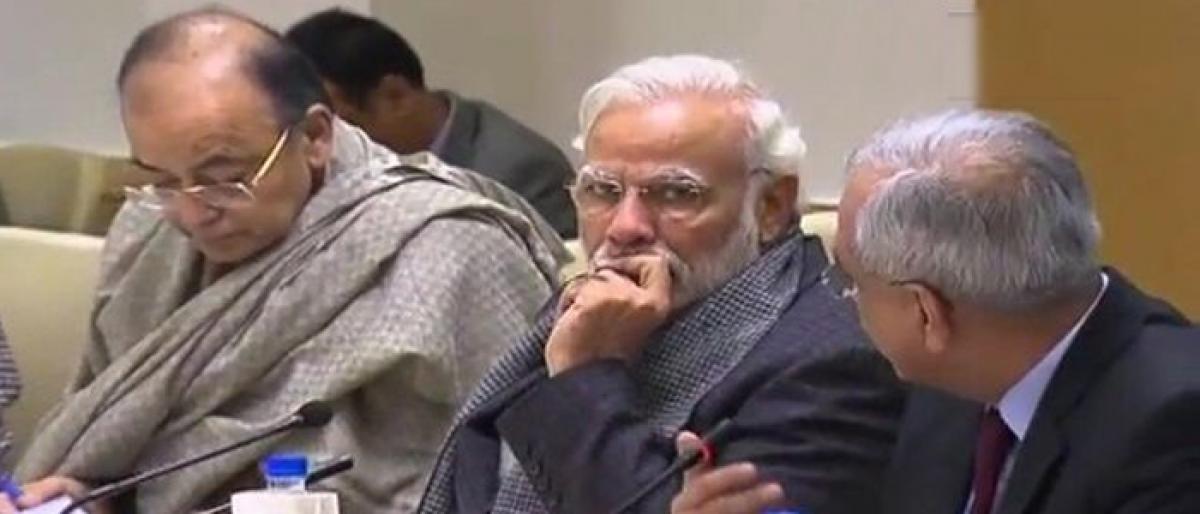 Highlights
Days before Prime Minister Narendra Modi addresses global investors at the annual Davos World Economic Forum (WEF), the Union Cabinet on Wednesday...
New Delhi: Days before Prime Minister Narendra Modi addresses global investors at the annual Davos World Economic Forum (WEF), the Union Cabinet on Wednesday further eased foreign direct investment (FDI) norms in key sectors like retail, civil aviation, construction and power exchanges.
The move comes at a time when the Indian economy is going through a soft patch and the government is fiscally constrained to step up public spending to support recovery. Now foreign companies can invest up to 100% through the automatic route in their single brand retail operations in India.
Until now, they were allowed to invest only up to 49% through this route. For additional investment, they were required to obtain government approval. The mandatory requirement of purchasing 30% goods locally, a major put-off for foreign retailers, too has been diluted. Now the government has decided "to permit single brand retail trading entity to set off its incremental sourcing of goods from India for global operations during initial 5 years, beginning April 1 of the year of the opening of first store against the mandatory sourcing requirement of 30% of purchases," said an official release.
"For this purpose, incremental sourcing will mean the increase in terms of value of such global sourcing from India for that single brand in rupee terms in a particular financial year over the preceding financial year, by the non-resident entities undertaking single brand retail trading entity, either directly or through their group companies.
After completion of this five-year period, the single bran retailer will be required to meet the 30% sourcing norms directly towards its India's operation, on an annual basis," the release further stated. The decision will benefit world's leading smartphone maker Apple and Swedish home furnishing major IKEA, which have set up shop here.
To widen competition for the purchase of Air India, which is to be put on the block soon as part of the disinvestment plan, the government has also lifted the restriction barring foreign airlines from picking up stakes in the national carrier. Now overseas players can take up to 49% stakes in Air India subject to government approval.
This is a major climb-down by the Modi government, which had earlier disfavoured purchase of Air India assets by foreign players. It seems that domestic private operators' low interest in the national carrier has forced the government to change its mind.
The Cabinet has also relaxed FDI norms for power exchanges. Until now, foreign investors were supposed to invest in power exchanges through the secondary market only. Now the restriction has been lifted and foreign players can invest up to 49% via the primary market as well.
As of now, India has just operational power exchanges – Indian Energy Exchange and Power Exchange of India. But the cabinet decision might open the door for setting up of a third power exchange in the country. The government is considering raising the ceiling for single-player foreign investment from 5% to 15%, industry sources said.
The Cabinet has also allowed 100% FDI in real estate broking services by clarifying that it does not amount to real estate business.With domestic private players reluctant to make fresh investment, the Modi government has been wooing foreign investors with relaxed FDI norms. It has recently abolished the Foreign Investment Promotion Board, the screening committee which was an anathema to foreign investors.
In November 2015, the government liberalised FDI norms for more than 15 sectors including construction to attract investment. The annual Davos jamboree begins on January 22. The Prime Minister is expected to lead a delegation of more than 100 CEOs, including Mukesh Ambani, Chanda Kochhar and Uday Kotak.
This will be the first time in 20 years when an Indian Prime Minister will attend the Davos event. In 1997, then prime minister H D Deve Gowda had attended the WEF meet.
Subscribed Failed...
Subscribed Successfully...