Vajpayee still critical, on full life support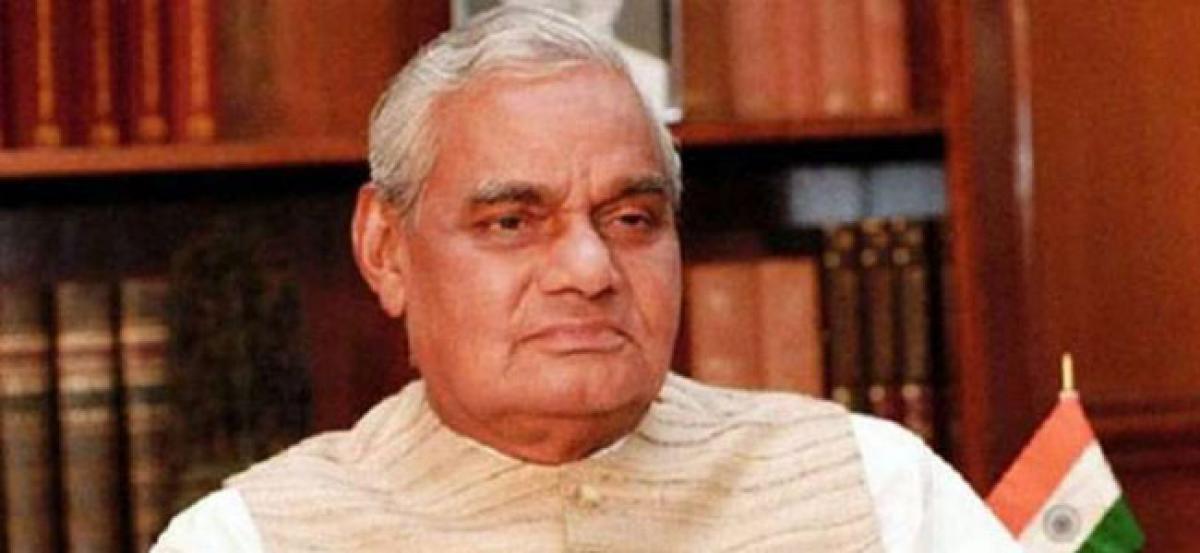 Highlights
The condition of former Prime Minister of India, Atal Bihari Vajpayee is critical and is on full life support Yesterday at 1020 pm the AIIMS, New Delhi issued a press release where Vajpayees condition was told He has been admitted for the past 9 weeks and his condition got worsened in the past 24 hours
NEW DELHI: The condition of former Prime Minister of India, Atal Bihari Vajpayee is critical and is on full life support. Yesterday at 10:20 pm the AIIMS, New Delhi issued a press release where Vajpayee's condition was told. He has been admitted for the past 9 weeks and his condition got worsened in the past 24 hours.
He is a diabetic and has only one functional kidney. In 2009, he suffered a stroke which weakened his cognitive abilities and later developed Dementia.
Union Ministers Harsh Vardhan, Ashwini Kumar Choubey and Suresh Prabhu met him at AIIMS yesterday late in the night. Many ministers have been visiting the hospital to enquire about Vajpayee's health.
Today, early in the morning, the Vice President of India, Venkaiah Naidu visited AIIMS and later Delhi CM Arvind Kejriwal, BJP chief Amit Shah, CM of West Bengal, Mamata Banerjee, Home Minister Rajnath Singh, senior leader LK Advani and PM Modi visited the former PM.
Family members of Vajpayee from Gwalior and Agra have reached AIIMS. At 11:00 am this morning the AIIMS issued another press release stating the health of Vajpayee continues to be critical and is on full life support. Next press release is expected to be released around 12 in the noon.
School children in Lucknow are praying for Vajpayee. Many ministers including UP CM Yogi, Bihar CM Nitish Kumar, Assam Cm Sonowal are expected in Delhi later during the day.
Delhi: Delhi CM Arvind Kejriwal and Deputy CM Manish Sisodia arrive at All India Institute of Medical Sciences where former Prime Minister #AtalBihariVaajpayee is admitted. pic.twitter.com/7clp2dTuqI

— ANI (@ANI) August 16, 2018
Prayers underway for #AtalBihariVaajpayee in ND Convent Public School in Lucknow pic.twitter.com/XfGCPmosE4

— ANI UP (@ANINewsUP) August 16, 2018
EAM Sushma Swaraj and Agriculture Minister Radha Mohan Singh arrive at All India Institute of Medical Sciences where former Prime Minister Atal Bihari Vajpayee is admitted. Vajpayee is on life support system. pic.twitter.com/5tyeZYuR5k

— ANI (@ANI) August 16, 2018
#Delhi: Union Home Minister Rajnath Singh arrives at All India Institute of Medical Sciences where former Prime Minister Atal Bihari Vajpayee is admitted. Vajpayee's condition is critical & he is on life support system pic.twitter.com/X4YOLvwInm

— ANI (@ANI) August 16, 2018
BJP President Amit Shah arrives at All India Institute of Medical Sciences (AIIMS) where former Prime Minister Atal Bihari Vajpayee is admitted. Vajpayee's condition is critical & he is on life support system. #Delhi pic.twitter.com/CbjIqyHruD

— ANI (@ANI) August 16, 2018
Vice President M Venkaiah Naidu leaves All India Institute of Medical Sciences (AIIMS) where former Prime Minister Atal Bihari Vajpayee is admitted. Vajpayee's condition is critical & he is on life support system. #Delhi pic.twitter.com/jzJ4i5mihq

— ANI (@ANI) August 16, 2018
Union Minister Harsh Vardhan leaves from All India Institute of Medical Sciences (AIIMS) after meeting former Prime Minister Atal Bihari Vajpayee. #Delhi pic.twitter.com/clwguOHmwE

— ANI (@ANI) August 15, 2018
Union Minister Suresh Prabhu reaches All India Institute of Medical Sciences (AIIMS) to meet former Prime Minister Atal Bihari Vajpayee. #Delhi pic.twitter.com/7EXmsLguYM

— ANI (@ANI) August 15, 2018