Kerala floods: CM urges for Special Assembly Session on relief work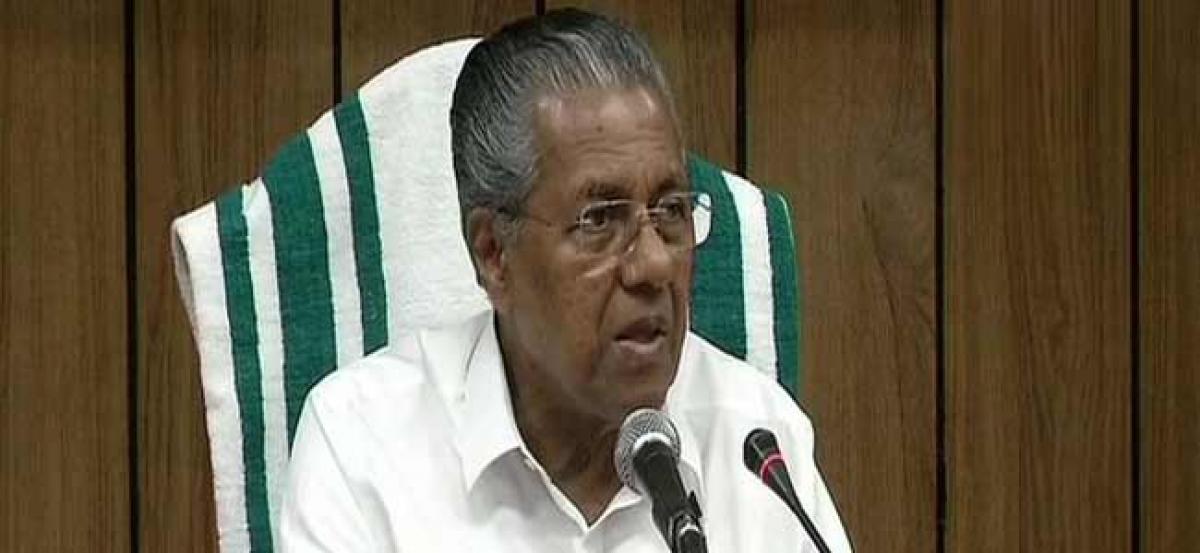 Highlights
Kerala Chief Minister Pinarayi Vijayan on Tuesday announced that his government has decided to convene a Special Assembly Session on August 30 to discuss relief, rehabilitation and reconstruction of Kerala after floods Vijayan said a letter will be sent shortly to the Governor urging him to convene a Special Assembly Session next week
Trivandrum (Kerala): Kerala Chief Minister Pinarayi Vijayan on Tuesday announced that his government has decided to convene a Special Assembly Session on August 30 to discuss relief, rehabilitation and reconstruction of Kerala after floods. Vijayan said a letter will be sent shortly to the Governor urging him to convene a Special Assembly Session next week.
The Chief Minister also asserted that the Kerala cabinet has decided to submit a comprehensive plan to the Centre for rehabilitation and rebuilding of Kerala.
While addressing the media here, Vijayan said that "Our aim is not merely a restoration of the state to pre-flood times but the creation of a new Kerala."
"The reconstruction demands mobilisation of resources in a large way. The state will demand Centre to raise the ceiling on borrowing for the state to 4.5 per cent of the GDP, which is pegged at 3 per cent now. This will help to raise an additional Rs 10,500 crore from the market. The state will request NABARD for a special scheme to implement long-term projects for infrastructure development in agriculture, irrigation and associated areas and social sectors," the Chief Minister said.
Highlighting the need for a special package from the central schemes, Vijayan demanded a package to the tune of Rs 2600 crore from MGNREGA.
"A moratorium was announced for bank loans in the flood-affected areas, which will be applicable to both commercial and cooperative banks. However, the behaviour of some private financial institutions is disturbing. Some have even approached people living in relief camps for collecting interests. Such appalling practices must be stopped," he added.
The Kerala Chief Minister also informed that the United Arab Emirates (UAE) government has offered a financial assistance of Rs 700 crore for the relief work following the destruction. Russian President Vladimir Putin in a message to India also expressed condolences over the devastating floods in the state.
The Madhya Pradesh Police has donated Rs. 1.31 crore to Kerala Chief Minister's Distress Relief Fund. In addition, all police personnel of the state would donate their one day's salary for the same.
Various NGOs have also started mobilising funds for relief and rehabilitation of the flood victims. ActionAid announced it is rolling out interventions in Alappuzha, Idduki, Pathanamthitta and Wayanad districts by distributing water tanks, water purifying systems and tablets, food, dry rations, material for temporary shelter and shelter cleaning support.
Kerala faced the worst flooding in a century this monsoon season. The death toll due to the deluge has increased to 357, while the state has suffered a loss of Rs 19,512 crore.