Mayawati has faith in Rahul, Sonia Gandhi; "creases can be ironed out'' : Congress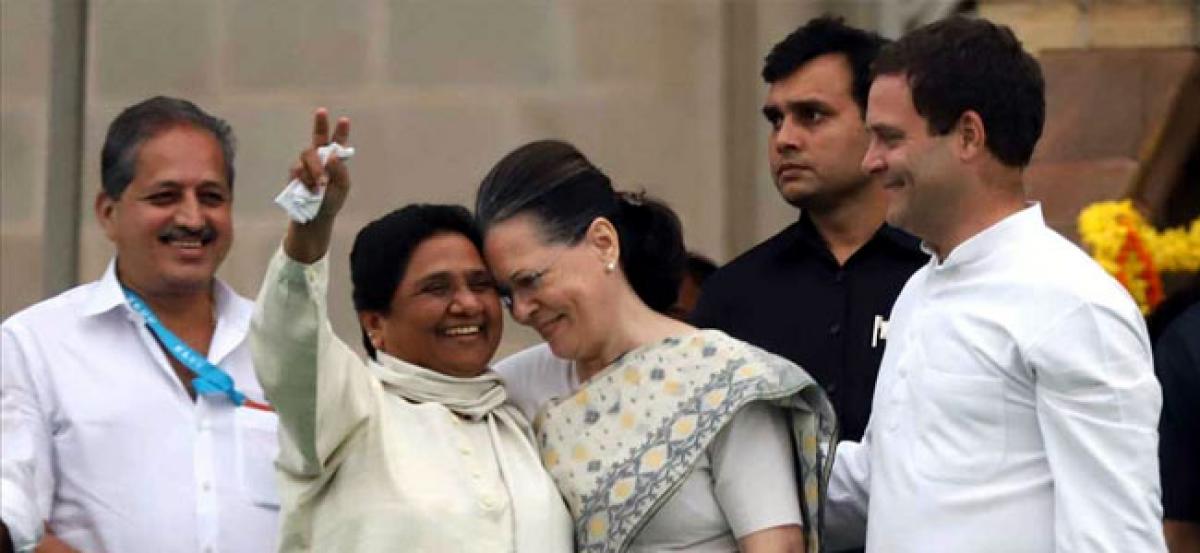 Highlights
Congress chief spokesperson Randeep Surjewala said the partys goal of vanquishing the BJP is clear and if any party walks along with it in achieving it is welcome, otherwise there can be a healthy contest in this fight against the BJP and there is nothing wrong in it as happened in the past
NEW DELHI: Congress chief spokesperson Randeep Surjewala said the party's goal of vanquishing the BJP is clear and if any party walks along with it in achieving it is welcome, otherwise there can be a "healthy contest" in this fight against the BJP and there is nothing wrong in it as happened in the past."Mayawati has expressed her sentiments and we respect that. She has reposed full faith in Rahul ji and Sonia ji and we respect that too. If there is harmony among Sonia Gandhi, who is our guide, and Rahul Gandhi, who is our leader, and Mayawati ji, then no fourth person can create a rift among them,if there are any creases left, they will be ironed out mutually among them with harmony," he told reporters.
Mayawati's announcement on Wednesday that her party won't forming any alliance with it in the Madhya Pradesh and Rajasthan assembly polls, the Congress hoped that the BSP chief resting her faith in Rahul and Sonia Gandhi will provide it a window of opportunity and "creases will be ironed out" with harmony.
Surjewala also said that once the leaders have amicable, respectable, faithfull relationship with each other, "all other creases can be ironed out".Earlier, Mayawati proclaimed that her party will contest assembly elections in Rajasthan and Madhya Pradesh either on its own or in alliance with regional parties but not with the Congress."I don't think so alliances are discussed or announced in press conferences. I think her statement says a lot and that is what you should think," Surjewala said
On the charges levelled by Mayawati against certain Congress leaders, he said decisions on alliances and discourses on them between parties are not talked about in press conferences.Surjewala said, "Be it with one party or another, be it in Madhya Pradesh, Chhattisgarh, Rajasthan or Telangana, the state units and leadership will decide with whom they wish to ally or not to strengthen the opposition and they will deliberate with the alliances committee set up for the purpose''.
The state units will converse with the alliance committee and then take a decision, on whether an alliance is to be forged to defeat the BJP in Madhya Pradesh, Rajasthan and Chhattisgarh and with TRS in Telangana, he said.
There is nothing wrong in this, as this has happened in the past too.""The Congress's goal is one, other parties may have many goals, but the Congress goal in Chhattisgarh, Madhya Pradesh and Rajasthan is to free the people of the states from the tyranny of BJP rule and convert the demolition caused by BJP governments there into the stream of development, and In this yajna, those who will support the Congress will move together with us and they are welcome according to the political situation. Those who are unable to walk along are free to choose their own path. But, that does not mean, the Congress's pledge and fight against the BJP and in removing it has weakened. It can be a thought of a particular person, but not us," Surjewala said.
He said the party does not agree with any condemnation of its leaders by such a person. "Sometimes, some statements are given by leaders in an emotional flow, but the target of the eye is not lost," he said.Mayawati has accused the Congress of trying to "finish" the BSP, saying the grand old party is more interested in ending demolishing her party than dislodging the BJP.
"In Karnataka we tied up with regional party. In Chhattisgarh too, we did the same. Now we have decided to go alone in Madhya Pradesh and Rajasthan. We may go with regional parties there but certainly not with the Congress," she read out a statement.
After charges by Mayawati against him, Congress leader Digvijaya Singh said that he has been a bitter critic of Narendra Modi, Amit Shah, BJP and the RSS and he will follow Rahul Gandhi's directions.
He also said that he already made it clear that he respects Mayawati and has been in favour of Congress-BSP alliance from the start and talks between the two parties have already been held but she has announced candidates for 22 seats.