KCR showing shades of YSR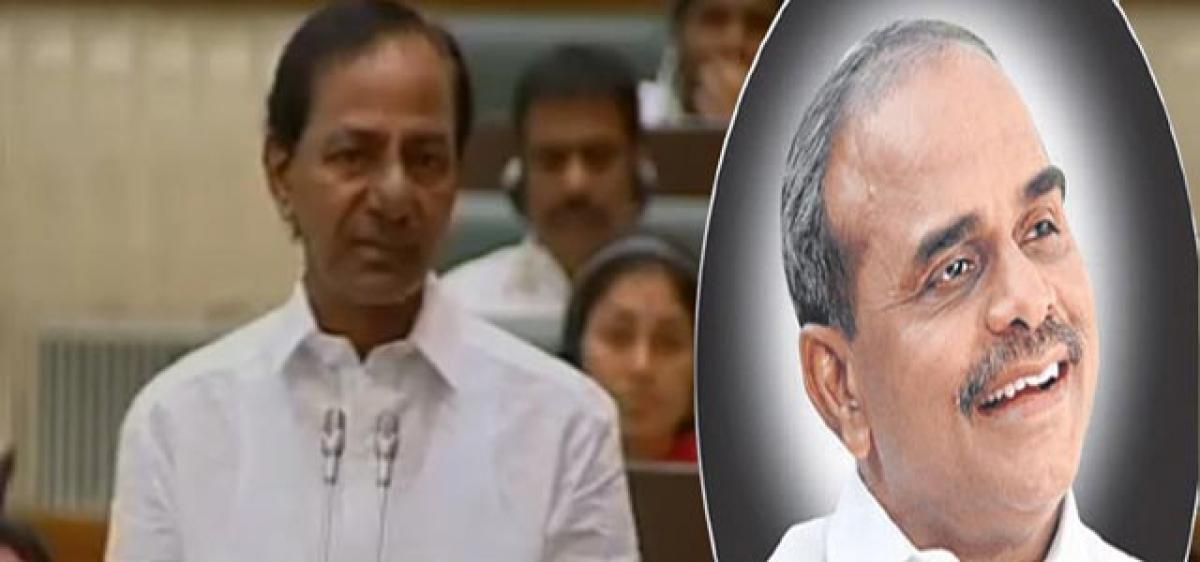 Highlights
There has never been any denial that Telangana State Chief Minister K Chandrasekhar Rao (KCR) is a master strategist. As a seasoned politician who has...
There has never been any denial that Telangana State Chief Minister K Chandrasekhar Rao (KCR) is a master strategist. As a seasoned politician who has survived the rough and tumble of politics with his brand of inimitable mechanism that has, time and again, helped catch the opposition of the wrong-foot.
Today, as the pro and anti-ruling party rumblings gather steam across various platforms, KCR is almost certainly taking cue from the hugely successful route traversed by YS Rajasekara Reddy. YSR had a political windfall and ensured a return to power against all possible odds while going about a refurbished housing scheme ahead of the 2009 elections. That was a smart move by the Congress stalwart.
It may be recalled the Congress party led by YSR hoped to romp home with a landslide when he propped up Jalayagnam programme on a massive scale only to realise midway through that the scheme could sound the death-knell. KCR seems to have been inspired by the change in strategy that yielded a golden harvest.
The decision to go about 'revival' of rural economy is a two-edged weapon for the TRS government. If the government can deliver at least 60 percent of the assurances given by the Chief Minister, then it would rain votes for the party just as the housing scheme had helped YS Rajasekhara Reddy in 2009 elections.
It appears that the TRS too is of the opinion that merely bragging about Mission Bhagiratha and Mission Kakatiya would fall short of the people's expectations, particularly as 2019 is not very off, at least in electoral parlance. The opposition parties have already taken up agitations in various forms and are focusing on non-implementation of two bed room housing scheme, delay in fee reimbursement and non-distribution of three acre land to Dalits and irrigation projects facing legal hurdles.
There is also criticism that the State is being pushed into a debt-trap. Against this backdrop, the Chief Minister seems to have felt that taking up the slogan of 'back to villages' and reviving traditional trades like sheep rearing and encouraging local human resources, as KCR likes to call them, would bowl over the opposition parties.
The series of schemes he has announced in the 2017-18 Budget is considered as a bold step and particular aimed at winning over rural voters. The opposition parties are yet to recover from the deadly blow they received after 2014 elections. KCR is firm that the new slogan will ensure that the popularity of the TRS continues to hold its sway over the people of the State. Keeping this in mind, KCR has given top priority for development of sheep-rearing and attracting other communities like Nayee Brahmins, Viswakarmas, among others.
He is of the firm opinion that development of fisheries and sheep- rearing would play a major role in revamping rural economy. He hopes to ensure that the State becomes a major exporter of sheep and meat. That is precisely why he allocated more than Rs 6000 crore for BC welfare of which Rs 2,000 crore will be utilised for sheep and goat rearing. Rs 500 crore for fisheries and another Rs 500 crore for revival of traditional occupations in villages like mechanisation of laundry and setting up of modern saloons.
KCR emphasized on the floor of the Legislative Assembly that rural development is the new economic lifeline. The government is also pinning hopes on the blue revolution. However, the opposition parties feel that KCR has set a mammoth task for himself. Their argument is that it is difficult to get 80 lakh sheep for distribution as that many are not available, in the first place.
The sheep available in North India cannot survive here because of weather conditions. The best suitable sheep are available only in Andhra Pradesh, Karnataka, Maharashtra and Tamil Nadu. The question doing the rounds is whether these States can supply that many sheep and goats within the time-frame fixed by KCR?
Even officials are skeptical about it. What explanation will the government give if it fails to do so? While one has to wait and watch the outcome of the dreams and aspirations of the government, the minister for Animal Husbandry T Srinivas Yadav is happy that a subject that is perceived as one fit for non-performing Ministers is suddenly being seen as the next big money-spinner. Amimal Husbandry has virtually become the nodal department to implement the schemes announced by the Chief Minister.
By V RAMU SARMA
Subscribed Failed...
Subscribed Successfully...