Make hay while the fake shines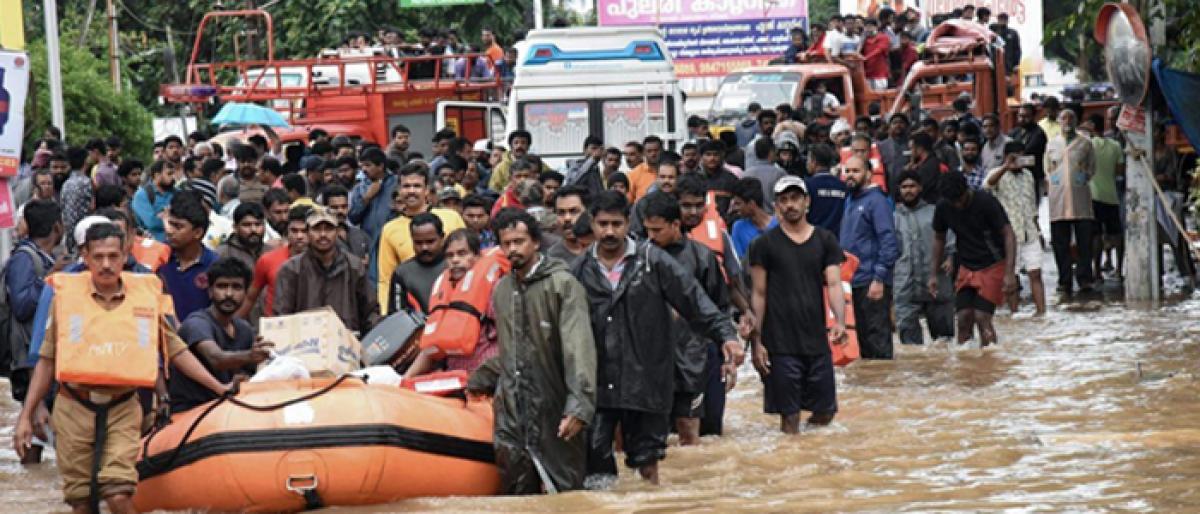 Highlights
Keralas tragedy is not just about floods its about the flood of fake news Its about a deluge of diatribe on development It is mostly about drowning...
Kerala's tragedy is not just about floods – it's about the flood of fake news. It's about a deluge of diatribe on development. It is mostly about drowning Kerala's distress under the cacophony of created content.
In this mayhem, is there a great lesson for India?
What is your poison? A FAKE please
On Monday, India was woken up harshly by this tweet.
"Arnab Cowswamy, unofficial spokesman of the sanghis (RSS), calls victims of Kerala floods "the most shameless bunch of Indians I have ever seen. Kerala's cohesive multicultural society, threatens the Hindu fascist project."
For some of us who were shocked by the venom in the tweet, here's the background. Arnab apparently hosted a show on Kerala and blamed a bunch of people who created fake news on UAE promise of $700 to India. His words 'anti-nationals' and 'shameless' directed at fake news creators were projected to the world as Arnab calling Keralites shameless!
All hell broke loose soon after. Nobody bothered to check the veracity of the video. They just pounced on the offered carrot and made a recipe of hate out of it. Thousands of messages against Arnab appeared in a matter of minutes – soon the world wide web wore but a red ensemble. This forms the crux of my article. How an objective discussion, righteous indignation against fake news creators is morphed into something unimaginable…
The story does not end here.
Soon followed a tweet from the flamboyant Congress MP Shashi Tharoor: "Given the disgraceful attacks on Malayalis in general by some petty minds, it's time for us to stand up for ourselves. Let's evoke the reasons why we are #ProudToBeMalayali."
But Shashi Tharoor is no ordinary man. He enjoys a mindshare like none other. Contrary to the popular belief that public memory is short, in his case, it's quite large and the content sure is indexed for easy retrieval. Tharoor should know that all facets of his personality will be dragged into discussions – that his anticipatory bail plea now requires a status report to be filed on orders from the Delhi High Court, is public knowledge.
Social media is but a café for controversies.
Not many forgot that he is being investigated for the alleged offences under Sections 498A (husband or his relative subjecting a woman to cruelty) and 306 (abetment of suicide) of the Indian Penal Code (IPC). Many would have kept records of how he stage-managed his withdrawal from UN elections even as he claimed to be the most deserving candidate for the top post or how he wasted India's diplomatic efforts to ensure his victory.
Tharoor assumed that by tweeting about reformers and religions is enough to inflame senses of Keralites, but I wonder if he is prepared for what might happen next. His background could augment every hungry netizen's appetite - especially given the political, diplomatic, cultural and criminal facets of his persona.
Fake, as we know spares no one..
Manage The Mayhem
Social media spawned more fake news than people could chew or digest. It meandered into the hearts of people, played mind games and made everyone, in some way invested in Kerala. The volume, velocity and variety of fake information – ranging from Prime Ministers rejection of foreign aid, bursting of dams, calls for rescue to the quantum of help required was so huge that it will be a case study to remember on BIG DATA.
Everyone had something to say, every opinion exposed a bias Social media became a practice ground for many to hone their abilities to argue, play the intellectual and to be an opinion shaper. Not surprisingly logic and the voice of the sane drowned under the cacophony of created content.
What marked a new low in the 24x 7 reportage in electronic media was when people with no subject matter expertise were invited to talk about a crisis of this magnitude. Those discussions pointless subject wise, were meant to rouse emotions. Prime Minister became the target of attacks. Just like how rivers changed course in Kerala, some selfish people changed the course of discussions, deviating from the important to their improvised agenda.
While experts on climate change sat glued to their TV sets, the freewheelers and wannabes managed to grab the eyeballs. Not many channels had the strength of character to go into the depth of disaster management science or case studies where solutions could be picked. It seems Kerala was just an excuse to hurl abuses at political opponents. Staying neutral and sane remained a goal quite unattainable.
This mayhem gained momentum when a national media house announced that India rejected the UAE Crown Prince's offer of $700. Then the discussions went off on a tizzy- about treaties signed, tacit understanding between nations and power posturing during crises.
Not wanting to lose an opportunity, the foreign media - The New York Times, Fox News, Deutsche Welle – stepped in. Predictably, they highlighted the supposed political confrontation between the Kerala state government and the central government.
Sadly, for the International media, the Kerala Chief Minister has publicly expressed more than once his gratitude for the help from the Centre and also counseled everyone against raking up controversies. PM Modi, and the Ministry of External Affairs too offered clarifications on matters relevant. Later the Army and the Chief Minister went on to issue a warning to those involved in such activities to abstain from spreading misinformation.
As it stands today, social media is anything but social. It is a gory battleground where cuss words are chosen over swords. The Internet currently is ablaze with many a fiery face–off.
Interestingly, years ago an American diplomat Robin Raphel posted in New Delhi apparently claimed that she needed just three minutes to rake up a controversy in India. How very true and how sad that she stands vindicated today!
India's biggest disaster management efforts should first be diverted towards controlling this fake news virus. All that this virus needs is two things - Venom and Vulnerability. Right now available in India - APLENTY.
Let me sign off with a poem written by me.
Make FAKE in INDIA
Not just a figment of imagination this Monster managed maliciously Birthed in a lab of lies Seeded Incubated Nourished Grown A cell to a tissueTissue to an organ Organ to a body - of work on fiction Waltzing the world Courting danger Morphing form Even as she eats her mateHe no longer is tantalizing news.
Subscribed Failed...
Subscribed Successfully...