HPRC joins hands wit Academia Sports Village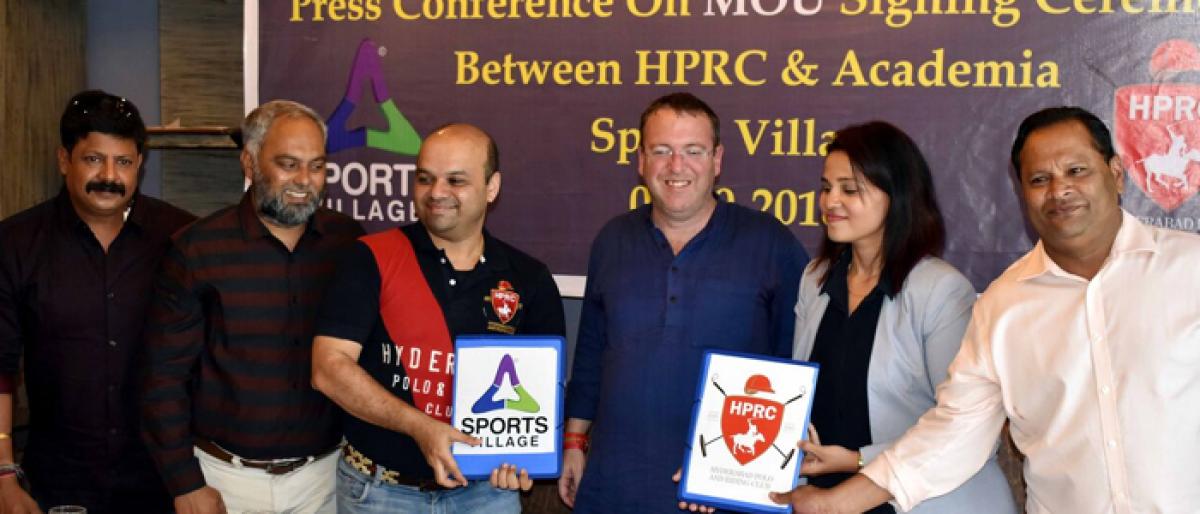 Highlights
British Deputy High Commissioner in Hyderabad, Andrew Fleming, on Tuesday opined that Hyderabad is gradually enhancing its reputation as a multicultural city that is on the threshold of emerging as the nervecentre for a multitude of sports disciplines This has helped usher in a vibrant sports culture, he contended
​Hyderabad: British Deputy High Commissioner in Hyderabad, Andrew Fleming, on Tuesday opined that Hyderabad is gradually enhancing its reputation as a multi-cultural city that is on the threshold of emerging as the nerve-centre for a multitude of sports disciplines. This has helped usher in a vibrant sports culture, he contended.
Praising the spurt in activities across several disciplines and singling out the steady rise in the popularity of football, he stated that a good development was that unlike in the past, today thousands of parents and guardians were willing to allow their wards to take to sports as a career option. This motivation would help in Telangana State boasting of many future Olympic medalists.
He was speaking after representatives from Hyderabad Polo and Riding Club (HPRC) and Academia Sports Village (ASV) signed and exchanged a Memorandum of Understanding (MoU) that cemented their coming together as joint promoters of tennis, football, basketball and a subsequent foray into swimming and badminton. Fleming also unveiled a jersey bearing logos of the two partners at the HPRC grounds.
Recalling the days when he was closely associated with the beautiful game back in his youth, Fleming pointed out that five-a-side football was peaking in Hyderabad. Incidentally, this facility has taken-off at HPRC and it would be overseen by administrators from ASV.
Appreciating the partnership between HPRC and ASV, he said that such associations will help in taking sports to the nooks and corners and also expose the budding sportspersons to the best of facilities and proven coaches and mentors. Moreover, this would create the right ambience for the players.
Pointing out that HPRC had always endeavoured to develop into a multi-discipline sports centre, Club President Chaitania R Kumar mentioned that although polo, equestrian and riding remained paramount to the Club, the tie-up with ASV would go a long way in providing platforms to those interested in making a name in tennis, football and basketball.
He said that the facilities that were used by its members would now be thrown open to all those under 21 years of age. He said ASV had eared plaudits for the diligent manner they supported the dreams and aspirations of young tennis and football players, thanks to their professional and exclusive tie-up with celebrated European clubs and academies.
CFO Durdana Arshi giving a list of the achievements and goals of ASV said that they will be conducting a tennis tournament at the HORC courts, tentatively during the ensuing Dasera holidays and a camp with overseas coaches in December. She said that they would ensure that ASV and HPRC would emerge the new sports destination with a model that would be worthy of emulation. Fleming also inaugurated a state-of-the-art gymnasium at the Club house.