J Ramesh: Hyderabad hockey's one-man army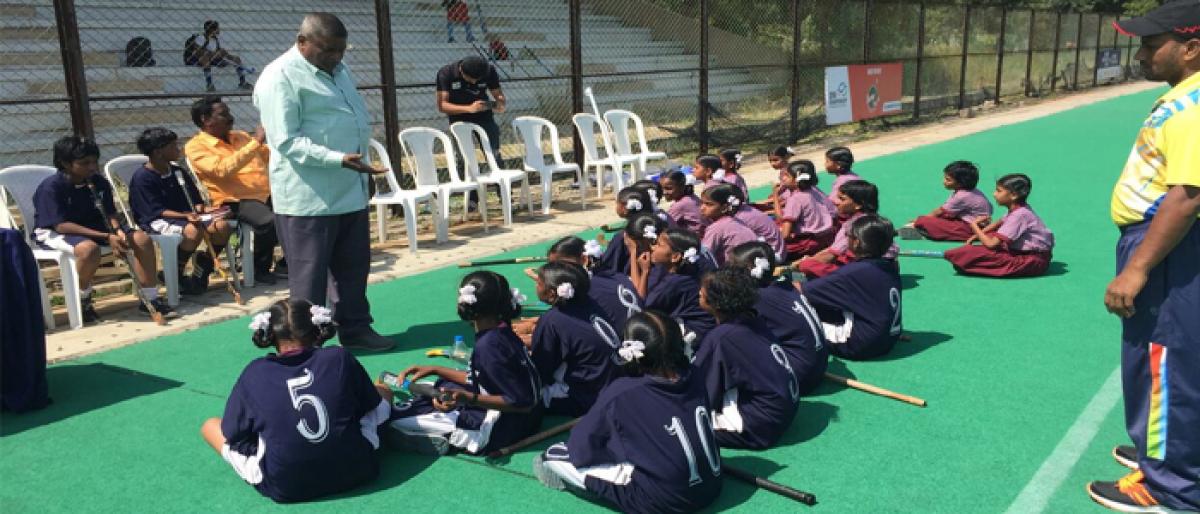 Highlights
Rarely does one witness a scenario where a coach is shouting instructions to two teams on the field playing against each other But such is the state of hockey in Hyderabad that former national player, now turned coach, J Ramesh has no one but himself to train the girls at TSWRS Narsingi School
​Hyderabad: Rarely does one witness a scenario where a coach is shouting instructions to two teams on the field playing against each other. But such is the state of hockey in Hyderabad that former national player, now turned coach, J Ramesh has no one but himself to train the girls at TSWRS Narsingi School.
SFA Championship gives the opportunity to field as many teams a school wants living up to their moto of "sports for all". Taking this opportunity the former cop, who played eight nationals, has not only coached the girls but have fielded as many as five teams, in different age groups, from the same school. To differentiate the teams, he has named them according to the colour of their uniform. So there is TSWRS Narsingi School Red, TSWRS Narsingi School Blue and TSWRS Narsingi School Purple.
"I spent Rs 13,000 getting their dresses ready. I wanted all of them to play and SFA is a wonderful platform as they give this opportunity to field as many teams the school wants. The school was not willing to send more than one team, but I insisted and here we are," said the coach who eats, sleeps and breathes hockey.
The games were a little disorganised and lack of long-time proper coaching was apparent, but the way under-12 girls K Kaveri of TSWRS Narsingi School Blue broke away from the herd, controlled the ball all through the turf before unleashing a powerful strike to the back of the board showed that these girls have skills, they just need some polishing and some guidance.
"What you are seeing here is performance after just one month of practice," added Ramesh proudly who has seven students from his coaching stable doing duty for the state team in the nationals.
Ramesh's efforts have borne fruit. TSWRS Narsingi School girls has swept all hockey medals on offer at the SFA Championship winning the U12, U14 and U16 titles. Chandan Singh, an NIS coach now, and who played in the inaugural edition of the Premier Hockey League when Hyderabad Sultans won the title under Sardar Singh's captaincy, rues at the lost opportunities.
"Hockey in Hyderabad was once at the top with legends like thrice Olympians Mukesh Kumar. People still like hockey here, the legends of the game, the administrators could have done a lot for the game here, but sadly nothing happened. The fraction at the national body made matters worse," said Chandan Singh.