Delay in appointment of judges denying justice to people: CJI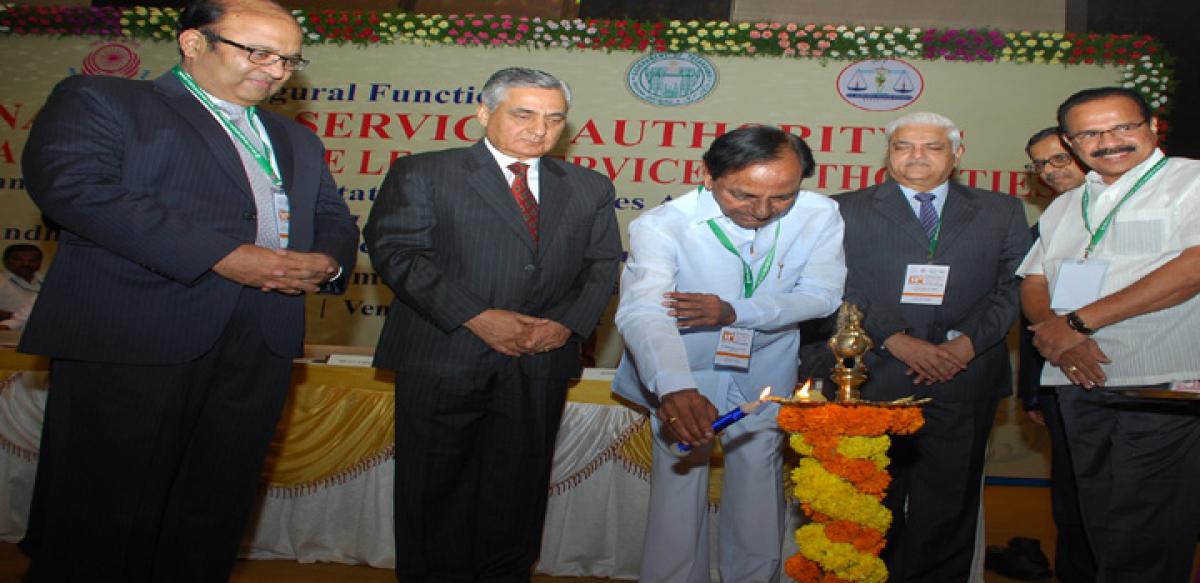 Highlights
Chief Justice of India T S Thakur said on Saturday that the process of appointing judges should not be delayed as it amounts to depriving the people of their fundamental right to access justice. Delivering his address at the 14th All India Meet of State Legal Services Authorities here on Saturday, he said, "It is the fundamental right of a citizen to access justice and if judges are not appointed
Hyderabad: Chief Justice of India T S Thakur said on Saturday that the process of appointing judges should not be delayed as it amounts to depriving the people of their fundamental right to access justice. Delivering his address at the 14th All India Meet of State Legal Services Authorities here on Saturday, he said, "It is the fundamental right of a citizen to access justice and if judges are not appointed you are actually depriving people of their fundamental right that is something which is totally unacceptable." The Chief Justice said that 130 names were recommended from various High Courts which are yet to be cleared by the Union Law Ministry.
"I am sure the Law Minister is going to process those because he realises that while we are open to improvement of whatever the procedural angle is, the process of appointments must go on because access to justice is something which has been recognised by the Supreme Court as fundamental," he added. The Union Minister for Law D V Sadananda Gowda was also present on the occasion.
Apparently, the Justice was referring to the issue where the Union Law Ministry was sitting over the names recommended by the collegium headed by him following difference of opinion between the government and the collegium over a contentious clause in the Memorandum of Procedure for selection of judges. The clause gives the government the final say in rejecting a name recommended by the collegium if it is in the "national interest."
Justice Thakur, who is patron-in-chief of National Legal Services Authority (NLSA), said the State Legal Services Authorities were making access to justice a reality. "Over a period of one year, we have decided 62 lakh pending cases by mediation, Lok Adalats and so on and 1.61 crore pre-litigation cases which were potential cases that could have landed in courts," he said.
Terming it as a great service, the Chief Justice said this relieved the judicial system of the burden.
"If we were to wind up activities, the effect will be 2.20 crore cases would have reached courts. The courts would be chocked. Already we are told that we have three crore cases pending," he added. Referring to a scheme of the Legal Services Authorities (LSAs), under which it extends legal services for Effective Implementation of Poverty Alleviation Schemes (EIPA), Justice Thakur said in certain quarters it was seen as coming in conflict with the administrative machinery of the State.
But, when you have a scheme any deserving beneficiary as a citizen could go to court and get it. The LSAs are only facilitating this by mediating with the government machinery without a deserving citizen approaching the courts, he said. Citing a scheme meant for the benefit of works in unorganised sector, the CJI said, out of about 46 crore people constituting this sector, nearly 14 crore are women.
"Creating awareness among them in accessing justice is a greater challenge to the LSAs to deal with," he said. To address this, of late, "We have associated with media to create awareness on legal aid. However, media alone is not enough, lawyers of Bar Associations and Legal Educational Institutions should also pitch in and involve, in creating basic legal literacy for a positive outcome," the CJI stressed.