Telangana Mass to fight for rights of SCs, STs, BCs, Minorities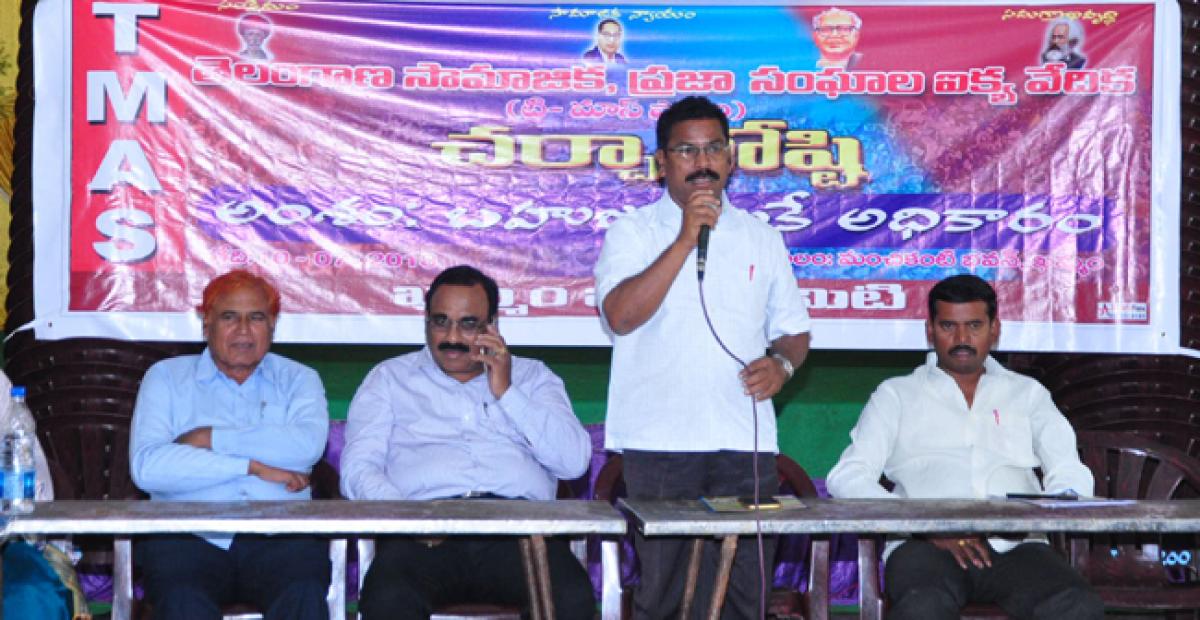 Highlights
Telangana Mass and Social Organisations Forum TMAS Forum convenor John Wesley here on Tuesday said an awareness programmes would be conducted from village to mandal level to help the people belonging to Scheduled Castes SCs, Scheduled Tribes STs, Backward Castes BCs and Minority Communities secure political power
Khammam: Telangana Mass and Social Organisations Forum (T-MAS Forum) convenor John Wesley here on Tuesday said an awareness programmes would be conducted from village to mandal level to help the people belonging to Scheduled Castes (SC's), Scheduled Tribes (ST's), Backward Castes (BC's) and Minority Communities secure political power.
A meeting was held with the representatives of T-MAS under the leadership of district convenor Yerra Srikanth to deliberate on "Bahujanaluku Rajyadhikaram" here at Manchikanti Bhavan in Khammam.
Attending as a chief guest at the meeting, John Wesley said sacrifices of people had helped achieve separate statehood for Telangana. The people, who had high hopes on the TRS, were disappointed, he said.
The people belonging to SC, ST, BC and Minorities accounted for 93 per cent of the total population, but they are discriminated against socially and politically since several generations, he added. He also said that after the formation of Telangana State the promises made by TRS party to SC, ST, BC and Minorities were not fulfilled.
The TRS, BJP, Congress parties should field candidates belonging to the SCs, STs and BCs, besides T-MAS steering Committee member. B V Raghavulu, Nagabhushanam, G Veerabhadram, Ananthaiah, Y Vinay Kumar, Akbarunnisa, L Ravi Kumar, Asaad, P Venkataramana, P Vijay Kumar, Bhadru Naik, Afroz Smeena, Janardhana Chary, M Rama Rao, A Venkateshwarlu, Yakub Pasha, Jhansi, Suguna Rao, Venkanna and Bhaskar Rao were present along with others.