Revanth Reddy throws a challenge to KCR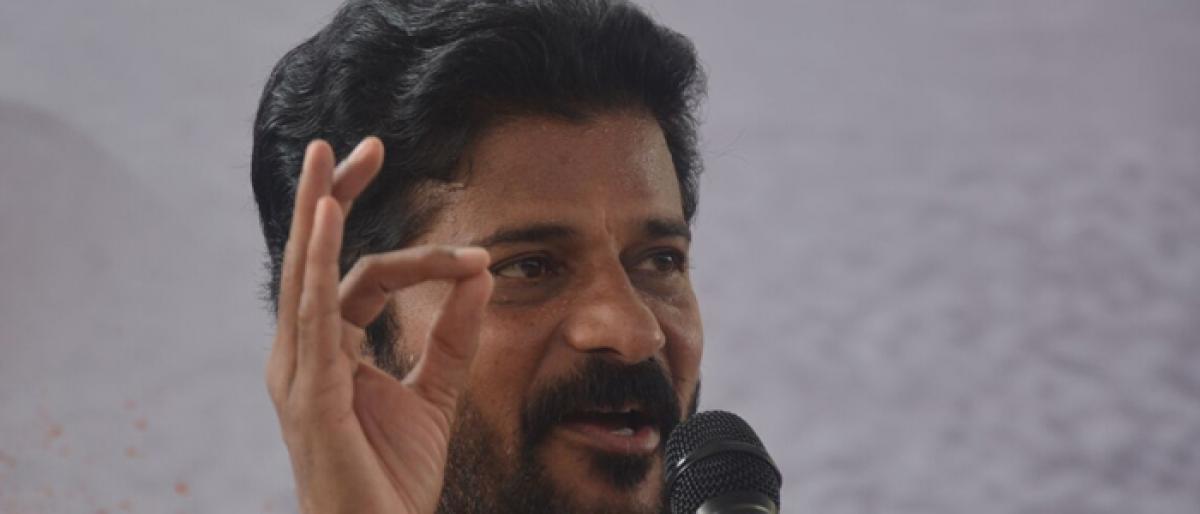 Highlights
Congress working president A Revanth Reddy on Saturday challenged Chief Minister K Chandrashekar Rao to order an inquiry by a sitting judge on the assets owned by him since he got elected as MLC and the assets owned by Rao since 2001
​Hyderabad: Congress working president A Revanth Reddy on Saturday challenged Chief Minister K Chandrashekar Rao to order an inquiry by a sitting judge on the assets owned by him since he got elected as MLC and the assets owned by Rao since 2001.
Revanth addressed the media on Saturday after 44 hours of grilling by the Income-Tax and Enforcement Directorate. The law enforcement agencies had raided the residence of Revanth and his relatives on Thursday. The officers have questioned Revanth from Thursday evening to wee hours on Saturday.
Revanth made it clear that even if he was sent to Andaman prison, he would continue to fight against the corruption of the Chief Minister and his family members. He said that the state police had refused to provide him security by central security agencies though the court had directed them. He said he has recently lodged a complaint along with photographs of some unknown people who were following his vehicle but the police did not even register an FIR.
He said that he would tour the state and expose corruption in government. He said that he would address a public meeting on Sunday at Bodhan of Nizamabad district. He further said that the assets owned by him and his family remained same but the market value of those assets has gone up as the EC had asked them to show the real market value of the assets. In 2009, he had quoted the government registration value of the property.
Revanth said that as far assets are concerned he owns a house in Jubilee Hills, farm houses on the outskirts of Hyderabad and at his own village. Speaking on the benami companies, he said that he has given a building for rent to few companies and he did not know who runs what business. However, the ruling party tried to show them as his benami companies.
Speaking about allegations that he has companies in Hong Kong and Malaysia, Revanth said that those countries have stringent rules even to open a bank account. He never visited those countries and there would be no question of owning companies there.
He said that his father-in-law and his family owns acres of lands in Hyderabad and was a much wealthier family even before the country got Independence. Their properties have been shown as his and an attempt was made to paint him as corrupt businessman.
Revanth said that he gives preference of his family honour over politics and the government tried to assassinate his character. Even his wife has been dragged into the controversy.
Subscribed Failed...
Subscribed Successfully...