Highlight only positivity surrounding religious values: Paripoornananda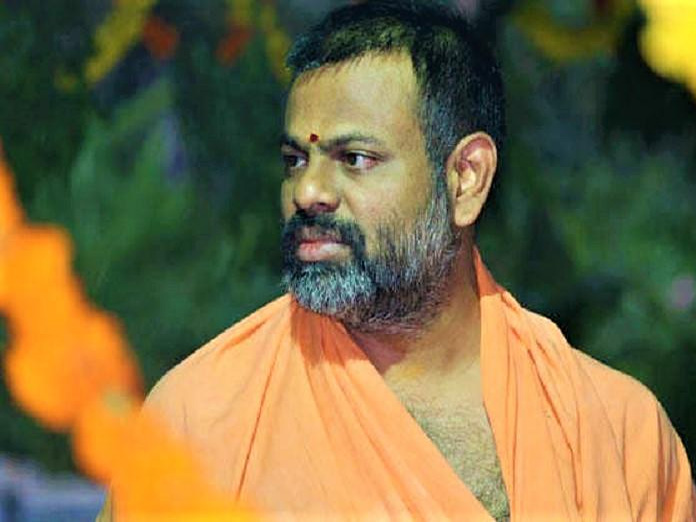 Highlights
When it comes to disseminating religious values, the emphasis should be only on positivity, though often negativity attracts people even beyond borders like in the case of the ongoing row relating to Swami Ayyappa temple in Kerala, observed Swami Paripoornananda
​Hyderabad: When it comes to disseminating religious values, the emphasis should be only on positivity, though often negativity attracts people even beyond borders like in the case of the ongoing row relating to Swami Ayyappa temple in Kerala, observed Swami Paripoornananda.
He was speaking after releasing a book, 'Tirumala Daivam', the Telugu version of 'The Lord of Vengadam', authored by senior journalist Srinivasa Ranga Ramanujan here on Sunday. The English version of the book has been translated into Telugu by senior journalist Sathyavolu Sundarasai.
Referring to the arrests of hundreds of innocent people for no fault of theirs, Swami Paripoornananda said the prevailing atmosphere there has become so negative that, thanks to Kerala Chief Minister Pinarayi Vijayan's ways, even people from China are evincing interest in the ugly goings-on at the temple.
Mentioning that he had read 'Tirumala Daivam', Swami Paripoornananda said it had given him a new perspective on beholding Lord Venkateswara during his recent visit a week ago. For, the author had painstakingly assembled research material for giving a historical perspective of Lord Venkateswara through the centuries and enriched it with his own insights – all with total objectivity.
The book is devoid of any trace of subjectivity, emotional baggage or distortion of facts. Hence, the book would be received not just as a valuable reference work, but as a 'preferred' ready reckoner on various aspects relating to the temple that have been the subject of debates over the centuries such as whether it was originally a Siva temple, Buddhist temple, with Vishnu being consecrated and deified at a later period, Swami Paripoornananda suggested.
Presiding over the function, Palakurthy Madhusudha Rao, former CEO of Sri Venkateswara Bhakti Channel (SVBC), said that the Telugu version of the book had simplified a lot of research material in the English version so much so that it is a page-turner now.
'Movement to free temples'
Addressing the gathering, Ramunujan, the author of the English version of the book 'Lord of Vengadam', said that his stint in SVBC as CEO prompted him to pen the book after his return to Hyderabad because of the numerous questions persistently raised by devotees about the antiquity of the shrine and the continuity of some of the rituals there.
Referring to Pinarayi Vijayan description of the Ayyappa temple 'thanthri' (chief priest) as "monster", he said it was unfortunate that the Kerala Chief Minister could go scot-free after having made such an arrogant remark.
Ramunajan called for a "movement to free temples" from the "vice-like grip of the governments" and suggested that Swami Paripoornananda could take it forward, considering that already a beginning has been made in that direction.