Running the extra mile…for fitness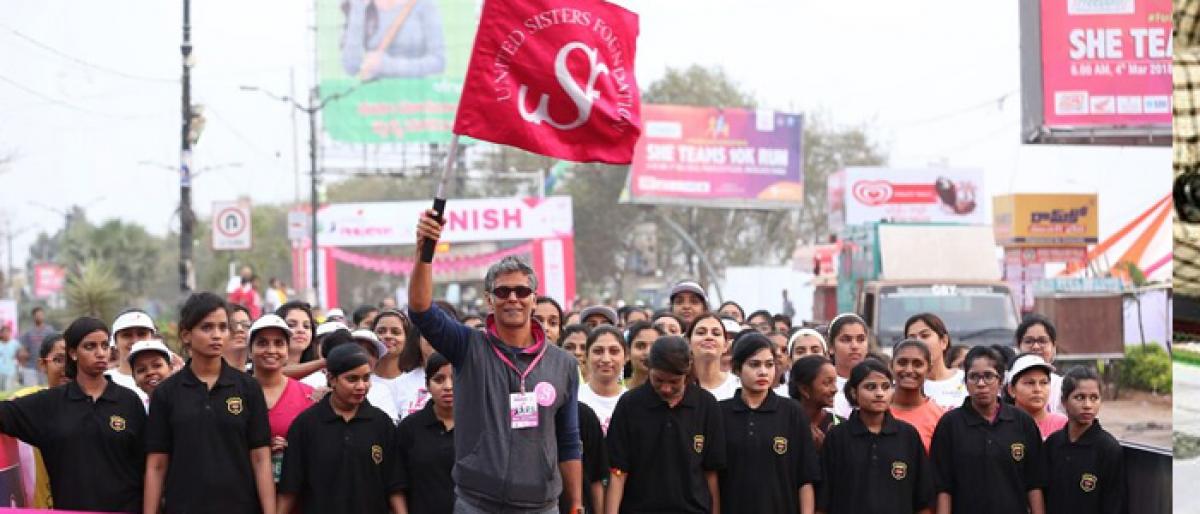 Highlights
The fourth edition of COLORS Pinkathon Hyderabad 2018 – the multi category run in the categories – 3km, 5km, 10km, 21km held on Sunday had 6500 women participating at the People's Plaza grounds. It was a heartening to see a team of 150 visually impaired girls, hearing impaired girls, Cancer Sheroes
The fourth edition of COLORS Pinkathon Hyderabad 2018 – the multi category run in the categories – 3km, 5km, 10km, 21km held on Sunday had 6500 women participating at the People's Plaza grounds. It was a heartening to see a team of 150 visually impaired girls, hearing impaired girls, Cancer Sheroes, baby-wearing mothers and senior citizens enthusiastically joining in the run. Super model, actor, and Pinkathon founder Milind Soman and Sangitha Reddy, Apollo Hospitals flagged off the event.
Age, disabilities, illnesses or for that matter even clothes are not a deterrent anymore. The fitness icon, Milind Soman said, "Fitness is liberating. The culture of regular exercise and fitness must take root in India. Our women need to become aware about the benefits of fitness. They need to be able to get out and run, which doesn't happen enough due to various cultural reasons.
We now organize Colors Pinkathon in eight cities. More than 6500 women participated today and ran in running gear but also in sarees, salwar kameez, hijabs or whatever attire they deemed fit and kept them comfortable. The key is to be active and stay fit as well as get our mind to push our bodies beyond the comfort zone.
Every single finisher of Pinkathon received a beautiful Tsunamika medal, upcycled bag, free gynaec consultation from the healthcare partner Apollo hospitals and a free mammogram if the participant is above 45yrs of age. The benefit is also transferrable. There were green water stations set up along the route as well as a breast-feeding zone in the holding area for baby wearing mothers.
The focus of India's biggest women's only running event, is to encourage an active lifestyle and overall fitness amongst women, while creating a much-needed awareness about breast cancer and bone health and encourage thousands of new or first-timer women to take up running.
All proceeds raised from the event will be used for the expenses incurred in organizing and marketing the event, and by the Women's Cancer Initiative in its fight against breast cancer, shared the organisers.