Job creation the biggest challenge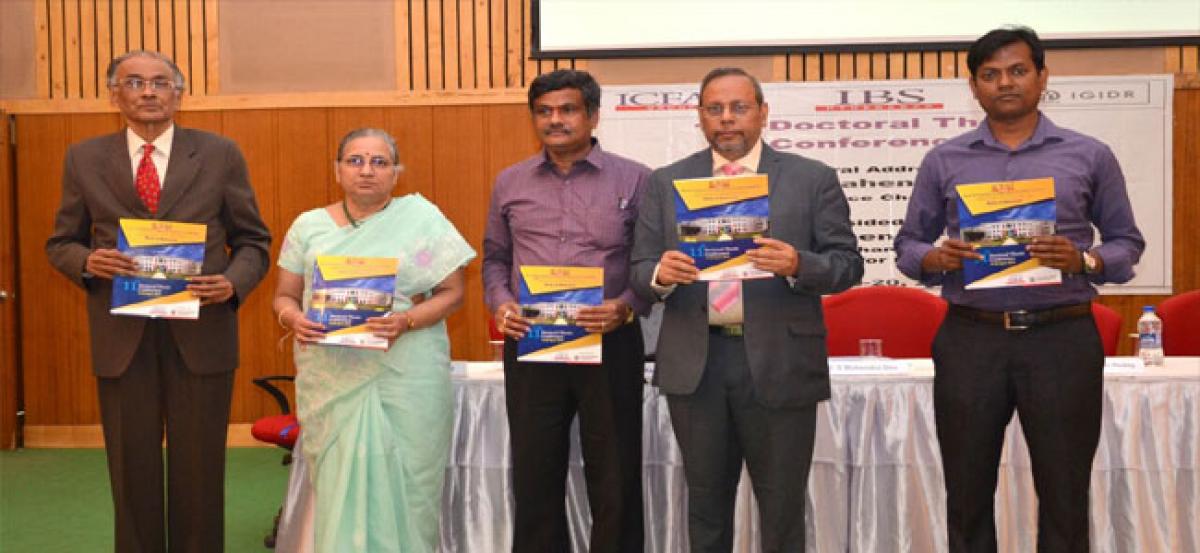 Highlights
Job creation is the biggest challenge we face and this problem has led to agitations in several states of our country", said Prof. Mahendra Dev, Director – Indira Gandhi Institute of Development and Research (IGIDR), Mumbai. He attended the inaugural session of 2-day 11th Doctoral Thesis Conferencetoday as chief guest conducted by the ICFAI Foundation for Higher Education (IFHE), Deemed University
Hyderabad: "Job creation is the biggest challenge we face and this problem has led to agitations in several states of our country", said Prof. Mahendra Dev, Director – Indira Gandhi Institute of Development and Research (IGIDR), Mumbai. He attended the inaugural session of 2-day 11th Doctoral Thesis Conferencetoday as chief guest conducted by the ICFAI Foundation for Higher Education (IFHE), Deemed University,at Hyderabad.
Prof. Mahendra Dev, spoke about "Future of India – National and Global Challenges" topic and gave detailed description of various challenges faced by our country with suitable examples. "The growth of the country depends on many factors such as; literacy, skill development, health and effective public policies and the government should take suitable measures to achieve the desired growth rate", he explained.
He also expressed concern over the growing big ticket corruption especially in the banking sector and urged the government to take suitable steps to stop the same. Prof. Mahendra Dev also explained about the economic growth rate of India which is at 2.3 trillion dollar in 2016. In order to achieve the 10 trillion dollar mark in the coming years, India has to maintain 7% growth rate each year.
With regard to the global challenges, Prof Mahendra Dev took the example of rise in the economy of China and the CPEC (China-Pakistan Economic Corridor) which could pose threat to India. By the increasing automation, unemployment may rise in our country, he said. Prof. Mahendra Dev's interesting and informative lecture was followed by the question and answer session with the audience.
Earlier Prof. J Mahender Reddy, Vice Chancellor, ICFAI Foundation for Higher Education (IFHE) expressed his delight in organizing the 11th Doctoral Thesis Conference in collaboration with the premier institute like IGIDR.
He said that the ICFAI University is always keen to introduce new courses that are suitable for the current industry trends.The 2-day conference will conclude on Friday. Over 100 participants from reputed institutes across the country attended the same and presented their research papers.