Hyderabad: Telangana State tour operators want Andhra Pradesh government to give up border tax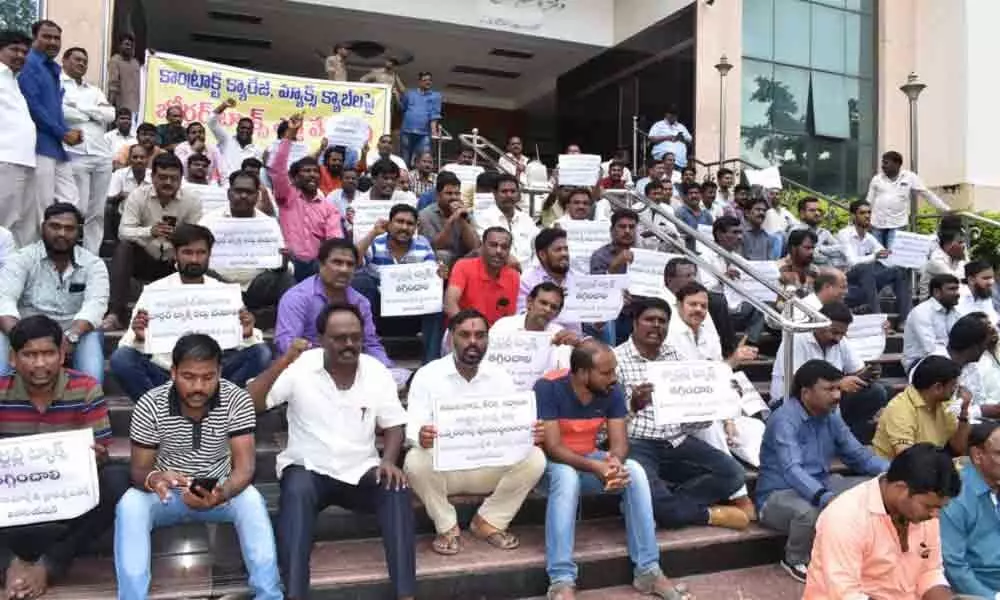 Highlights
1. 350 per seat is being collected from 5 lakh contract carriage vehicles from Telangana.
2. Telangana State said to be losing hundreds of crores of rupees.
3. Association leaders ask TS government to take up the matter of border tax with AP government.
Hyderabad: While the Andhra Pradesh government collects border tax of Rs 350 per seat from the Telangana vehicles at its entry point, the AP vehicles entering the Telangana go scot free as the check post has been removed because of shortage of staff.

There are over five lakh contract carriage vehicles other than the buses in Telangana, which carry the passengers mostly the pilgrim passengers to the direction of Andhra Pradesh, Tamil Nadu and other States. It was the Telangana government which had initially implemented the border tax from the other State vehicles coming into Telangana. The Andhra Pradesh government implemented the same and are collecting the border tax from Telangana vehicles.
The Telangana Tours and Travels Owners' Association honorary president G Bheeshma Chary said that the association members have been demanding the Telangana government to take up the matter of removing the border tax with AP government since 2016 but there was no positive outcome on their issue. "While the border tax is collected from Telangana vehicles, the AP vehicles entering the TS go without paying any tax, which is injustice to us," said Bheeshma Chary. Giving example, he said that while going towards Srisailam, the Telangana vehicles pay border tax of Rs 350 per seat whereas the AP government vehicles move out freely in Telangana leading to loss of hundreds of crores of rupees. When we ask for the reason, the authorities say there are no personnel at check post because of insufficient staff," said Chary.
The Association has been advocating for removal of the border tax because there was no such tax in neighbouring States like Tamil Nadu and Kerala. The Southern states have entered into an agreement for not collecting border tax. Earlier, AP government was also part of the agreement but after bifurcation both the governments would have to enter into agreement afresh, said Telangana State Taxi and Drivers JAC Chairman Shaik Salauddin. The association members said that there are more number of contract carriage vehicles in Telangana compared to Andhra Pradesh.
They also alleged that they had brought this to the notice of the in-charge commissioner Sunil Sharma but in vain.