Wheeling Out Of Crisis RTC rolls out door delivery of parcels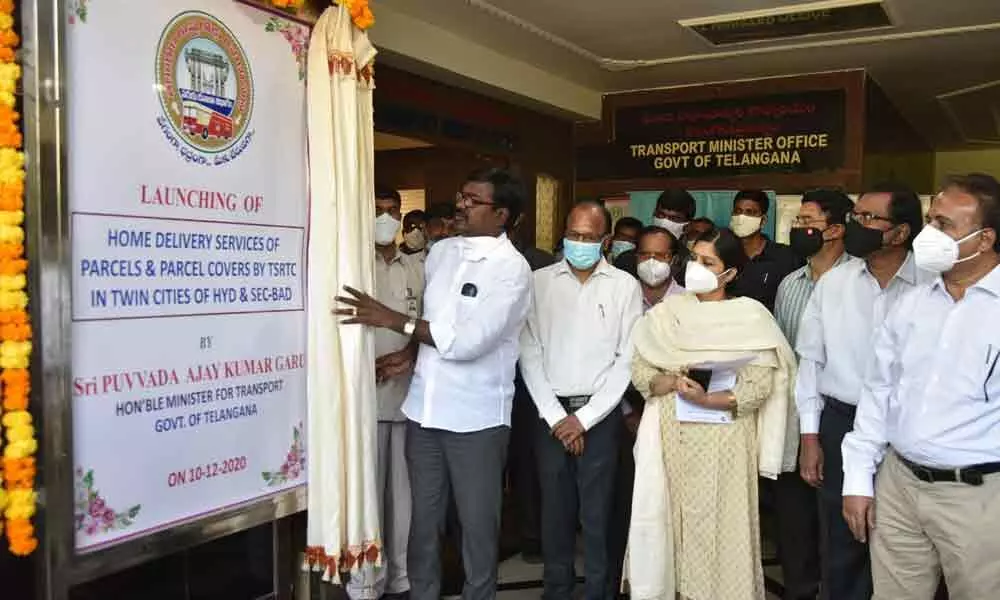 Highlights
Minister Puvvada Ajay says corporation revenue gradually increasing
The corporation started parcel and cargo services on June 19 this year. Parcel and courier business started at 147 bus station locations. Initially, the home delivery would be taken up in the twin cities
Hyderabad: TSRTC has announced a new value-added service to reach out to people right at their doorsteps. It will now deliver the parcels directly to the doorsteps of consumers of its cargo services. It will use third-party mobile aggregators for delivering the parcels.
Transport Minister Puvvada Ajay Kumar on Thursday launched the door delivery of parcels under the cargo services of the corporation. He noted that it was a proud moment for TSRTC as not a single untoward incident took place in the delivery of parcels till date even as the cargo unit delivered about 12,50,000 parcels. He informed that the revenue of TSRTC was increasing day-by-day to pre-Covid levels because of hard work of employees, supervisors and officers of TSRTC. The occupancy ratio now rose to 63 per cent.
The TSRTC started parcel and cargo services on June 19 this year. Parcel and courier business started at 147 bus station locations. It is expanding the business by roping in agents and employee agents with a mission to provide fastest, safest and nearest to the public through their buses. At present, parcel services are being carried out manually at the counters. MGBS and JBS bus stations have been functioning with dispatching and receiving of parcels counters.
The corporation earned revenue of Rs 11.85 crore from the parcel services and it has also transported 12.50 lakh parcels.
Initially, the home delivery would be taken up in twin cities of Hyderabad and Secunderabad. Parcels would be directly delivered to the respective customers. In this process, on arrival of parcels at receiver counters in MGBS and JBS, they would be segregated as per pin code. The appointed agents would collect parcels either area-wise or PIN-wise for subsequent handover to the receivers at their respective doorsteps.
The corporation selected three agencies having experience in home delivery system. Dunzo Digital Private Limited would cover Kukatpally and Gachibowli sectors (Part of Cyberabad), Smart ship Logistics Private Limited would cover in and around Secunderabad area and part of Cyberabad. Adnigam Private Limited would cover areas in and around Hyderabad and Old City.