AP Municipal Elections 2021: Stray incidents mar peaceful civic polls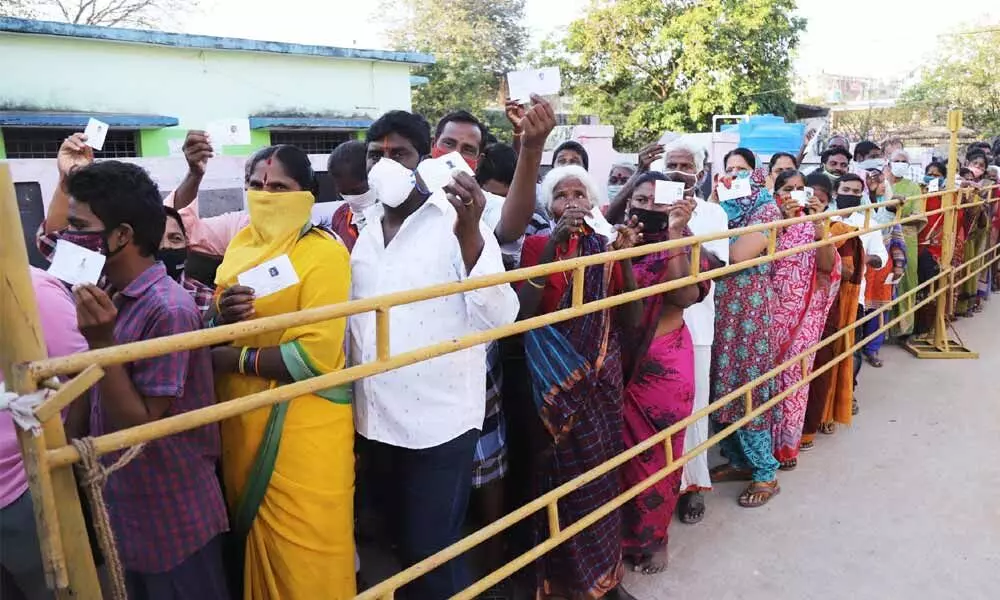 Highlights
Polling percentage lower than panchayat elections
Amaravati: The municipal elections for 12 municipal corporations and 71 municipalities and nagara panchayats held peacefully and just the way we wanted it to be, according to officials.
But the fact is that the polls did witness some incidents of clashes between the YSRCP and TDP activists and in one of the booths a candidate was seen touching the feet of a policeman urging him to allow him to go inside the polling booth as his agents were shooed away.
The Election Commission, however, claimed that they had made elaborate arrangements for the peaceful conduct of elections. The urban voters seem to be not serious over exercising their franchise resulting in a lower percentage of polling in the municipal polls than panchayat elections.
The municipal polls are stated to be a referendum to the ruling YSRCP. The TDP canvassed vigorously to win the polls against the ruling YSRCP. TDP national president N Chandrababu Naidu conducted road shows and tried to impress the voters by stating that the YSRCP failed to give clean and efficient rule during the past 20 months.
The YSRCP also had a robust campaign where almost all ministers, MLAs sweated it out to win the polls.
The Jana Sena leaders alleged that the ruling party activists prevented voters from going to polling booths and attacked and prevented their party workers. At some places in Vijayawada and Tirupati votes of dead persons were cast and this needs to be probed, they said.
The polling started at 7 am and ended at 5 pm. The election staff at some polling booths did not allow the mobile phones into the polling stations at some places and it led to arguments between the police and the voters. Finally, they relented after the SEC ordered them to allow the mobiles.
The leaders of some political parties were seen engaged in heated arguments at some places. In Guntur district, the YSRCP and TDP functionaries clashed at some places. Some activists from both sides were injured in the clashes.
According to the SEC, 57.14 per cent polling was registered in municipal corporations. The highest percentage of 75.52 per cent was in Ongole, followed by Machilipatnam 71.14, Chittoor 66.06, Vizianagaram 63.98, Guntur 57.15, Vijayawada 56.81, Eluru 56.33, GVMC 56.01, Anantapur 56.41, Kadapa 54.85, Tirupati 53.44 and the lowest of 49.26 per cent was registered in the Kurnool Municipal Corporation.
The voting percentage in municipalities and nagar panchayats stands at 70.66. East Godavari registered the highest percentage of 75.93 per cent in nagar panchayats followed by Krishna district 75.90, Prakasam 75.46, Visakhapatnam 74.63, Vizianagaram 74.61, West Godavari 71.54, Srikakulam 71.52, Kadapa 71.67, Guntur 69.19, Nellore 71.06, Anantapur 69.77, Chittoor 69.60 and Kurnool the lowest of 62.53 per cent