Visakhapatnam: Fatal accidents at pharma city raise safety concerns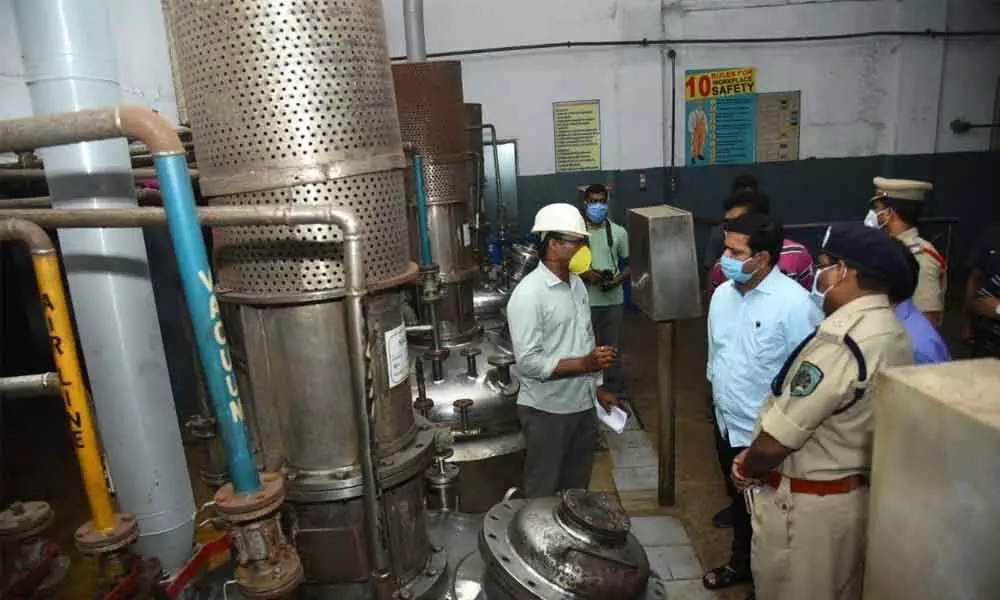 Highlights
Former bureaucrat E A S Sarma, in a letter to the Chief Secretary, points out that most of these units are also highly polluting and have been found to be infringing the environment protection laws and regulations
Visakhapatnam: Accidents continue to recur at Jawaharlal Nehru Parawada Pharma City in Visakhapatnam.

The gas leak incident at Sainor Life Sciences Private Limited is another one in a series of mishaps that happened in the past decade.
Blame it on human negligence or lack of safety measures, mishaps at pharma units continue to happen in the City of Destiny.
But every time a mishap happens, a committee will be constituted to investigate into the reasons behind the accident. However, nothing concrete would come out later until the incident would be long forgotten.
For the last eight years, over 40 had lost their lives in about 30 accidents that occurred at pharma city and hundreds were hospitalised.
The Pharm companies, including Azico Biophore, Glochem Industries, Vishnu Chemicals, Vimal Drugs along with Sainor Life Sciences Private Limited recorded a total of 20 deaths earlier. While repeated accidents occurred in some pharma companies claiming lives, in 2015, two were charred to death and four were injured in a reactor blast at the same Sainor Life Sciences Private Limited.
Expressing his concern over the mishap, former bureaucrat E A S Sarma in a letter to Chief Secretary Neerabh Kumar Prasad mentioned that most of these units are also highly polluting and have been found to be infringing the environment protection laws and regulations.
"In any civilised country, by now, some senior officers of the regulatory authorities of APPCB and Factory Inspectorate would have been suspended, removed and prosecuted for abetting such accidents. However, the situation in AP is quite contrary to that. The State government should find out as to how the police had closed the case against Sainor management back in 2015," Sarma emphasised.
Demanding comprehensive investigation, the Human Rights Forum members mentioned that the accident once again underlines the disquieting situation in terms of industrial safety in Visakhaptnam. "JN Pharma City has become a death zone with employees dying at regular intervals due to mishaps. Even earlier, there have been countless accidents in various plants in the pharma city, resulting in dozens of deaths and injuries to many," lament K. Sudha and V.S. Krishna, HRF state general secretary and AP and TS coordination committee member.
They point out that there is a lack of safety culture, effective mishap preventive mechanism and safety inspection system in place.
"These industrial establishments are known for non-adherence to norms. Yet there has been no criminal prosecution of either plant managements or officials of regulatory bodies and consequently there has been virtually no deterrence. It is close to two months since the horrific styrene leak from LG Polymers took place and till date not a single plant official has been taken to task," they pointed out.
What turns out to be the need of the hour is to consider concrete measures to stop mishaps from recurring in future.
Subscribed Failed...
Subscribed Successfully...