NMR staff pinning hopes on EC in Tirupati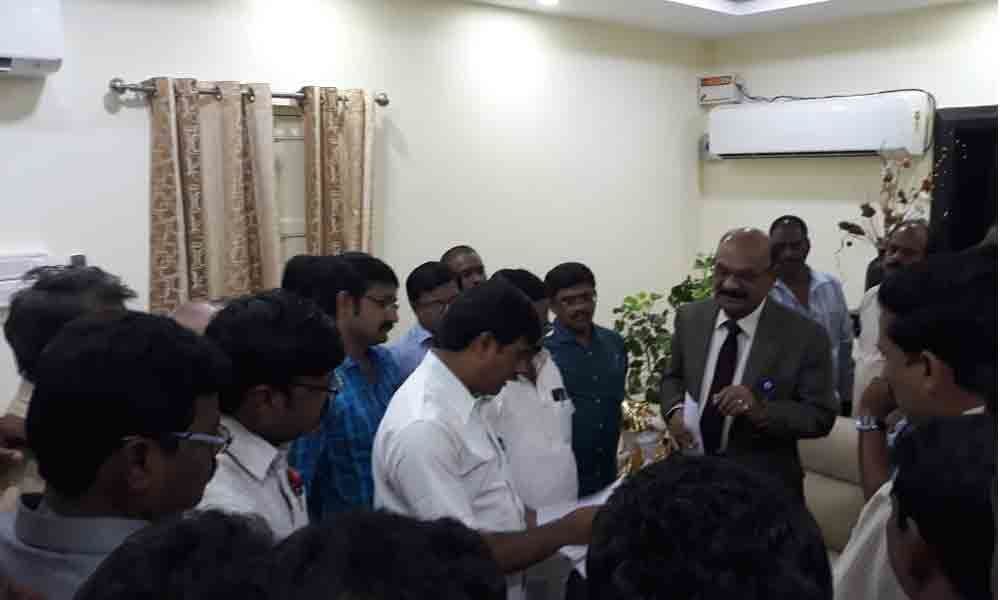 Highlights
SVU's EC meeting to be held today

Expecting EC will promote them as time-scale employees
Tirupati: More than 300 Non-Muster Roll (NMR) staff of the Sri Venkateswara University (SVU) have been working for the last ten years hoping to get time-scale.

It may be noted that along with 600 permanent and time-scale employees, 300 NMRs are working in varsity teaching departments, administration, accounts and examination wings.
On several occasions, they gave representations to the varsity authorities and staged protests too. Even, NMRs brought their difficulties to the notice of the Andhra Pradesh State Council of Higher Education (APSCHE) in Amaravati. Meanwhile, SVU Registrar passed an order of retirement to 3 casual workers (NMRs) on attaining superannuation at the age of 58 without giving any financial benefits. It had caused anger among NMRs. They staged a protest in front of varsity Vice-Chancellor (V-C) VVN Rajendra Prasad.
The V-C assured the non-teaching employees association leaders that he will take up the matter with the SVU Executive Council (EC) and sort out the issue at the earliest.
The varsity has been paying the salaries to the time-scale employees from block grant. The NMRs, who are waiting for promotion, are demanding that the SVU higher officials to pay them salaries from block grant as it will not be a burden to the varsity's financial position.
APSCHE authorities had given green signal for promotion of NMRs as time-scale employees and advised varsity to pay salaries for them from the development account. They are eagerly waiting for the EC meeting to be slated for Tuesday (April 30) expecting a positive outcome. SVU casual workers association leader K Ramesh speaking to The Hans India said that they are anxiously waiting for EC's decision. "We are not getting medical and other financial benefits on par with permanent employees,"
he stated.