No politics in Jammu and Kashmir move: Prime Minister Narendra Modi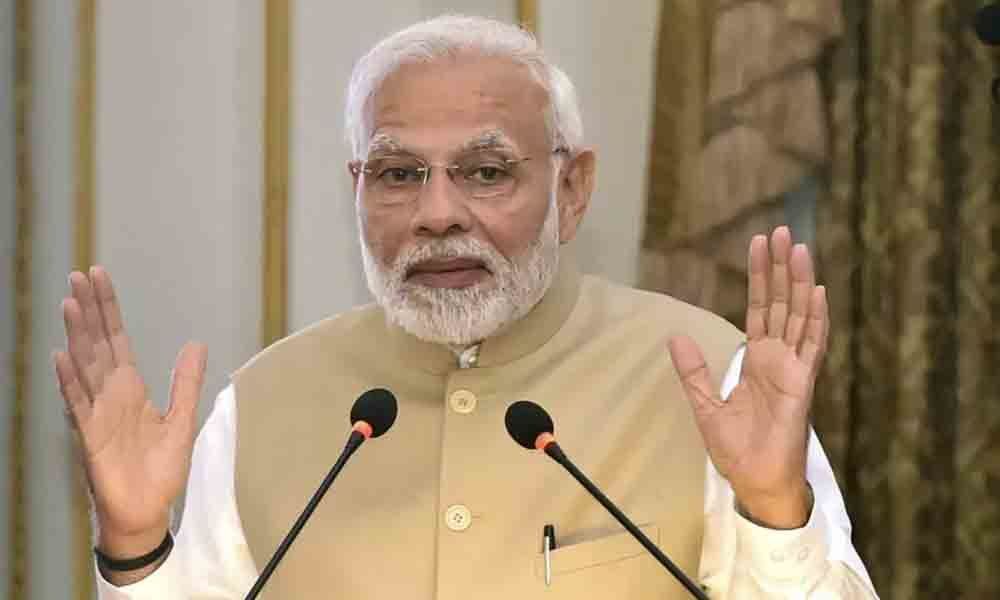 Highlights
Decision driven by national interest, asserts Modi
New Delhi: In the wake of a complete communication shutdown and a communication blockade in Kashmir, following the scrapping of special status of Jammu and Kashmir under Article 370 and the bifurcation of the erstwhile state, Prime Minister Narendra Modi, on Wednesday, the people had supported the Centre's steps.
Stating that the people who had opposed the decisions were "usual vested interest groups, political dynasties and those who sympathised with terror and some friends in the Opposition," Modi said that the people, regardless of their political preferences "have supported the steps taken in Jammu, Kashmir and Ladakh."
"This is about the nation, not politics. The people of India are seeing that tough but essential decisions that were earlier assumed to be impossible are becoming a reality.
It is now clear to everyone how Articles 370 and 35(A) fully isolated Jammu, Kashmir and Ladakh. The status quo of seven long decades clearly could not fulfil people's aspirations. Citizens were kept away from the fruits of development. The greatest casualty was the lack of any proper economic avenues to increase earnings. Our approach is different- instead of the vicious cycle of poverty, the people need more economic opportunities," Modi said.

With the valley expressing deep discontent over the shutdown, Modi said, "My sisters and brothers of Jammu, Kashmir and Ladakh always wanted a better future for them but Article 370 did not enable it. There was injustice against women and children, ST as well as SC communities. And, most importantly, the innovative zeal of the people of Jammu, Kashmir and Ladakh was not harnessed."
He added that with the removal of special status paving the way for greater investment in the state, "from BPOs to startups, from food processing to tourism, many industries can avail investment and create opportunities for the local youth. Education and skill development will also bloom. I want to clearly assure my sisters and brothers of Jammu, Kashmir and Ladakh that these regions will develop as per the wishes of local people, their dreams and ambitions."
Giving a scathing rebuttal to groups and people opposing the decisions, Modi said, "What is their defence for Articles 370 and 35(A) remaining? They would have no answer to this question. And, these are the same people who are used to protesting when it comes to anything that helps common people. There is a project to provide water to people, they will oppose it."
While local Kashmiris have also flagged concerns about being side-lined in the process, as well as an anti-democratic setup, Modi stated that, "Kashmir has never witnessed such a strong commitment in favour of democracy. Remember the turnout during the Panchayat elections? The people voted in large numbers and did not get cowed down by bullying. In November and December of 2018, there were 35,000 Sarpanches elected and the turnout in the Panchayat elections was a record 74%. There was no violence during the Panchayat elections. Not a drop of blood was shed in poll violence."
Modi said Jammu and Kashmir Governor Satya Pal Malik had been spoken to, to organize Block Panchayat elections as well. "Recently, the Jammu and Kashmir administration did the 'Back to Village' programme, where the entire government machinery went to the people instead of vice versa. They went just to mitigate people's problems. The common citizens appreciated the programme. The results of these efforts are for all to see. This is what democracy truly is. In any case, I have assured people that elections in Jammu, Kashmir will continue, and it is the people of these regions only who will represent the larger public," Modi said.
Subscribed Failed...
Subscribed Successfully...