Ongole: Influence politics, farmers told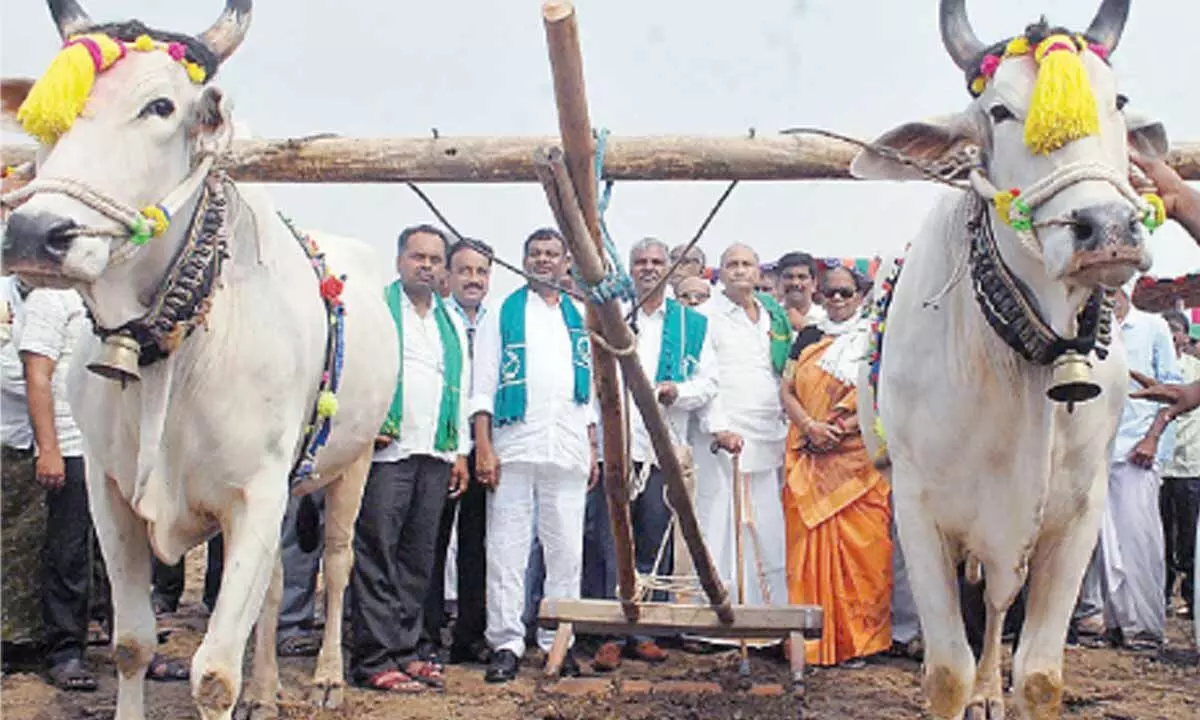 Highlights
Farmers' leaders advise farmers to get inspired by their brothers in Karnataka, who influenced the politics and sent one of them to the Assembly to discuss their problems
Allege that the Modi government is indirectly implementing the three farm laws, which it repealed, through installation of meters to motors and other anti-farmer actions
Ongole(Prakasam district): The speakers at Eruvaka Pournami programme, organised by Prakasam Zilla Abhivriddhi Vedika (PZAV) in Ongole on Sunday, opined that farmers are not receiving respect in society and political parties are cheating them every time. They advised the farmers, who attended the meeting, to get inspired by their brothers in Karnataka, who influenced the politics and sent one of them to the Assembly to discuss their problems.
Former agriculture minister of the erstwhile Andhra Pradesh Vadde
Sobhanadreeswara Rao inaugurated Eruvaka Pournami held at the fields near Throvagunta. He and other guests and farmers' leaders started ploughing the land with oxen and prayed for abundant produce and better prices for all farmers this year.
Later, they organised a meeting with farmers at Acharya NG Ranga Bhavan in Ongole, presided over by Chunduri Rangarao of PZAV. Speaking at the programme, Sobhanadreeswara Rao observed that as the farmers are not receiving minimum support price for their produce, they are in debts. He criticised that the governments are claiming to be farmer-friendly, but the parties running them are looking at the farmers as mere voters and easily breaking the promises made to them.
Reminding that the farmers' organisations in Karnataka proved their strength by unitedly sending one of them as a member of the Assembly, the former minister advised farmers to join hands and agitate till their issues become the prime agenda for all political parties, creating compulsive situations to make agriculture a profitable profession.
Gene Campaign founder and social activist Dr Suman Sahay observed that due to uncontrolled expenditure on pesticides and fertilisers, farmers are going into losses, while the people consuming the produce are suffering from diseases. She said the governments should support farmers and make agriculture profitable. Otherwise, the next generation will not be interested in becoming farmers, she stated.
AP Rythu Sangam general secretary KVV Prasad said Prime Minister Narendra Modi promised to double farmers' income by 2022, but he doubled the investment on crops and made the assets of corporate companies hundred-folds. He said by announcing the withdrawal of three agriculture laws, the Modi government is indirectly implementing them through the installation of the meters to motors and other anti-farmer actions.
Karnataka Rajya Rythu Sangha honorary president Samrasa Patil said that expenditure and loans by farmers are exponentially increased, but they are not getting enough price for their produce. It is sad that corporate companies can fix the MRP on their product, but farmers are not allowed to do so.
Karnataka Rajya Rythu Sangha president Nagendra said that farmers in Karnataka and Andhra Pradesh are suffering from the same problems. He said that they fielded seven candidates in the recent elections, and one of them was elected to the assembly.
AP Rythu Coolies Sangam president Simhadri Jhansi, Akhil Bharata Rythu Coolie Sangham AP general secretary Venkateswarlu, AIKF leader M Venkatareddy, Acharya Ranga Kisan Samstha general secretary Chunchu Seshaiah, Raitu Swaraj Vedika state co-convener Balu and others participated in the programme.