Ongole: It's showtime again after 8 months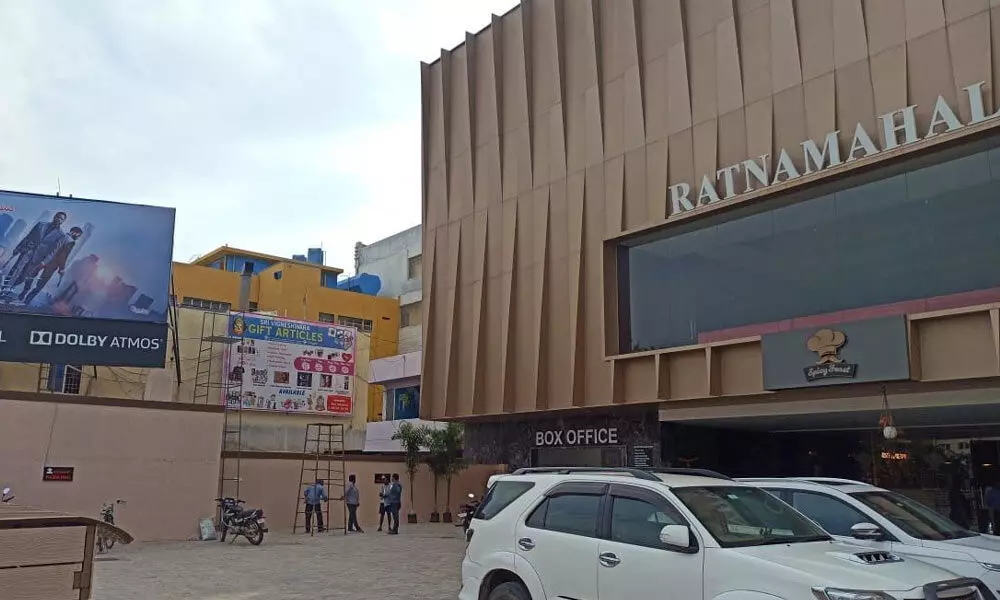 Highlights
Ratna Mahal theatre opens gates to public with the screening of Hollywood movie 'Tenet'
Ongole: After about eight months of silence, the Dolby Atmos surround system in theatres is coming to life once again.
The silver screens were washed off the dust and the scintillating projector lens was cleaned and made focus ready. One more section of people, the workers in the cinema halls, who are hit by the Covid-19 pandemic, are back on work, at last.
Along with the many theatres that are welcoming audience across the State, Ratna Mahal in Ongole is also ready to cut the tickets on Friday. The theatre is reopening with the screening of Tenet, an action thriller and science fiction film written and directed by Christopher Nolan and with the lead roles played by Johan David Washington and Robert Pattinson.
Though the internationally demanded film is reaching the audience in the local language, the movie lovers are still sceptical about whether to go to the theatre or wait for its release on OTT. An engineering student Lakshmi Narayana from Ongole told that he became a great fan of Nolan since he watched Batman, The Dark Knight, Interstellar and other movies, but disappointed with the release of Tenet at this time.
Though his friends in metros like Hyderabad and Chennai want to view the movie in the theatre on Friday itself, he still wants to wait for a few days. He opined that though it is incomparable to the experience of watching the movie on the silver screen to the home theatre, he is not going to the theatre for the next few weeks.
However, the theatre management announced that they are making arrangements for giving utmost priority to the safety of the patrons. Ahmed, manager of the theatre said that they are expecting only 40 percent of the capacity of theatre say House Full. He said that they are skipping alternate rows and alternate seats, went into contract with a firm to sanitize the auditorium after every show, marking circles with a distance of three feet for the people to stand in a queue, from the entry and exits, providing peddle press sanitizers at various locations and following all standard operating procedures as instructed by the government.