Port city pays tributes to Mahatma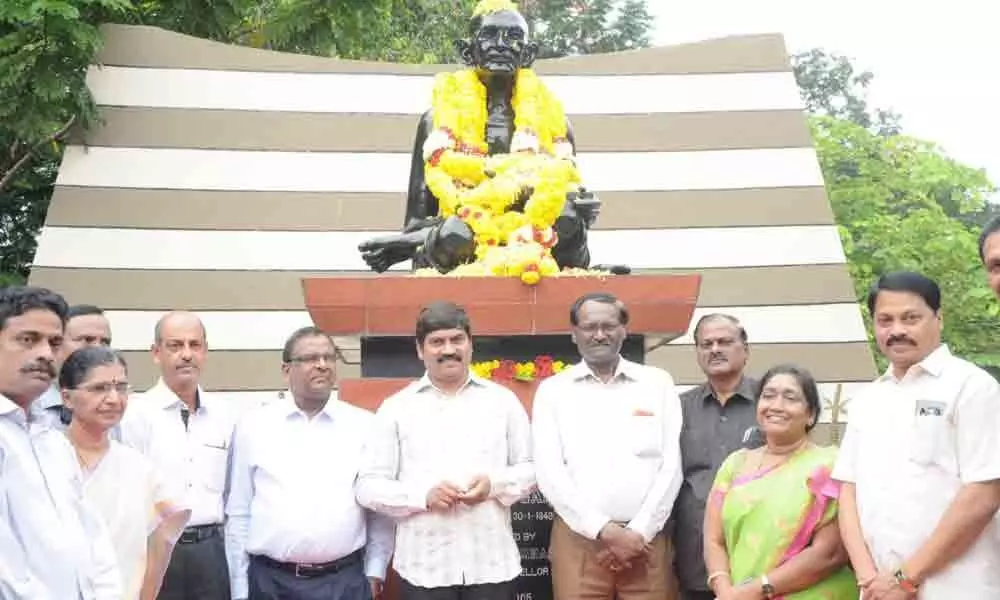 Highlights
Celebrations are held and exhibitions on Father of the Nation are organised
Visakhapatnam: The Port city celebrating Gandhi Jayanti on his 150th birth anniversary on Wednesday. Several programmes were organised by the government, political parties, civic bodies, colleges and schools.

In schools and colleges floral tributes were paid to the statue of Father of the Nation. Meanwhile, several NGOs and NSS wings took part in keeping the city clean by organising clean- up drive in public places and beach.
An exhibition on 'Swadeshi' and important decisions taken by Mahatma Gandhi were held. Khadi exhibition was also was held and a good number of people visited it. Some of the visitors enjoyed spinning the yarn.
AU organises art exhibition:
Vice Chancellor of Andhra University P V G D Prasada Reddy paid floral tributes Gandhi statue. He addressed the students on the efforts made by Mahatma Gandhi during Independence. Later, he visited Art Exhibition, which was organised by the Department of Fine Art. The exhibition showcased the journey of Mahatma Gandhi.
Meanwhile, Dr B R Ambedhkar College of Law, AU hosted a 2 km walk on theme 'walk for peace and non-violence.' Principal S Sumitra, Vice-principal Madhusudan Rao also participated in the rally.
Celebrations at District Collectorate
District Collector V Vinay Chand paid floral tributes of Mahatma Gandhi and Lal Bahadur Shastri. The celebrations were held at Collectorate Meeting Hall Joint Collector L Siva Sankar, District Revenue Officer M. Sridevi, Collectorate A.O. Srinivasa Rao, Section Superintendents and staff paid tribute to Mahatma Gandhi.
Visakha Port Trust:
Deputy Chairman, Visakhapatnam Port Trust P L Haranadh, inaugurated the medical equipment at Government Victoria Hospital for Women and Children. Under the CSR activities Visakhapatnam Port Trust funded an amount of Rs 10.07 lakh towards the equipment.
RINL:
RINL, the corporate entity of Visakhapatnam Steel Plant, organised celebrations in Ukkunagaram. CMD of RINL P K Rath paid floral tributes to Mahatma's portrait.