Tirupati: PMMVY, a boon for pregnant, lactating women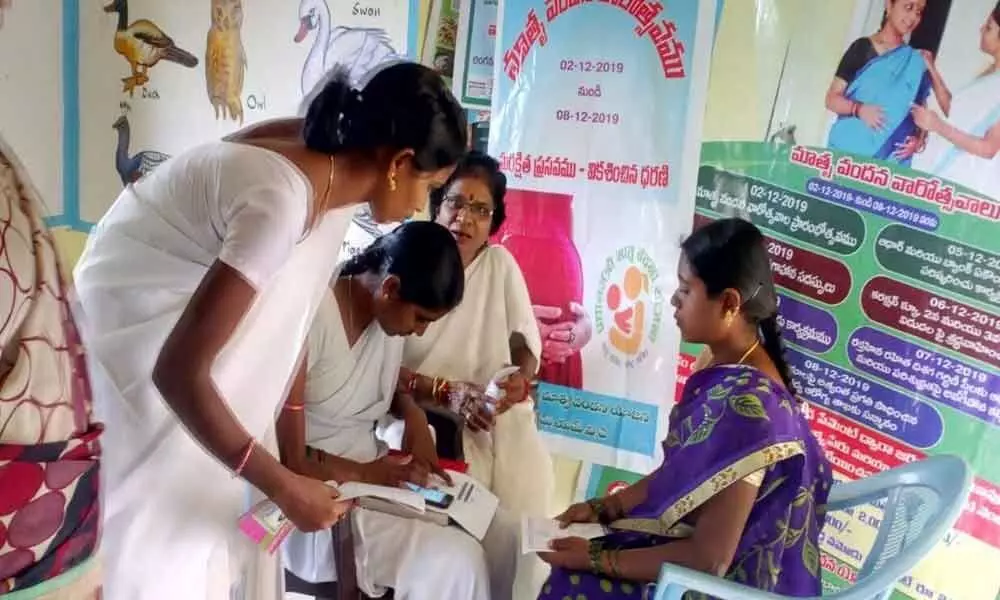 Highlights
Pradhan Mantri Matruvandana Yojana (PMMVY) has been taking care of mothers giving birth at government hospitals through cash transfer meant for...
Tirupati: Pradhan Mantri Matruvandana Yojana (PMMVY) has been taking care of mothers giving birth at government hospitals through cash transfer meant for providing nutritious food.
As majority of pregnant women in India irrespective of their living standards continue to work up to the last days of their pregnancy and have to continue to work as early as possible after childbirth.
Normally, by that time they will be physically incapable of working and irrespective of that fact they need to work for their livelihood. In view of this, the mothers become undernourished which adversely affects maternal and neonatal mortality rates. Under nutrition adversely affects majority of women in India and every third woman is undernourished whereas every second woman is anemic.
To overcome this, the Government of India has brought out PMMVY in January 2017. Basically it is a maternity benefit programme – the Centre contributes 60 per cent of funds while the State governments has to bear the remaining 40 per cent.
As India accounts for 17 per cent of all maternal deaths in the world, the scheme was aimed to improve the country's position in this particular aspect. As the primary causes of high maternal and infant mortality are poor nutrition and inadequate medical care during pregnancy and childbirth, the scheme provides financial assistance through cash transfer to the beneficiaries bank accounts directly.
Each registered mother will get Rs 5,000 under this scheme in three installments. They have to register at the approved health facility like PHCs or CHCs within 150 days of last menstrual period (LMP) date.
Then her account will be credited with Rs 1,000. The women are required to do at least one antenatal check-up for availing 2nd installment of 2,000 which she can claim after six months from LMP date. The delivery of the child should take place at government hospitals only to be eligible for the third and final installment.
Immediately after the delivery, under Janani Suraksha Yojana, the mothers will get Rs 1000 and third installment under PMMVY (Rs.2000) will be credited after three months of childbirth and the child received the first cycle of vaccination.
For this essentially, the pregnant mothers should have the bank account and Aadhaar card on their name.
The Chittoor District coordinator of PMMVY KS Manjunath informed The Hans India that 10,899 women have registered under this scheme between April 1 and December 5, 2019 while the total beneficiaries in the district since the programme was launched were 55,153 for whom Rs 20.09 crore was disbursed.
He said that for more efficient implementation of the scheme and to ensure the the eligible get its benefits, a week-long celebrations have been underway from December 2 which will conclude on December 8.
Various activities are being undertaken as part of the celebrations which include awareness programmes to include new beneficiaries at the Anganwadi level and demonstration classes for pregnant and lactating women on proper food habits.
Subscribed Failed...
Subscribed Successfully...