VMC plans 100% ban on plastic covers usage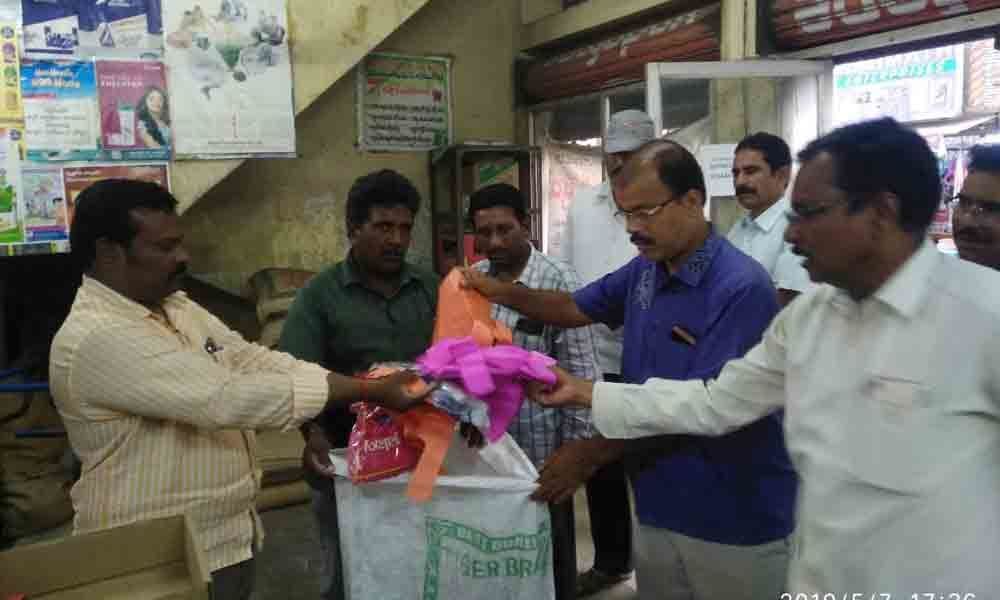 Highlights
1. As per the plan, the corporation is imposing fines up to Rs 5,500 in first phase on commercial and business establishments
2. Plans to cancel licences of business bodies in the second phase
3. Forms six special teams involving zonal wise commissioners along with other subordinate officers and sanitary staff to ensure the drive
Vijayawada: The Vijayawada Municipal Corporation (VMC) is taking serious steps to ban the usage of plastic carry bags in the city limits. Already the VMC imposed ban on usage of plastic covers long ago but now the officials of the local body are very keen to implement the civic body decision.

The VMC set up six special teams involving zonal wise commissioners along with other subordinate officers and sanitary staff to ensure the drive. The VMC has also introduced fines for using plastic covers in first phase and later, the local body wants to seize the licences of commercial establishments, shopping malls, small traders and vendors, who are using plastic covers.
As per the officials, as many as three tonnes of plastic covers are being sold in the city. The VMC sanitary staff is collecting two tonnes as garbage from households on daily basis. The VMC found the usage of huge plastic bags in the city despite the ban on them.
In this backdrop, the VMC finalised an action plan to ban the usage of plastic covers 100 per cent in the city. As part of it, the VMC started raids on shops, vendors and all kinds of commercial and business establishments one-week ago. The local body will continue the operation for one more week, according to sources.
Currently, the VMC is imposing fines from Rs 1,000 to Rs 5500 on shop-owners and other vendors for selling plastic covers. Under the first phase of action plan, the VMC teams will also slap notices to the commercial bodies and business establishments. If the same commercial establishments or any vendors are found selling plastic covers, their licences will be cancelled, said VMC Chief Medical and Health Officer K Arjuna Rao. Speaking to The Hans India, Arjuna Rao said that the VMC collected Rs 6.78 lakh as penalty from shops and vendors during the last one-week. He said the malls and mega commercial establishments were implementing the ban on plastic covers strictly for the last six months.
However, he said the small vendors and shops were not strictly imposing the ban on plastic covers. He said the department would create awareness among small vendors and shops regarding plastic covers ban in the ongoing drive. The VMC official also said that paper covers, jute bags and cloth covers would be allowed as alternative to plastic covers. The teams of VMC are creating awareness among citizens on plastic covers ban as it posed a health hazards.