400 killed in wild animal attacks in 10 years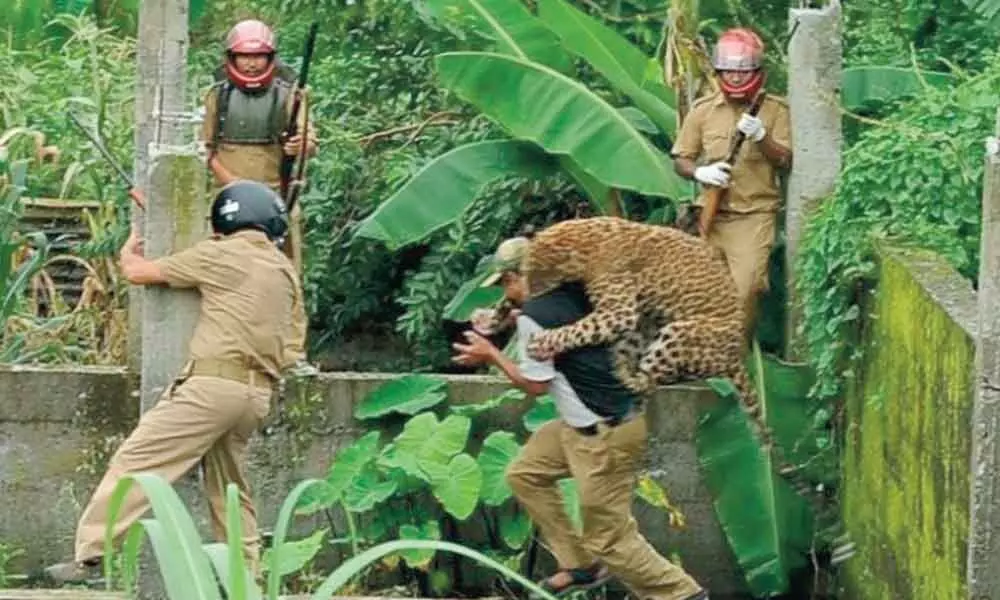 Highlights
The ever shrinking forests and disappearing grasslands and rapid urbanisation are leading to deadly man-animal conflict.
BENGALURU: The ever shrinking forests and disappearing grasslands and rapid urbanisation are leading to deadly man-animal conflict. The data shows that as many as 425 people were killed and many sustained injuries in man-animal conflicts in Karnataka in the past 10 years. It also says that incidents involving leopards and elephants are on the rise.
Statistics released by the wildlife wing of the Karnataka Forest Department reveals that 13 people lost their lives in the State till October 9 this year in attacks by wild animals. Seven of the deaths occurred in attacks by elephants. According to a survey conducted in 2017, there were 30 thousand elephants in India. The ongoing conflict between humans and elephants leads to the deaths on both sides. More than 500 people and over one hundred elephants die each year, according to Environment Ministry officials. According to the National Tiger Conservation Authority 111 tigers were killed in Karnataka during 2012-19.
"Conflict is already one of the biggest conservation challenges. The Bandipur Tiger Reserve, the largest in the State, is spread over 874 sq. km, but half of it has lost the basic characteristic of a jingle because of constant tree-cutting and invasion of domestic cattle. So, most of the animals are turning to new food sources. Humans are encroaching into the traditional wild spaces and animal sanctuaries, competing with wildlife for food and other resources. The growth of human settlements is often seen as economic development. But for some who are living on the edge of wildlife borders, this development can come at a high cost of losing their lives," says an environmental expert.
The expert claims that female elephants can roam for 650 sq. km for food and water and identifies the area as its own home. But the male elephants can go up to only 292 km. When there is not enough food, they go to the coffee plantation or estate which is close to forest land. This coffee plantation may have once been a forestland. According to the reports, in 1977, Kodagu had an area of 2566 sq. km forest and it came down to 1,841 sq km in 1997. But the total area of the coffee plantation in Kodagu increased from 300 sq.km to 1,197 sq km during the same period.
"There is an argument that tiger, and elephant numbers should increase. But the point is there should also be biological diversity to accommodate animals and they need proper food. As the quality of forest is getting bad and animals move in search of new places and finally, they end up in local residential areas. So the forest department had better act," experts explained. The wildlife wing claims 426 human deaths were recorded in 2014-15 and 446 the following year. As per the breakdown of the figure, 294 died in elephant attacks and 131 fell victim to various other wild animals.
The highest number of deaths (51) was reported twice in 2012-13 and 2014-15 in various parts of Karnataka. The State government has raised the compensation amount for human deaths caused by wild animals from Rs 5 lakh to Rs 7.5 lakh.