All macros favouring India's growth story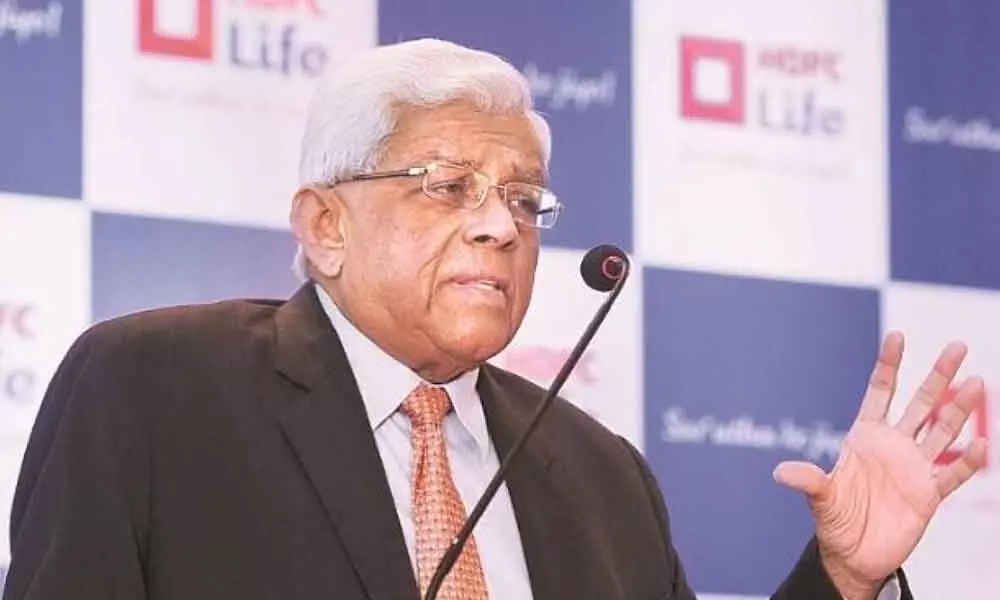 Highlights
HDFC's Parekh says profit-making cos should cut their product prices in wake of corporate tax cut
New Delhi: Confident about the Indian growth story getting a big boost from the recent corporate tax rate cuts, eminent banker Deepak Parekh has said profit-making companies should pass on a part of the benefits to consumers by lowering their product prices as that would also help increase their sales.
He also dismissed concerns about any major impact on fiscal deficit side due to the government foregoing a big chunk of their estimated tax revenues and said a strong disinvestment pipeline, starting with Air India, should help fill the gap.
"Our tax rates have become very competitive now and the government's move to lower corporate tax rates should help the country attract manufacturing units which we were losing to countries like Vietnam, Cambodia, Thailand, Indonesia and the Philippines," Parekh said in an interview.
"We were losing manufacturing units in sectors like textiles to these countries and fresh investments can now come to India with lower tax rates," he said.
Parekh, Chairman of financial sector conglomerate HDFC Ltd, said the government move has been taken well by foreign investors as well. "The sentiments and confidence level have got a big boost.
Profitable companies can pass on part of benefits to consumers by reducing product prices. The companies can reduce their margins a little bit, so that their sales pick up.
"If a company wants to be competitive in the market and if it wants to sell its product more, it should share the tax cut benefits by lowering the product prices," he said. He said the reduction of GST rates on hotels and catering etc would also give these sectors a boost.
Last Friday, the government slashed corporate tax by almost 10 percentage points as part of efforts to pull the economy out of a six-year low growth rate with a Rs 1.45-lakh crore tax break.
Base corporate tax for existing companies has been reduced to 22 per cent from the current 30 per cent; and for new manufacturing firms, incorporated after October 1, 2019 and starting operations before March 31, 2023, to 15 per cent from the current 25 per cent.
Several experts have, however, warned that India's fiscal deficit will widen as a result of the corporate tax reduction by the government.
Asked about the possible widening of fiscal deficit, Parekh said the government has clearly said there are 7-8 central public sector enterprises where they have already got Cabinet approval for divestment.
Expecting Air India to go first off the block, Parekh said a part of the national carrier's debt has already been transferred to another company to make its sale viable.
"Disinvestment should take care of the concerns on fiscal deficit side. All of these may not happen in this fiscal, but six months is a long time and 3-4 companies can get sold and generate necessary funds for the government," he said.