Andhra government should leverage Kia's presence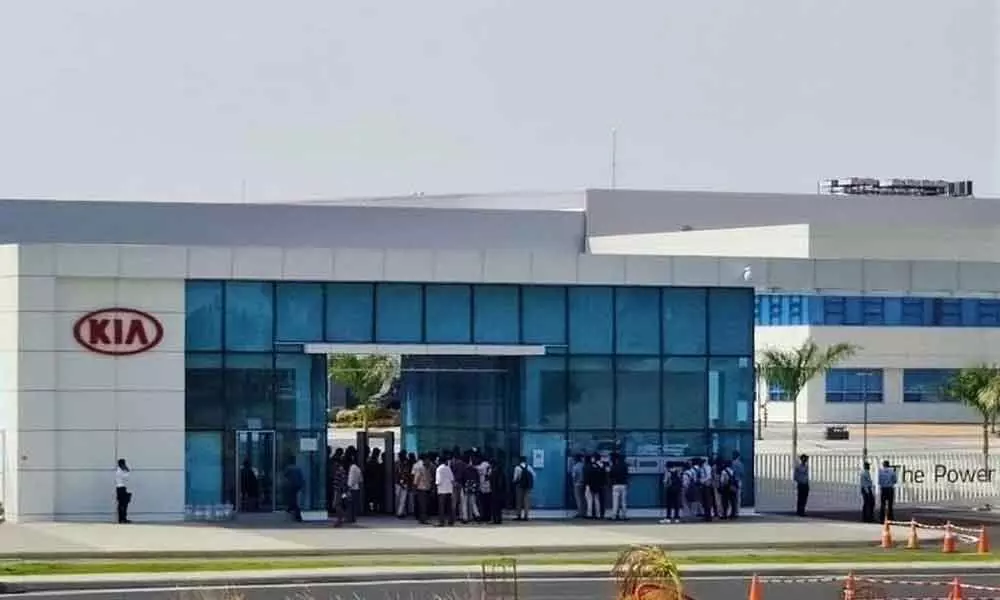 Highlights
'Made-in-Andhra Pradesh' Kia Seltos a big hit; South Korean carmaker the fourth biggest in India now
Rayalaseema, the southern part of Andhra Pradesh, is known for its backwardness and droughts. More so is Anantapur district, one of the four districts that make up the Land of Rayalas and Polygars.
But the small area adjoining National Highway No. 44 near Erramanchi village near Penukonda in Anantapur district paints a different and promising picture.
Surrounded by denuded hillocks and empty stretches of land, this area is now abuzz with activity and new-found hopes thanks to the presence of Kia Motors, the South Korean carmaker, which sells its wide range of cars, SUVs and commercial vehicles in over 180 countries.
A part of Hyundai Motor Group, the automaker sold 28 lakh vehicles globally in 2018 and is on course to hit 30 lakh sales mark in not so distance future.
In India too, the auto brand did extremely well so far in its first year of operations. Kia built its Greenfield manufacturing plant, 15th one for the automaker globally, here with an investment of over $1.1 billion, which is equal to around Rs 7,800 crore in Indian currency at current exchange rates.
The carmaker's affiliates which make parts for its vehicles have lined up additional $1 billion(Rs 7,000 crore) in investments, taking the total outlay for the project to nearly $2.1 billion (Rs 14,800 crore).
When the Kia's new plant goes full throttle and produces three lakh vehicles a year it has been built for, the plant and ancillary units around it are expected to generate over 12,000 jobs.
That is a big deal for the capital-less State which needs more and more new jobs. However, it may take couple of years for the South Korean automaker to reach the full capacity of production at Anantapur plant.
At present, the plant is in operation for two shifts, producing a new SUV in every 1.2 minutes, nearly 40 vehicles per hour. Also, Kia's maiden offering, Kia Seltos SUV, is a huge hit in India.
Launched in August this year, the compact SUV attracted over 90,000 bookings till date. The automaker already delivered over 40,000 Seltos within four months of the model's launch, which is a record of sorts for a newcomer.
In November alone, Kia sold over 14,000 vehicles, thus outsmarting Tata Motors, Honda and Toyota and becoming fourth largest passenger vehicle maker in India. That way, 'Made-in-Andhra Pradesh' Kia Seltos is already a success story.
Therefore, Kia plant is a great opportunity for Andhra Pradesh to attract large-scale investments into automobile and other sectors.
Very few States in the country are blessed with the presence of automobile sector. The number is far less when it comes to those States which are home to a global automotive player.
In that sense, AP is very lucky to have Kia in its midst and it can leverage Kia's presence to transform Anantapur into one of the country's automotive hubs.
Auto sector is labour-intensive, so generates lots of jobs for locals and others. AP can also showcase Kia plant to get investments into other sectors.
But the Jagan Mohan Reddy government which assumed charge in May this year doesn't seem to be keen on leveraging the Kia's world-class project to get more investments in Andhra Pradesh in general and backward Anantapur in particular.
The statements that some of the members from the government have made so far, point in that direction. The contention of Andhra Pradesh government is that as per the incentives offered by the previous TDP regime, Kia Motors will get benefits to the tune of Rs 20,000 crore in next 20 years.
It also contended that any company will love to set up shop in AP if that kind of lucrative incentives are doled out.
But the fact of matter is that Kia plant will generate lots of revenues for AP as the company's employees will drive consumption growth in the State. There are other financial benefits too.
However, apart from the issue of incentives, there may be a political reason as well. In recent Assembly elections, TDP lost Penukonda assembly seat, its traditional stronghold, in Anantapur district despite bringing a world-class car plant into it.
That's a clear indication that industrial development is unlikely to pay rich political dividends. Going by this, AP government may be feeling that offering huge incentives to industries may not make political sense. Instead, it can use the same funds for its welfare schemes.
But Andhra Pradesh needs many mother industries on the lines of Kia plant, which can feed and fuel the growth of key MSME sector which in turn generates large scale employment opportunities.
That's the only way AP can bridge the revenue gap, create new jobs, increase per capita income and generate wealth for the agriculture-dependent State. So, Jagan government's disdain for investments from large companies is perplexing at a time when every State government worth its salt is going to any length to attract investments.
Will the Jagan government change its priorities and make concerted efforts to attract investments into AP? Time will only tell.
But AP, given its precarious fiscal condition, will land serious financial implications if it doesn't encourage private investments and go for the kill while luring big investors. That's for sure.