Can Rs 20-lakh crore stimulus package revive economy?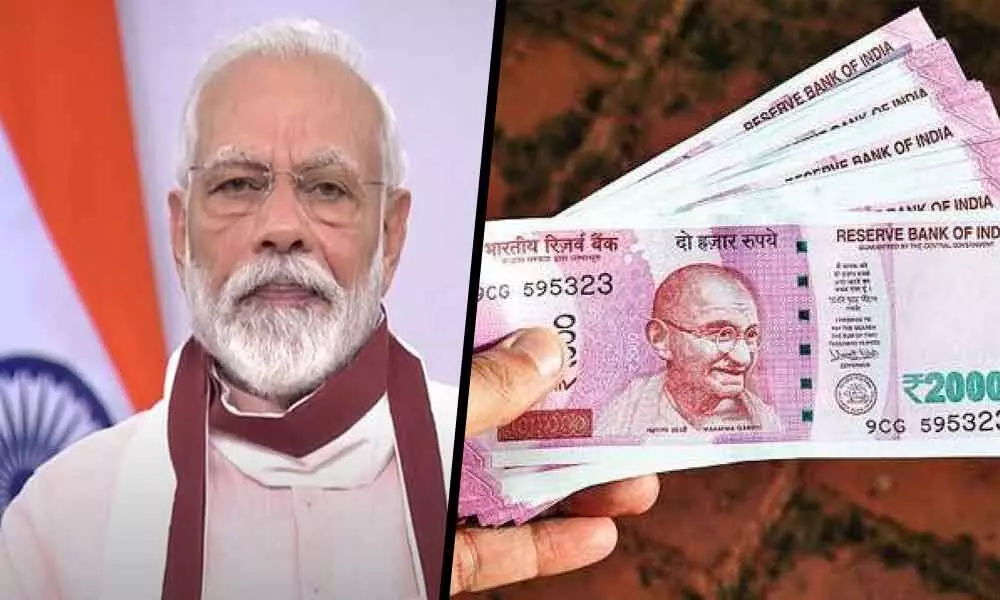 Highlights
Union Finance Minister announced collateral-free loans worth `3 lakh crore for MSMEs. That's a good move. But the trillion rupee question is whether banks are ready to offer such loans at a time when the central government is keen on containing NPAs in the financial sector
Has India won war against deadly Covid-19? Going by the ever-increasing number of coronavirus cases, the answer to that tricky question is an absolute 'no'. Frankly speaking, India's war against the Chinese-born virus has just begun. By deploying the costliest weapon called lockdown, the country succeeded in putting brakes on the spread of Covid in the last two months.
But with the easing of lockdown norms and the gradual opening of economy, more and more people will now come out of their homes. That will obviously lead to increase in number of Covid-19 cases. That's what is happening now.
Recently, I happen to drive across a few districts in Telangana. Though I did not get out of my car at many places for obvious reasons, I noticed people's reluctance to wear masks and practice social distancing.
The general refrain among people is that there are no corona cases in their areas and so there is no point in wearing masks and maintaining a physical distance from fellow citizens.
This view is also prevalent in Kaleshwaram area in Bhupalpally district where large-scale sand quarrying is currently underway and hundreds of trucks from Covid red zone like Hyderabad and other parts of the State are arriving daily to transport sand.
Despite a prolonged lockdown which has crippled the economy and made the poor to suffer the most, people still seem to be ignorant of the danger that Covid-19 poses and how fast it spreads.
Further, villages seem to more vulnerable now as there is no one to monitor entry and exit of people coming from outside. People in some villages I travelled to, said that local government machinery kept a vigil on people coming into villages during the early days of the lockdown.
That is not happening anymore. Outsiders are coming into villages without any hitch. That way, danger is lurking in rural areas too.
But the message is loud and clear. Given the associated economic repercussions, there is no way the governments will continue the lockdown longer. Though lockdown is the best way to stem the spread of virus, there is a limit to this remedy.
On that front, the governments have thrown up their hands. So, it's time people realise that they should take care of their well-being and that of their loved ones. Maintaining safe distance from others and taking other safety measures for a couple of months more hold the key. At this point, that's the only way out.
At the most what the government can do in future is to provide hospitalisation services if one falls ill due to Covid-19. But that will also become a luxury if corona explodes and cases pile up in India on the lines of the US.
There is a view that hot weather conditions in India and stronger immunity among people here are also helping the country in its fight against Covid-19. But these factors are not scientifically proven.
Anyway, the lockdown that began on March 25 and is still continuing partially, has cost the economy dearly. That is what the steep drop in exports and other economic indicators indicate. It's a foregone conclusion that the economy needs stimulus. That too, a larger one.
Developed countries announced revival packages long back. India has no other option. The announcement by Prime Minister Narendra Modi on Tuesday at 8 pm should be seen from this angle.
He came out with Rs 20 lakh crore special economic stimulus package and called it Atmanirbhar Bharat Abhiyan, espousing the cause of self-reliance. That's a massive package because it nearly accounts for 10 per cent of India's GDP. It also exceeded expectations.
But going by the series of announcements that Finance Minister Nirmala Sitharaman has been making, the package is more complex than the tongue twister PM Modi has named it with. For instance, in the first tranche of Covid-19 economic package, the Union Finance Minister announced collateral-free loans worth Rs 3 lakh crore for MSMEs.
That's a good move. But the trillion rupee question is whether banks are ready to offer such loans at a time when the central government is keen on containing non-performing assets (NPAs) in the financial sector.
Moreover, collateral-free loans are not new. There is already an initiative called Credit Guarantee Fund Trust for Micro and Small Enterprises (CGTMSE), launched in 2000, under which collateral-free loans up to Rs 1 crore are offered for starting businesses. Banks hardly evinced interest in disbursing loans under the scheme. Many are skeptical that banks will do the honours this time.
There is another interesting angle as well. The Rs 1.7 lakh crore package for the poor and farmers announced by the FM in the initial days of lockdown comprised many elements that were already budgeted for and there was not much new money. Of course, that package also forms part of the stimulus announced by the PM.
But there is no clarity yet on how much of Rs 20 lakh crore will be the real stimulus that has already not been budgeted for this fiscal. It will be well and good if the economy gets even Rs 10 lakh crore real stimulus.
Still, the pie is small and demands are numerous. I don't think entrepreneurs and industrialists are that innocent to believe that the Indian government will bail them out from the corona crisis completely.
At the most, it can apply some balm on the wound for a temporary relief. Thereafter, the victims will have to find a cure for themselves or go down the drain. This applies to everyone including the poor.
However, economic recovery in the post lockdown era doesn't depend on the stimulus alone. It also depends on how Covid-19 pandemic pans out. If the country succeeds in containing the forward-march of the deadly disease post the opening of the economy, there is every chance of the economy coming back on track faster.
If Covid-19 rears its ugly head, more pain awaits the economy irrespective of stimulus measures. So, the situation is still dicey on the economic front. But the stimulus package announced by the Prime Minister will definitely boost economic sentiment which is the need of the hour.
Last word: Gas leakage tragedy at LG Polymers near Visakhapatnam in Andhra Pradesh 10 days ago is grim reminder of the poor industrial monitoring in the country. The company which makes polystyrene and other materials was established way back in 1961. Obviously, it was set up at an isolated place in those days.
Over the years, residential areas cropped up around it. Locals say that people living near to the boundary wall of the plant bore the brunt of the fatal accident that claimed 11 lives. The AP Government authorities committed a grave mistake over the years by allowing people to live close to the factory, which stores and uses harmful materials.
Such plants should have scientifically-demarcated buffer zones around them, where no residential building is allowed. It is time the governments carry out a scientific audit of factories which pose threat to human lives, and create non-residential buffer zones around them.
At such places where a buffer zone can't be created, factories shall be relocated from there to insolated places, away from cities or residential areas. This should be done on a war-footing.
Further, it will be a tragedy of monumental proportions if LG Polymers goes scot-free. It should pay a heavy price for its negligence and poor safety measures. The present AP government should either create a buffer zone around LG Polymers plant or get it relocated.
Interested in blogging for thehansindia.com? We will be happy to have you on board as a blogger.