F&O data signals narrow range of trading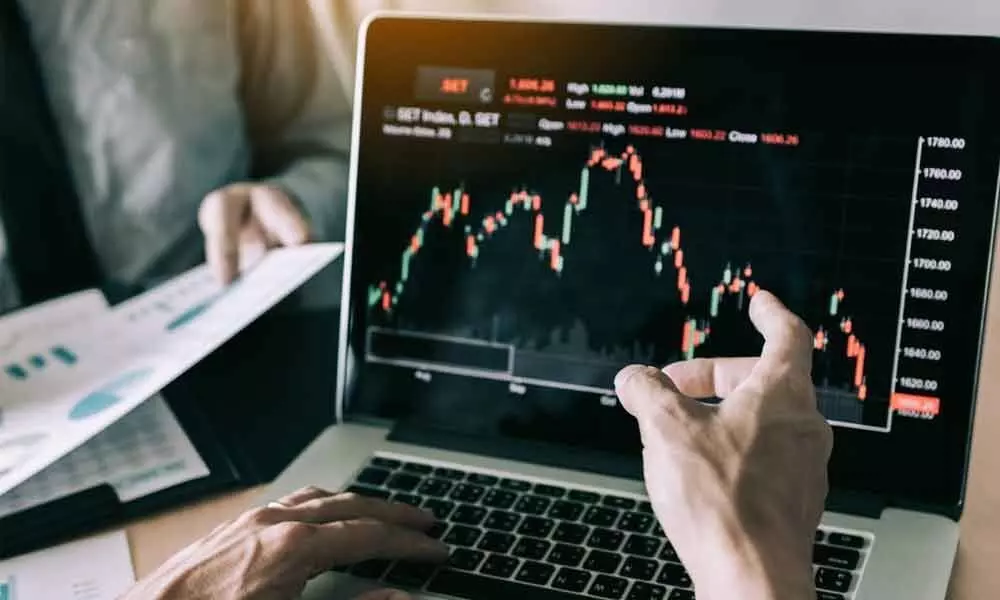 Highlights
The 12,200 strike remained with highest Call Open Interest (OI) for the past two weeks.
The 12,200 strike remained with highest Call Open Interest (OI) for the past two weeks. The 12,200 strike recorded highest OI addition of 9.62 lakh contracts, has maximum Call OI of 24.95 lakh contracts followed by 12,300 strike with 17.42 lakh contracts and 12,400 strike with 17.28 lakh contracts.
This is indicating undercurrent hesitation in the market and key resistance level for NSE Nifty, observe derivatives analysts.
With highest Put OI addition of 4.24 lakh contracts, the 12,000 strike has maximum Put OI of 14.03 lakh contracts followed by 12,100 strike with 12.02 lakh contracts and 12,200 strike with 9.37 lakh contracts.
The NSE Nifty consolidated above 12,000 for the week after a sharp pullback from 11,600 points. The resilient global equity markets also supported the domestic markets from witnessing any major profit booking trend. The markets remained quite stock-specific with participation seen from pharma and IT stocks.
Dhirender Singh Bisht, senior research analyst (derivatives) at SMC Global Securities Ltd, said: "On the derivatives front, a tug of war between bulls and bears was witnessed at 12,200 strike where bears finally took control and added hefty Open Interest in 12,200 Call strike which hold with maximum concentration of nearly 26 lakh shares.
The bias is likely to remain bearish in coming week as far Nifty is holding below 12,200, so traders should keep stock-specific action on the radar."
For the week ended February 14, 2020, BSE Sensex closed at 41,257.74 points, a marginal gain of 115.89 points or 0.28 per cent, from the previous close of 41,141.85 points. NSE Nifty remained flat on positive note with an edge up of 15.15or 0.12 percent, and closed the week at 12,113.45 points as against last week's 12,098.35 points.
"Indian markets remained highly volatile in the week gone by, with Nifty seen swinging in broader range of 12,250-12,000 levels, while Bank Nifty ended below 31,000 level with loss of nearly one per cent week on week basis. Most of the sectors remained under pressure during the week on back of profit booking at higher levels.
However, banking stocks also witnessed sharp selloff in later part of the week after the Supreme Court rejected the plea seeking new schedule of AGR payments," remarked Bisht.
The Implied Volatility (IV) eased sharply in the last week. However, the volatility has been reverting higher from lower support of 12 per cent. This may continue the consolidation in the domestic markets.
"The Implied Volatility of Calls closed at 12.04 per cent, while Put options closed at 13.10 per cent. The Nifty VIX for the week closed at 13.37 per cent and is expected to remain volatile. PCR OI for the week closed at 1.25.
In coming week, it is expected that volatility is likely to grip the market with Nifty having stiff resistance at 12,200 levels, while Bank Nifty is likely to take support in 30,600 to 30,500 zone." Nifty futures eased 0.36 per cent to 12,129.
Bank Nifty
With a net loss of 367.15 points or 1.17 per cent for the week, Bank Nifty closed at 30,834.80 points as against 31,201.95 points.
FPI flows remained volatile in equity space, but are picking up in debt markets in February so far.
This is expected to keep yields lower. This should help banking stocks to recover after the recent consolidation.As per the data from ICICI Direct.com, Put OI blocks were seen in 30,500 strike along with declining IVs indicating major support.
However, additions in 31,200 and 31,500 strike Calls are indicating a narrow trading range for the index. The Bank Nifty moved in a wider range amid high volatility. SBI and private bank stocks performed well, which provided a cushion to the index. However, late selling in private banks like Kotak Mahindra Bank, IndusInd Bank and HDFC Bank kept the index move in check.
According to ICICI Direct.com, the OI rose marginally in the past two days whereas the index fell 500 points indicating short accumulation. Crude oil prices rose from the bottom on account of a pick-up in demand in China.
If crude oil continues its northward journey, then the rupee may depreciate towards 71.8 levels. This will act as negative sentiment for the banking and financial space.
The current price ratio of the Bank Nifty-Nifty fell to 2.55 level. The ratio has multiple support near 2.52 level from where it had reverted earlier.
Analysts forecast that the Bank Nifty has 30,500 as major support level. If the index closes below this level, it may suffer a major selling.
Interested in blogging for thehansindia.com? We will be happy to have you on board as a blogger.