Nifty consolidation likely till Feb expiry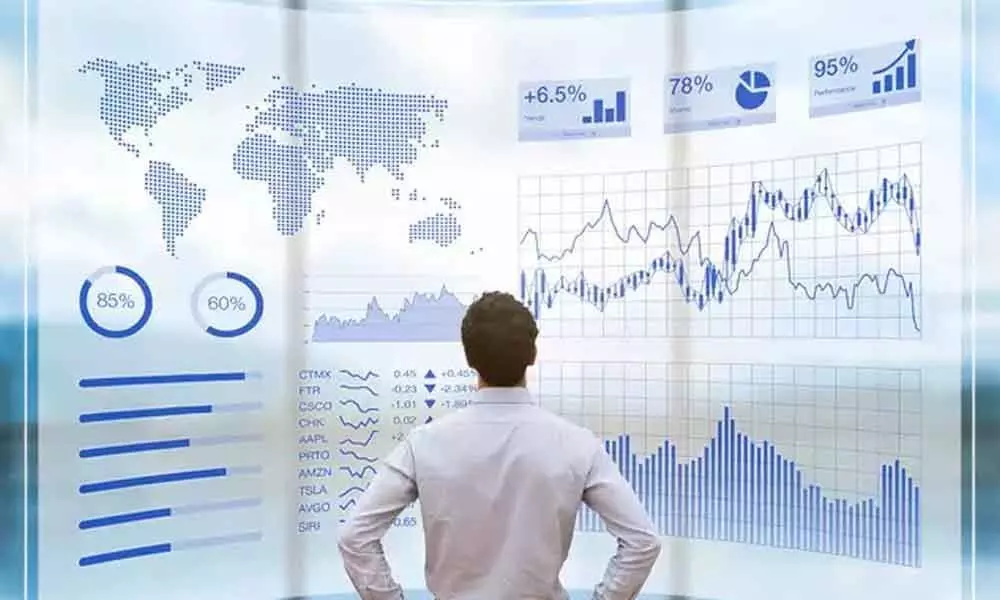 Highlights
Reflecting consolidation mode in the market, the highest concentration of Call Open Interest(OI) at 12,200 strike and maximum Put OI at 12,200 strike...
Reflecting consolidation mode in the market, the highest concentration of Call Open Interest(OI) at 12,200 strike and maximum Put OI at 12,200 strike continued in previous truncated week (Maha Shivratri holiday on Friday) for the third consecutive week. The current consolidation may continue till the expiry of February derivatives series on February 28, forecast derivatives analysts.
Dhirender Singh Bisht, senior research analyst (derivatives) at SMC Global Securities Ltd, said: "Indian markets remained highly volatile in the week gone by with Nifty swinging in broader range of 12,150-11,900 and settled the week with marginal losses, while Bank Nifty also ended the week below 31,000 level. In last hour of a trade of Thursday's session, selling pressure was seen at higher levels, as long unwinding was witnessed ahead of extended weekend." The VWAP of the February futures and options (F&O) series is placed near 12,040, a pivotal for the month. The major positions of Call writers are placed at 12,200 strike, which has become a major resistance of the consolidation.
The highest Call OI of 53.71 lakh contracts was concentrated at 12,200 strike, which also recorded maximum OI addition of21.56 lakh contracts, followed by 12,150 strike with 40.86 lakh contract and 12,100 strike with 38.20 lakh contracts. The highest OI offloading of 3.35 lakh contracts was seen at 12,000 strike.
The 12,000 strike has highest Put OI of 27.24 lakh contracts followed by 12,050 strike, which has maximum OI addition of 9.09 lakh contracts, with 25.53 lakh contracts and 11,900 strike with 12.09 lakh contracts. Maximum Put OI withdrawal of 17.97 lakh contracts was recorded at 12,100 strike.
The Put base at 12,000 strike is intact as base formation is seen in the index. Hence, 11,950-12,000 should remain an immediate support. The Nifty continued to consolidate near 12,000 level in the wake of outflows from FPIs during the week, observe analysts.
"From derivatives front, the tug of war between bulls and bears at 12,100 strike that kept the Nifty volatile and in coming week as well the volatility is likely to grip the market ahead of monthly futures and options expiry," adds Bisht.
For the week ended February 14, 2020, BSE Sensex closed at 41,170.12 points, a marginal loss of 87.62 points or 0.21 per cent, from the previous close of 41,257.74 points. NSE Nifty remained flat on positive note with an edge up of 32.6 or 0.26 percent, and closed the week at 12,080.85points as against last week's at 12,113.45 points.
Bisht further forecasts that "from technical front, the secondary oscillators suggest further consolidation into the prices in Nifty with some volatility on the cards as tug of war between bulls and bears likely to continue. However, as far levels are concerned Nifty has a stiff resistance at 12,200 level, while 11,900 should provide immediate support. While bias is likely to remain range bound as far Nifty is holding within 11,900-12,200 levels, so traders should keep stock-specific action onto the radar." The Implied Volatility (IV) has remained subdued and is not picking up lately, which makes us believe these are writing positions. India VIX declined 2.28 per cent to 13.70 per cent during the week. "The Implied Volatility of Calls closed at 12.64 per cent, while that for Put options closed at 13.20 per cent. The Nifty VIX for the week closed at 14.02 per cent and is expected to remain volatile. Put-Call ratio OI for the week closed at 1.19," observes Bisht.
Bank Nifty
With a net gain of 108.05 points or 0.35 per cent for the week, Bank Nifty closed at 30,942.85 points as against 30,834.80 points. In the previous week's volatile trading, Bank Nifty remained under pressure whereas sharp reversal was seen in the last session the week. However, Bank Nifty managed to reclaim 31,000 points, despite a fall in rupee and the US dollar index moving to three-year highs.
According to the data from ICICI Direct.com, the current price ratio of the Bank Nifty-Nifty remained at 2.56 level. The ratio recorded multiple supports near 2.52 level from where it had reverted earlier. Analysts feel that the ratio may ease towards 2.52 level again.
The open interest during week rose from 1.1 million shares to 1.45 mn shares, while declining prices were indicating formation of short positions. However, IV eased off marginally, while the Put OI additions continued indicating limited downsides.
The possible rise in rollover may add to the volatility. The 30,500 strike recorded major Put OI whereas Call blocks were seen at 31,500 strike indicating possible consolidation in the expiry week. Options premiums may decline due to possible time value decay due to long weekend.
Interested in blogging for thehansindia.com? We will be happy to have you on board as a blogger.