Reuters Kia 'kamaal' over Andhra plant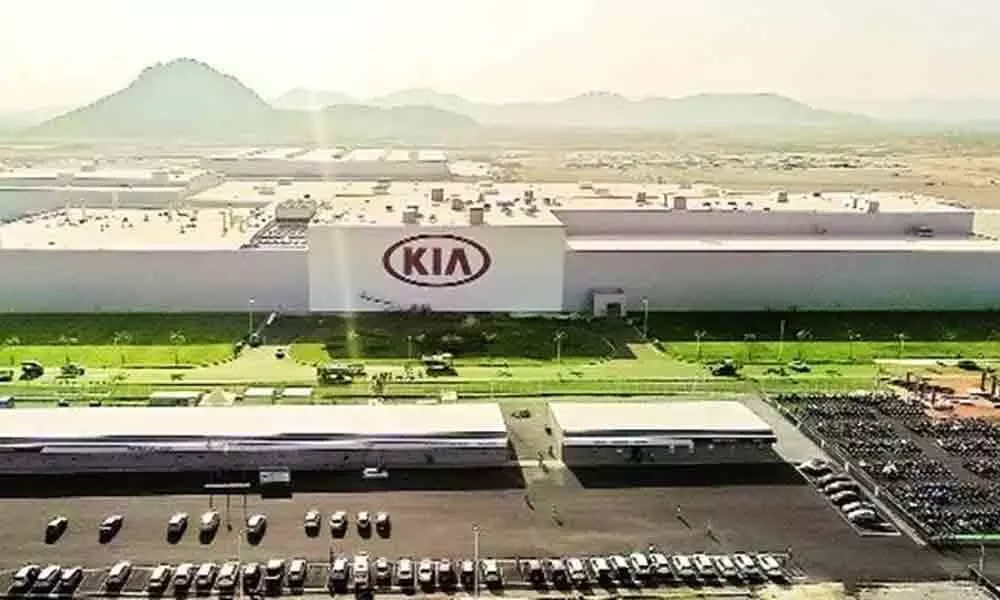 Highlights
Shifting a mega car plant like Kia Motors' Anantapur facility no child's play
Recently, I read a wonderful article by Thomas Loren Friedman, an Op-Ed columnist for New York Times since 1995. I have been reading his columns for the past 10 years or so.
A globally renowned columnist, writer and an unquestionable expert on the oil-rich-but-perennially-unstable Middle East, Thomas Friedman is a staunch critic of maverick US President Donald Trump and his presidential policies.
Known for his sharp wit and strong support for immigrants, Friedman quoted in his recent article a 2012 speech by Andrew G Haldane, Chief Economist, Bank of England, the equivalent of our RBI in the UK.
In the speech titled "the Dog and The Frisbee", Haldane explained why dogs are better than humans at catching a Frisbee. For uninitiated, Frisbee is a plastic disco used in flying disc games.
"Catching a Frisbee is difficult," Haldane was quoted as saying in his speech. "Doing so successfully requires the catcher to weigh a complex array of physical and atmospheric factors, among them wind speed and Frisbee rotation.
Were a physicist to write down Frisbee-catching as an optimal control problem, they would need to understand and apply Newton's Law of Gravity. Yet despite this complexity, catching a Frisbee is remarkably common. It is a task that an average dog can master. Indeed some, such as Border collies, are better at Frisbee-catching than humans.
"So, what is the secret of the dog's success? The answer, as in many other areas of complex decision-making, is simple. Or rather, it is to keep it simple. For studies have shown that the Frisbee-catching dog follows the simplest of rules of thumb: Run at a speed so that the angle of gaze to the Frisbee remains roughly constant."
Friedman further wrote in his column: "Haldane then went on to explain that catching a financial crisis required the same approach: Keep it simple, don't choke markets with too many complex regulations".
The NYT columnist cited this speech while stressing the need for impeaching President Trump and advising rival Democratic Party to keep the impeachment process simple.
However, the main takeaway, in my view, from Haldane's speech is that common sense should be the last filter before taking a decision – small or big. His speech came to my mind when I went through the so-called exclusive news story by international news agency Reuters which said Kia Motors was toying with the idea of shifting its new car plant from Andhra Pradesh to Tamil Nadu and was in talks with the State government there.
This is as ludicrous as it gets. Kia Motors scouted for a right location in India for its car plant for over a year, zeroed in on a place at Erramanchi village near Penukonda in backward Anantapur district of Andhra Pradesh, acquired 580 acres of land there, invested over $1.1 billion (nearly Rs 8,000 crore) on its own, constructed the massive plant of 3-lakh-units-a-year capacity at a jet-speed within two years, roped in tens of ancillary manufacturers which also set up units near the plant by investing thousands of crores of rupees, recruited thousands of people and generated over 12,000 direct and indirect jobs.
Further, it started manufacturing vehicles; launched Kia Seltos SUV in August last year, which turned out to be blockbuster hit and officially inaugurated the world-class plant in December last. Then how can someone think that Kia Motors is ready to shift the massive plant within three months of opening it officially? Only insane people think so.
However, the Reuters' story mentioned a few concerns of the South Korean carmaker. First one is the change of guard in Andhra Pradesh. Telugu Desam Party (TDP) government headed by Nara Chandrababu Naidu was in power when Kia Motors signed agreement with Andhra Pradesh and went ahead with the construction of the plant.
TDP lost power by the time the plant was ready for production and YSR Congress Party led by YS Jagan Mohan Reddy came to power with a bumper majority. Secondly, the new government enacted a law in Assembly mandating 75 per cent reservation for locals in private jobs. Thirdly, Kia is said to be fearing that incentives announced by the previous government might be reviewed by the new dispensation.
Let's examine these concerns. In democracy, governments change at regular intervals. Companies know very well that they have to live with such political dynamics. Suppose Kia decides to shift its plant from Anantapur to Tamil Nadu. Shifting is not an easy process and so will take time.
What happens if the current government in Tamil Nadu changes and new political party comes to power there before Kia could complete its shifting-process? Will Kia go to other State? As Manohar Bhat, National Head (Sales & Marketing), Kia Motors India, told me at Kia Seltos launch event in New Delhi in August last year, the South Korean automaker has no concerns with change of guard as the governance is a continuous process and the automaker signed agreement with the AP government, not with individuals.
With regards to 75 per cent reservation for locals in private jobs, Kia Motors made it clear that that it had already met with the stipulation even before the legislation was enacted.
However, there is a valid reason for fears expressed by Kia Motors on incentives offered to it. Mekapati Gautham Reddy, Minister for Industries & IT in YSRCP government, said at a press conference a couple of months ago that previous regime offered excessive incentives to Kia Motors and as result, AP government would have to pay Rs 20,000 crore as incentives to the company over next 20 years.
He also maintained the AP government is not keen on attracting large companies by offering huge incentives as the State's financial position is precarious. Obviously, it was wrong on the part of Industries Minister to speak publicly against a global brand like Kia and against big companies.
These statements have indeed sent wrong signals to the investors. Instead, the YS Jagan government should have talked to Kia Motors and sorted out the issue. That's important because presence of companies like Kia is essential for Andhra Pradesh to attract more investments and put itself on higher growth path.
Furthermore, it's time for the AP government to realise that attracting investments without incentives is not an easy task given the intense competition among various States to lure companies.
Moreover, the YS Jagan Mohan Reddy government should have an open mind when it comes to attracting investments. Putting conditions will scare away investors. This applies to even 75 per cent reservation for locals in private jobs. The fact of the matter is that companies always prefer to recruit local people if talent is available locally.
The best example is close-by. A significant number of people working in IT and pharmaceutical sectors in Hyderabad are locals. Furthermore, many global companies are coming forward to establish their operations in Hyderabad because of availability of abundant talent pool in the City of Pearls.
That means talent pool is the biggest draw for companies when they decide Hyderabad as the location for their Indian operations. Therefore, the YS Jagan government should take up large-scale skill development programmes and create talent pool required for the industrial sector instead of forcing the companies through a law to recruit locals.
Furthermore, Opposition parties also should not harm the interests of Andhra Pradesh when it comes to investments. TDP president and the then Chief Minister Chandrababu Naidu deserves appreciation for bringing Kia Motors to residual Andhra Pradesh.
Companies like Kia which has operations around the world take a 360-degree view before finalising location for their new plants. Kia came to AP during his regime as the first Chief Minister of residual Andhra Pradesh. That wouldn't have happened without his active support and participation.
The credit goes to him so long as Kia stays in Andhra Pradesh. That's as simple as that. Now, Kia Motors is the crown jewel for AP's industrial sector and everyone in the State should see to it that the automaker carries out its operations smoothly and without fear.
Also, everyone should realise that putting investors in political crossfire will push revenue-deficit AP in financial chaos. If that happens, it is people who will suffer, not the leaders.
In the end, as Haldane's speech indicates, Reuters and its representatives should have applied common sense before filing such a nonsensical story.
Even if some person or official with vested interests leaked information, it is for the news agency to put it through a commonsense test before carrying it. But there appears to be a clear motive behind the news story. Will we be able to know the real motive behind it? It's not going to be easy.