Will Rs 25k-crore booster shot help realty?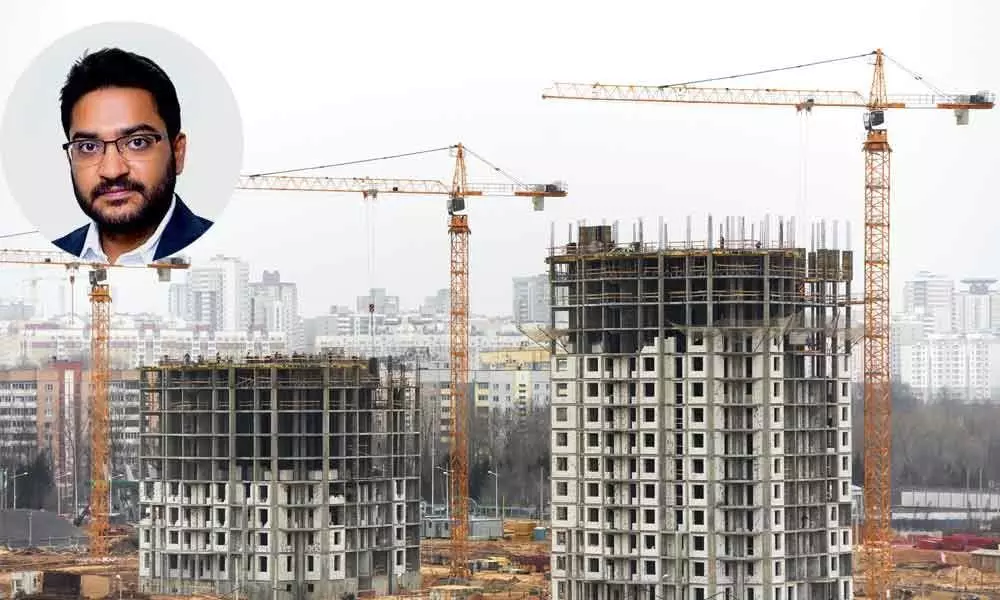 Highlights
Developers, experts say it will benefit the sector; Rating agencies say it's inadequate
Giving a much-need booster shot to sluggish real estate sector in several parts of the country including Mumbai, the commercial capital of India, and New Delhi, the central government on Wednesday announced a massive Rs 25,000-crore bailout fund to revive and complete over 1,600 stalled housing projects comprising 4.58 lakh units across the country.
Announcing a Union Cabinet decision to this effect, Finance Minister Nirmala Sitharaman said the Centre would pump Rs 10,000 crore into this alternative investment fund (AIF) while SBI and LIC would contribute remaining Rs 15,000 crore, taking the total fund size to Rs 25,000 crore.
However, this fund will be utilised for affordable and middle-income group housing projects, not luxury projects.
Housing projects with units with carpet area not exceeding 200 square metres will be eligible for revival under this. There are also pricing restrictions which differ from city to city.
But the moot question is whether this massive booster shot will put ailing real estate sector back on growth track across the country. Developers and experts say the move will benefit the sector while the rating agencies say it's inadequate.
"It's a welcome step as it will improve the market sentiment. The move is appropriately targeted at affordable and mid-income housing.
Furthermore, some of the earlier restrictions like NPAs and 60 per cent completion have been removed," Chennuru Rakesh Reddy, Director, Aparna Constructions & Estates, told The Hans India.
He further said the initiative would release a lot of liquidity into the market. "At least between Rs 80,000-1 lakh crore liquidity will be infused into the system by the time all the stalled projects are completed," he maintained.
Reddy however said its impact would be limited in Hyderabad. "Sentiment will definitely get a boost in Hyderabad market. But majority of the stuck projects are in the NCR (Delhi) and MMR (Mumbai)," he pointed out.
Anuj Puri, Chairman, Anarock Property Consultants, feels that countless aggrieved homebuyers will see the light at the end of the tunnel.
"This move couldn't have come at a better time because the delay was causing serious apprehensions. The delay in the on-ground deployment of the stress fund gave rise to severe apprehensions about the main issues – that of stuck and delayed projects – that had remained unaddressed so far," he says.
The timeline for setting up this fund and its actual implementation is quite critical, he adds.
According to Anarock data, there are over 5.76 lakh incomplete housing units worth Rs 4.64 lakh crore in the projects launched before or in 2013. Hyderabad market is home to 8,900 such units worth Rs 5,500 crore.
"More importantly, several NPA projects and those facing bankruptcy proceedings under NCLT shall also be included provided they are not referred for liquidation.
This will bring in even more stalled projects into the eligibility criteria and give relief to more aggrieved homebuyers," Puri feels.
Meanwhile rating agency Icra said that the new Rs 25,000-crore stress fund announced by the central government would not be adequate to revive all the stalled projects.
"Around Rs 35,000-45,000 crore will be required to fund the completion of the revised quantum of 4.58 lakh eligible dwelling units," the agency said.
"While the revisions in eligibility criteria appreciably expand the project coverage under the fund, especially given the large number of stressed projects which have been referred to NCLT or classified as NPA already, our initial concerns on the adequacy of the fund, the efficacy and timeliness of implementation, and demand risks for the unsold inventory associated with these projects, remain," said Shubham Jain, Senior Vice President and Group Head at ICRA.
Subscribed Failed...
Subscribed Successfully...