Zoutons Diwali Dhamaka: Get up to 50% discount all major categories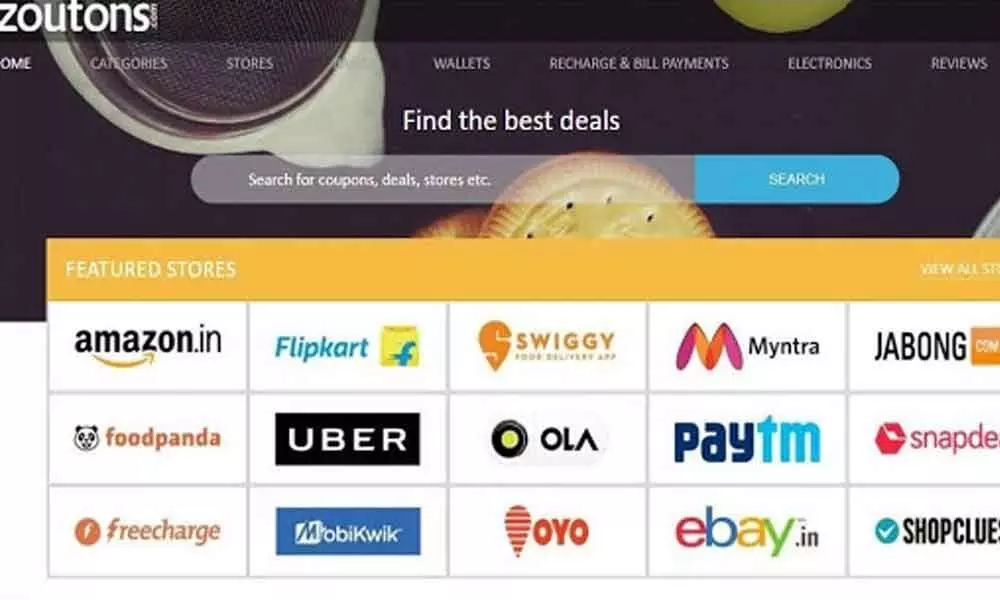 Highlights
Zoutons, one of India's leading coupon aggregators, has unveiled various kinds of offers and deals to facilitate its customers this Diwali.
Zoutons, one of India's leading coupon aggregators, has unveiled various kinds of offers and deals to facilitate its customers this Diwali. The customers can avail great discounts on different brands including Amazon, Flipkart, Swiggy, Myntra, Jabong, Zomato, UberEats and many more. So start preparing your shopping list as Zoutons is pampering all its customers' with so many deals and discounts which are difficult to miss.
How Zoutons helps in saving big
One of the leading couponing websites, Zoutons.com is providing exclusive deals and offers to all the e-commerce customers this Diwali. Since inception in 2013, the company is working towards offering credible deals to all the online customers, and so far the company has witnessed steep growth in its business with the highest monthly traffic crossing 2-million till February 2019. Recently, the company has also introduced review feature on its website in order to enhance customers' shopping experience and to help other customers with the existing products and services which are offered by leading national and international brands. Among many, some of the brands that available on Zoutons include Amazon, Flipkart, Uber, Domino's, Zomato, Myntra, Paytm, Nykaa and the list goes on.
Why to drop by Zoutons for Diwali exclusive deals and Coupons
This year Zoutons is bombarding online shoppers with huge casket of Diwali offers, so that they can feel pampered and delighted this festive season. Diwali is the biggest Indian festival and this Diwali you can get access to a wide range of products from some of the best retail stores, and brands by visiting Zoutons. The big Diwali Dhamaka sale is itself a festival where the customers can revamp their entire home without worrying about the bills at all. From great discounts in home appliances to sports & accessories to electronics to much more, Zoutons is giving a common platform to all the shoppers to make purchases of the things they dream to own since long. Besides, offering great deal on various products, Zoutons also has tied up with various banks in order to offer its users great discounts and wonderful savings. So hurry up and get access to countless deals and offers from more than 168 online retail stores and brands.
How Coupon Aggregators help in choosing the best during Festive Sales
Various leading brands are set to deliver great offers and exclusive discounts to all their elite customers. But before you begin with online shopping, it's always better to pen down all the things you are planning to buy so that you don't get indulged in impulsive shopping and don't end up buying things that are not beneficial to you at all. You can start preparing your shopping list in advance so that you don't miss out on an important deal and before making the payment, always compare the prices on various different online stores in order to have maximum savings.
Some Popular Diwali Sales on various Online platforms
Discover some of the great Diwali sales that are being offered by various different brands and you make maximum savings this Diwali by checking them at Zoutons.
1.Amazon Great Indian Festival (10% off via ICICI Bank) - Amazon Diwali sale is the time when you can use your bank' debit or credit card to make the purchases and can get great discounts on almost each and everything. You can shop between INR 3,000 to INR 5,000 and get 10% off on the total cart value under the Amazon Diwali Sale.
2. Flipkart Big Diwali Sale- Flipkart aims at offering great discounts to all its customers especially during Diwali so that the shopping fun gets doubled. Under Flipkart's Diwali sale, you will find hefty discounts on home appliances as compared to the previous year. Shop for home appliances from leading stores to get amazing discounts during your Diwali shopping. Zoutons gives you direct access to more such credible deals and discounts from top stores.
3. AirAsia Diwali Sale –Fly emphatically at the most reduced prices this Diwali season to share happiness with your loved ones. Air Asia is giving great discounts on booking air tickets under Diwali sale. Zoutons presents some of the amazing air ticket deals and discounts, plan your travel with AirAsia and get heavy discounts on domestic and international flight bookings as well.
4. Ferns N Petals Diwali Dhamaka Sale- Ferns N Petals presents the biggest and the most awaited Diwali sale, allowing its customers to avail various discounts on flower and gifts to your loved ones. The festival of Diwali means sharing gifts as a token of your love with others, visit Zoutonswebsite to avail extra discounts in order to save more on your cart value.
5. Decathlon Diwali Sale – Pamperyourself with the best range of sports equipment and accessories this Diwali as Decathlon has tons of offers for you to explore. Zoutons is focussed on offering best deals with maximum discounts to all its customers, so avail best of the offers to enhance your shopping experience.
Online shoppers can look forward to get great deals during their Diwali shopping of smartphones, consumer electronics and apparels. During Diwali, the online ecommerce stores are flooded with Diwali offers and deals, and for all those shopaholics it's that time of the year to fill their wardrobes and homes with latest stuff.
Diwali means shopping, but with chaotic traffic during the festive days, its better to avoid such kind of tiresome situations and to sit at home and enjoy amazing deals and discounts on Zoutons, especially when leading shopping brands like Amazon, Flipkart, Jabong, Pepperfry, Swiggy, AirAsia are offering unsurmountable deals. All the coupons that are listed on Zoutons are verified so that transparency and authenticity can be maintained. Zoutons will be adding more discounts and coupons during the coming festive season, so get pumped for convenient and hassle free shopping across various brands, categories, and products at affordable prices.