From Power Star, Crazy Star, Rocking Star: Kannada Actors And Their Titles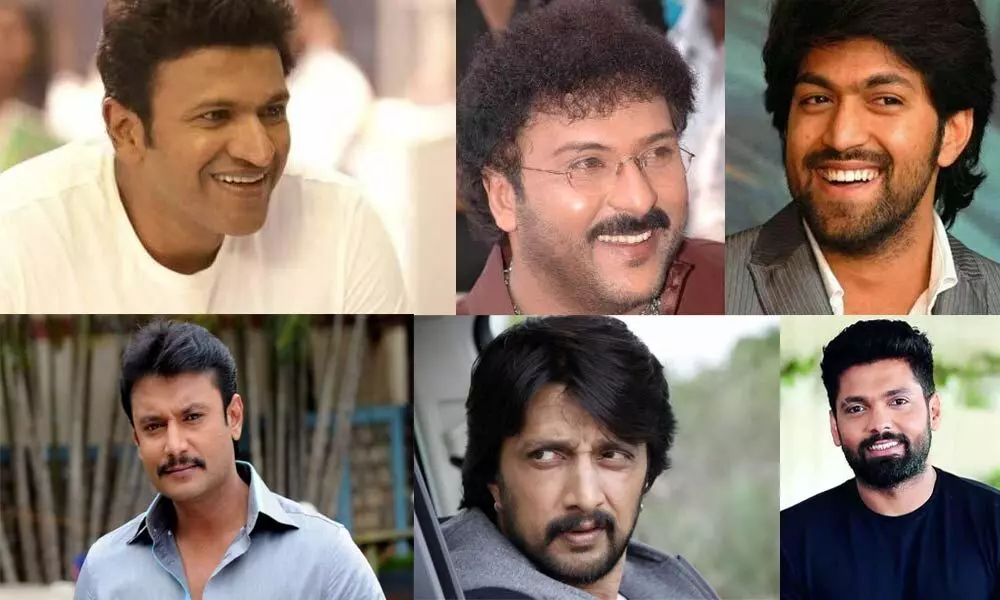 Highlights
Even though we consider Indian cinema as a single entity Southern Film Industry is way different in a way they treat their actors
Even though we consider Indian cinema as a single entity Southern Film Industry is way different in a way they treat their actors. And by now, you must know that most lead actors have a title prefix before their name. This is either given to them by their directors because of the actor's ability to act or a title remained with them because of a role they played (like Kichcha Sudeep, Mukhyamantri Chandru, Rangayana Raghu etc). Let's have a look at the titles given to Kannada actors and the story behind those titles.

We acknowledge that all these titles started with older actors and thought why not focus on them before the current crop of actors who are making waves in the industry right now. For the unversed these are the titles held by late actors.
Dr Rajkumar: Even though he was not a doctor by profession, this title was conferred upon him for his contribution to the Kannada film industry. That apart he is also known as Nata Sarvabhowma. He was fondly called Annavru in the industry.
Sahasasimha Vishnuvardhan: He was known as the Rajesh Khanna of Sandalwood. His style, mannerisms and stunts were well known and so was called the Sahasasimha (adventurous lion) of Sandalwood. He also had the title Abhinava Bhargava.

Rebel Star Ambarish: He was known as the Karna of Sandalwood for his generosity. The late actor was often seen in action movies so he was called the Rebel Star of Sandalwood.
Tiger Prabhakar: This actor became famous after his worked in a movie called Tiger. He not only played lead roles but also a baddie in several movies. The way he pounced on his rivals in the movies was often compared to the mannerisms of a tiger and thus the title.
Now, for the current breed of actors.
Crazy star Ravichandran: He's known to make movies larger than life. All his movie sets are magnanimous and Ravichandran is called the crazy star of Sandalwood as he has imported some of the best and beautiful talent from other film industries across India.
Real Star Upendra: His movies are always real and hence the title. From directing movies like Om and Shh to acting in movies like A and Rakthakaneeru, Uppi is known for his pathbreaking movies.
Hattrick hero Shivarajkumar: Imagine the enormous expectation the debut movie of an actor from film family evokes. So it happened with Shivarajkumar, son of matinee idol Dr Rajkumar. And Shivanna scored not just one but three hits in a row and thus earned himself the title hattrick hero. Besides he is also known as the century star in Sandalwood.
Power Star Puneeth Rajkumar: There's something about this Kannada actor which pulls crowd to theatres. No wonder then Puneeth aka Appu is called as the Power Star of Sandalwood.
Challenging star Darshan: Here's an actor who's known to pull off any kind of role with ease. And his trademark dialogues are what draws crowds to theatres. He is also called D Boss by his fans.
Kichcha Sudeep: He is also known has the Abhinava Chakravarthi in Sandalwood. But he earned himself the popular title Kichcha because of his movie which goes by the same name.
Golden star Ganesh: He was the host of a TV shows on Udaya TV. Then he would do character roles in movies. Eventually he went on to not only to grab roles lead actor roles in movies but also became the most successful actor to score consecutive hits. So basically whatever he touched turned to gold, the actor with a midas touch of Mungaru Male went on to become the golden star of Sandalwood.
Rocking Star Yash: The actor is the most talked about star in Sandalwood. Thanks to his most successful franchise KGF, his life and career are rocking.
Simple star Rakshit Shetty: His movie simple agi ondhu love story became a super duper hit. After that there was no looking back for the Sandalwood actor. From Kirik Party to his latest Avane Srimannarayana, Rakshit Shetty loves to keep it simple and closer to reality.
Subscribed Failed...
Subscribed Successfully...