I am happy to bag ANR Award, says Rekha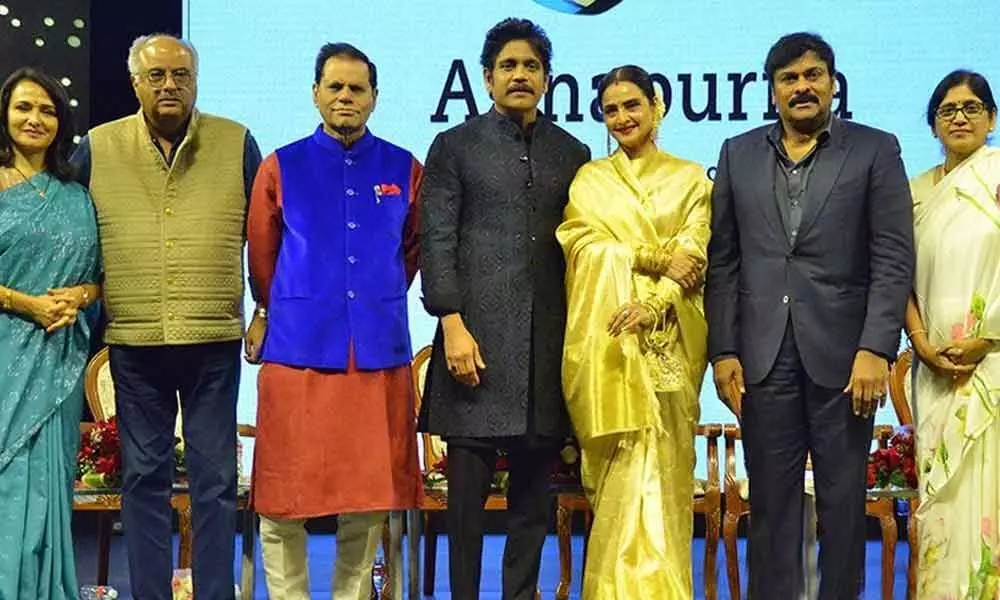 Highlights
ANR National Award is one of the most prestigious awards in the Telugu film industry.
ANR National Award is one of the most prestigious awards in the Telugu film industry. It is institutionalized by the Akkineni International Foundation in the name of thespian Dr. Akkineni Nageswara Rao.
These awards are meant to honour the personalities who carved a niche in films and for their contribution to the Indian film industry.
The first award was presented to Bollywood actor Dev Anand in 2006. Recently, ace director SS Rajamouli was honored with the ANR National Award for the year 2017.
Legendary actors Sridevi and Rekha bagged the prestigious award for the years 2018 and 2019.
The award presentation ceremony was held in a grand manner on Sunday at Annapurna studios. Megastar Chiranjeevi graced the event as chief guest.
After receiving the coveted award, B-town actress Rekha said, "I spent 10 years in Annapurna studios. This is a happy moment for me to come back to place today.
Nageswara Rao garu guided me with a lot of things about the industry and acting. His words helped me a lot in my career.
As per my mother's last wish, I did a Telugu film after a long time. I will do a Telugu film soon by clearly learning Telugu like Sridevi garu."
Akkineni Nagarjuna said, "We are following his words and thoughts. This award will honour legendary personalities in the film industry and will carry forward the legacy of ANR garu.
Chiranjeevi garu is very close to me as a brother. I can't express our bonding in words. When I told him about this award he cut-short his US trip and came here today."
ANR National Award Committee Chairman, Dr T Subbarami Reddy said, "Maha Natudu ANR garu who is very close to my heart will be watching this award function with pride and happiness from heavens,"
Boney Kapoor said, " I am proud to receive this award on behalf of Sridevi. Thanks to Akkineni Foundation, Akkineni family and T Subbarami Reddy garu for this prestigious award."
Megastar Chiranjeevi said, "My mother admires ANR garu a lot. Maybe that's why I developed a huge admiration for the cinema.
I wanted to come to this industry after the completion of my education. I always felt happy about becoming a hero during the times of Legendary personalities like NTR garu, ANR garu.
I was lucky to act with Nageswara Rao garu in 'Mechanic Alludu'. His guidance about this industry has helped me. He is like a 'Guru' for me."