QUEEN: Off screen and on screen too!!!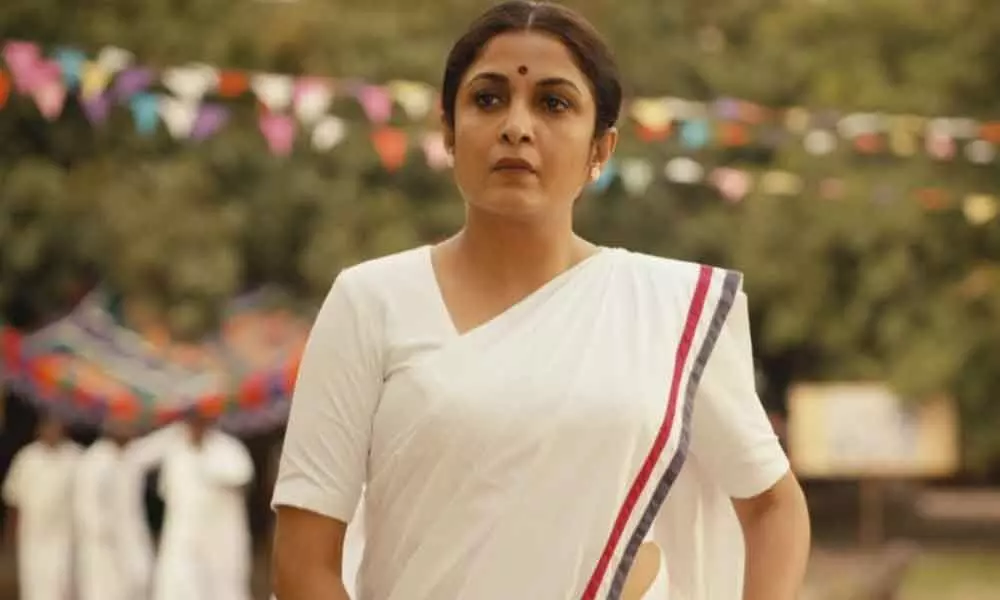 Highlights
The webseries 'Queen' directed by Gautham Vasudev Menon is based on the life story of former chief minister of Tamil Nadu and an actress who stole many a heart during her hey days, late Jayalalitha; a woman known for her grit and determination played by Ramya Krishnan
Every person is a story, but if such person is Jayalalitha. She has been queen in the hearts of not only people of Tamil Nadu as Thalaivi and chief minister of state but also in hearts of global audience as actor, dancer and orator, who has her own unique stand in whatever she does.

'Queen', is a web series of 11 episodes inspired by life of former chief minister of Tamil Nadu Jayalalitha. It is directed by Gautham Vasudev Menon, a name synonymous with romantic films like 'Yem Maya Chesaave'; he also played an important role in this series. There is another director associated with the project, Prasath Murugesan, who directed young Jayalalitha's character.
The queen of hearts, Makkal Thalaivi Jayalalitha's life is not only colourful but an enigma for many. Her strength, character, her life choices speak about the sacrifices she made to get what she wants. We talk about strength, outspokenness, ambition as obscene words when spoken for a woman. Sometimes it's also considered sinful to aspire for something as a woman, and to conceal their aspirations many women resort to indirect ways of getting their work done. Even today, in offices, professions, public domain, women's smartness and intelligence is undermined and shut off with snide remarks.
Queen's an amazing story told, in the form of an interview, which is a kind of a rip off from Simi Garewal show, where the host asks questions to Shakthi Seshadri, a powerful politician played by Ramya Krishnan.
The story travels through three important stages of Shakthi's life, as a kid who wanted wings with indomitable spirit, as a young actress, who is still full of dreams of love and pines to belong to someone, and finally as middle-aged woman, beaten by life, bygone dreams, braced with practicality, not shy of her ability. The characters of child and young shakthi are extremely endearing.
One can't get enough of Ramya Krishnan as Shakthi Seshadri with an uncanny resemblance to Jayalalitha; her poise, grace, and unbelievable control over disappointment, grief, heartbreak; scenes that could be played and watched on loop.
We all have questions about Jayalalitha's life and would like to know what's behind that steely resolve, that total compassion for someone, complete vengeance towards the other.
Jayalalitha knows only one thing- total dedication to her emotions and actions. And, to portray a character that bears such resemblance to her, choosing Ramya Krishna seems like half the battle won. Then there is MGR (camouflaged as GMR).
The way the whole story was dealt in an interview form, is effective and, it answers not only for Jayalalitha, but for every woman who fights patriarchy in every field she chooses, the choicelessness of intelligence, the isolation for being smart and outspoken, the total dominance and jailed conditions in the name of love, loyalty, dedication etc.
In one episode, an editor of a newspaper is skeptical about Shakthi having advantage over GMR's wife, and says, "sometimes marriage dominates over real capabilities and expertise of an individual in politics, I don't think she (Jaya/Shakthi) stands a chance before a wife..." – to which, a political analyst says- " people are much smarter now-a-days, they know who can reach out to them and help them, and they know which box who fits into" – amazingly true!!!
Ramya Krishnan stands out in each of the episodes. Sometimes it's not necessary to give visual presentation for every fact, but intelligence is in knowing what to hide and what to show, and much could be said with just a shrug. And Ramya Krishnan's simple gestures powerfully portray her disappointment over men, her fate being sealed with GMR, the shattering of her dreams of a married life, her love-hate relationship with mother, indignation over caste discrimination and being actor…
The series is abound such stunning moments. Once Shakthi says to a question-" Yes, there are always hard choices to make. We give birth to men, raise them, sometimes make them what they are, give the control to them, love them and get disappointed by them, bear heartbreak due to them; when we know the result of relationship, we will be calm and better prepared. However I may be punished, I will not underplay my intelligence and it's not a sin to be smart..!!" – It is a heart stealing moment.
They say- a good speech/film is something, which stops at a certain point where the audience wants to see more; the series stops with GMR's death and Rising of Shakthi from being thrown out of his funeral procession to control a state.
Huge respect to Gautham Vasudev Menon and Prasath Murugesan for such a well-made series. The technicians played their bit too in the way they used the camera, the music, the sets recreating 70s and 80s and the costumes. For me, personally it's a quote book for women in professions and an ode to smart, intelligent, frank, well-read, ambitious, compassionate women, who are not/ need not be shy of their abilities and capabilities.
The writer is a lawyer, activist, writer, singer, reader, traveller on wheels, Para-Air Rifle shooter, polio crusader!
Interested in blogging for thehansindia.com? We will be happy to have you on board as a blogger.