The village belle Parvathi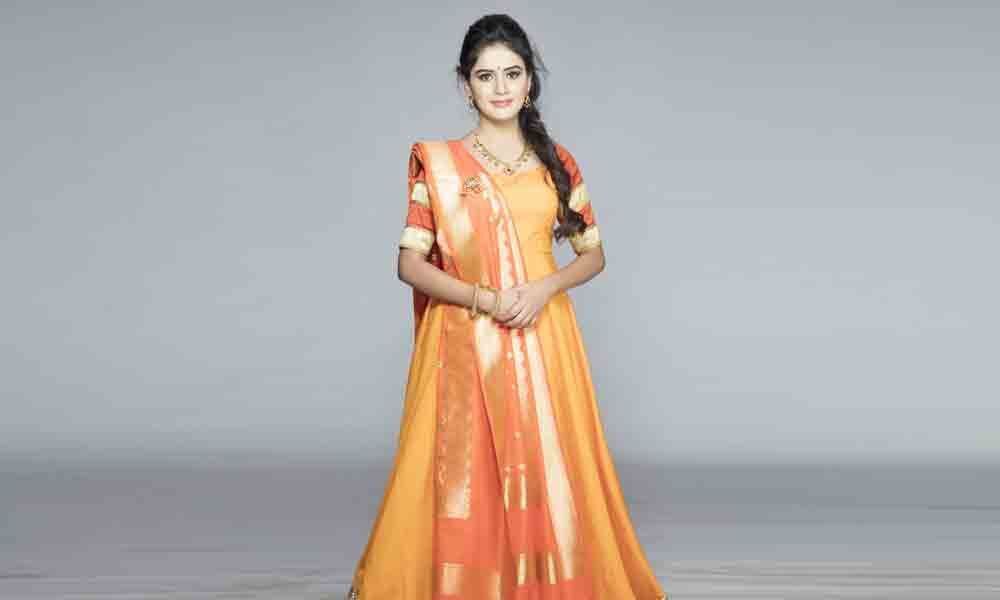 Highlights
After 1400 episodes of acting as Parvathi in the TV serial 'Mudda Mandaram', the viewers see her in a completely new avatar and love her performance
Actress Thanuja Gowda's character of Parvathi in the television serial 'Muddha Mandaram' on Zee Telugu has completed 1400 episodes, and for all the right reasons has gained immense popularity with the soap watchers. Now, with a 20-year-leap in the serial, she will be seen in a new avatar with the character Soundarya. What keeps her going in the television industry and what is Thanuja like when not acting; she shares during a quick chat in between shots.
Tell us about how you got into acting
I never thought that I would become a celebrity. This was an unexpected thing that happened to me. When I was working as an anchor, Venkat Sir, the co-writer of the serial happened to meet me once and asked me if I would act in a serial. Then I happened to meet Pradeep sir from Annapurna studios in Bangalore. But, still, I wasn't interested to get into acting, when they insisted, I must visit the studio. I finally came down and I got an offer to work in the serial.
What makes you so attached to your character of Parvathi?
Parvathi is one of my favorite character. I always used to watch serials that portrayed women from villages that somehow interested me. When I heard the story of 'Muddha Mandaram', my father was with me. We liked the dialogues and the character of the village girl who falls in love with the rich man. I never understood the language, but then I happened to learn about the role in depth with curiosity. This is one of my best characters for lifetime. Even though I am playing the role of Soundarya now, I still admire the role of Parvathi. Whatever I am it's because of my character Parvathi and my fans.
How did you cope up with the language Telugu when you did not know the language?
I would say it is God's gift. I grasp the language very easily whenever I listen to someone speak. Be it whichever language, I am ready to learn it. The role of Soundarya has a typical Telangana slang whereas Parvathi was very silent. I not only have to learn to talk, but also abuse sometimes, which depicts my character.
What do you do in your free time?
Honestly speaking I really do not get free time; it has been three months since I went home. I love reading books and I read books during my free time. I do not like to watch movies or TV. Even my serial, I watch it once in every four months. When I am on sets, I love to make fun of people and crack jokes.
How do you manage with long hours of make- up?
Everyone around me mention that I look good without make-up and in the serial 'Muddha Mandaram', I have done few scenes without make-up. I used to cry a lot for the scenes and make-up would be washed away with the tears and so eventually I stopped using it. However, I like to do my own make-up.
What kind of a man do you want to get married to?
I really do not have an idea of a dream man in my life. I just tell one thing to my mother that if it is a love or an arranged marriage, I will try to make him to like me and if he doesn't, I will try being like the one he would want to be with. It all depends on him. In future, if he asks me to drop off my work and stay at home, I am ready to do it. I do not expect much, but at the same time I would want him to take care of me as a child is taken care of.
What do you want to continue doing in your future?
When I was in college I was much interested into modeling and if I get a chance, I would love to do it again. I also want to do good movies and impress my fans. I am getting offers from Kannada films.