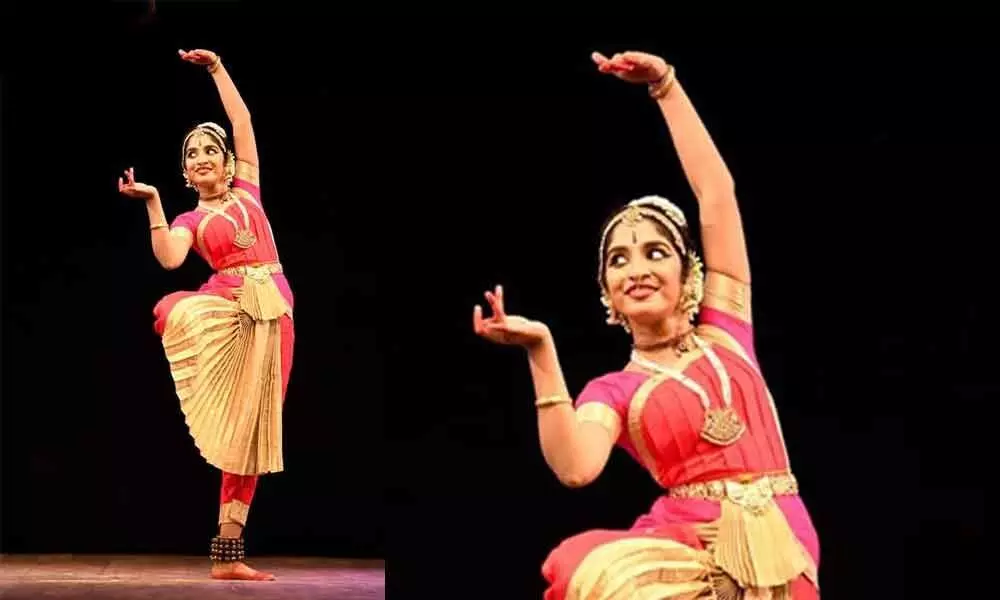 Highlights
Dr Ananda Shankar Jayant's student Ramya Subramanian makes her debut with traditional repertoire well-conceived by her Guru
Ramya Subramanian gave an enthralling Bharatanatyam arangetram performance recently. She rendered the items that her guru Dr Ananda Shankar Jayant choreographed.
The first item was 'Pushpanjali'and as the name indicates, an offering of flowers to the Lord, paying the dancer's respects to the Guru, the orchestra and the audience.
The second item 'Alaripu' in Tisra talam is a pure dance form where Ramya as a devotee, offers her various movements to the Lord is an invocatory dance item propitiating the Lords.
Then followed 'Bharath Vandana'—Ragam Gambheera Nattai-Adi Talam. 'Vande Tvam Bhoodevi Aryamantram - Jayatu Jayatu Pada Yugalam Te Nirantaram', a rousing poem by Telugu poet Rayaprolu Subba Rao that eulogises the beauty of our motherland India was conceptualised beautifully and executed with elan by the young dancer.
In the next item which was a Khamas raga varnam in praise of the Mother Goddess, the poet Muthaiah Bhagavathar, worships divine mother.
The poetry is an evocative description of the Mother Goddess
Ramya also performed 'Padam' in Kapi ragam, where the heroine asks Krishna to come dancing on his little feet to her.
The last item she presented was 'Thillana' in Mohana Kalyani. This Thillana is the most brilliant and grand item in Bharatanatya recital, composed of jathi patterns, graceful and statuesque postures.
This Thillana is in praise of Lord Muruga, and is a composition of the Violin Maestro Lalgudi Jayaraman Choreography and Nattuvangam for the programme was given by her Guru.
Subscribed Failed...
Subscribed Successfully...