I want people to realise our amazing roots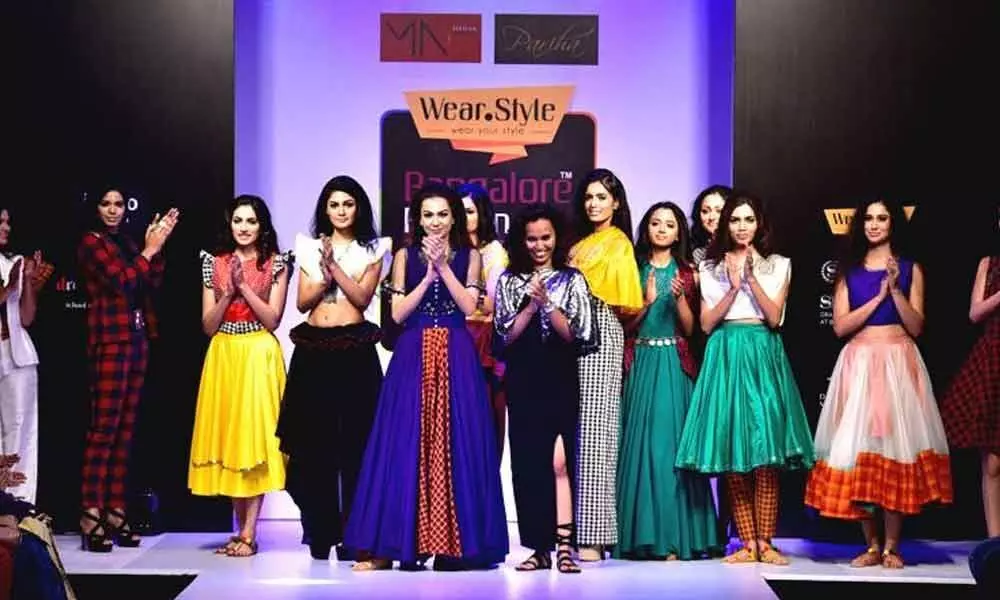 Highlights
Says designer Parinitha MN as she gets ready to showcase her latest collection at the upcoming Paris Fashion Week
Bangalore-based designer Parinitha M.N. has been selected by the international platform Global Fashion Collective to showcase her work at the Paris Fashion Week S/S20, which begins September 30. Parinitha will be showcasing 'Two Halves' the new collection under her label Pariha.
Excerpts:
Tell us about your design journey?
As a kid, I wanted to be an air hostess. Once when I was in Class 5, my mom asked what would I do if the plane I am on gets hijacked? My instant reply was, 'Okay, I'll be a fashion designer then'. It somewhere got stuck in my head. And here I am today.
What is 'Pariha' all about?
I graduated from NIFT, Bangalore in 2012 and started working as a designer for a retail company. But there was something bigger that I wanted to do. So I quit my job and started working on setting up my label 'Pariha'.
I feel sad how easily people have forgotten how rich India culturally is, because we're all running fast into the future and replacing the old. I want people to stop, think and realise how amazing our roots are.
I launched Pariha in 2016 with 'Cultural Rediscovery' as its philosophy. I want to tell stories that are quietly fading out. My ensembles wander through an emotion, creating statement pieces that work both cohesively, as well as individually.
I have worked with themes such the extravagant dance form of Yakshagaana and my Spring Summer collection, inspired by the history and craftsmanship of Ganjifa cards, was showcased at Vancouver Fashion Week in September 2018. The British Vogue featured it this year.
How did the Paris Fashion Week happen?
Global Fashion Collective is an expansion from Vancouver Fashion Week and since I had done a show with them last year, this had to be the next big step. This is their first time at the Paris Fashion Week.
What are you going to showcase?
My collection 'Two Halves' is inspired by the undiscovered artist inside each one of us. We might be too scared to look inside ourselves. No matter how much a misfit we think we are, but there is space in this vast universe to be exactly who we are meant to be.
When we come together and create, we can bring about massive change. Even if one of us is missing, there's a void. Through this collection, I hope to inspire someone to bring out the artist in them.
What about the detailing of collection?
The collection has a total of 12 outfits, the prints and colours of which are inverts of each other depicting our alter ego. I've used complementary colours such as black and white, yellow and blue, purple and orange, pink and green, and greys, because there's always a lot hiding amongst the greys.
The ensembles are an eclectic mix of layers, prints, transparency and surface development. I've used snap buttons, contrast stitch lines, applique of the print. The prints are digitally printed.
How do you perceive the fashion scene in India and abroad?
Though I feel fashion abroad is more mood-based, beyond that there isn't a clear distinction. The identities are blending and that's great.
Who are your favourite designers?
Sabyasachi Mukherjee and Marc Jacobs. Eternal!
What is your idea of fashion?
This is going to sound really cliched, but it is an extension of oneself. And that is exactly what my collection is. It's how unique each one of us is. It's also something that's ever-evolving. For me, it's a mix of a lot of identities, past present and future.
Who is your muse?
Blake Lively.
What is the best way to carry your label?
Pariha's collections always have a unique back story to them, which helps define you to the world.
What are you working on next?
At the moment, I only have this collection and Paris on my mind!
Any fashion tips?
Don't let go of who you are. Nobody can be you. You shouldn't want to be someone else. Find who you are and everything will make sense. Be authentic. It's rare.