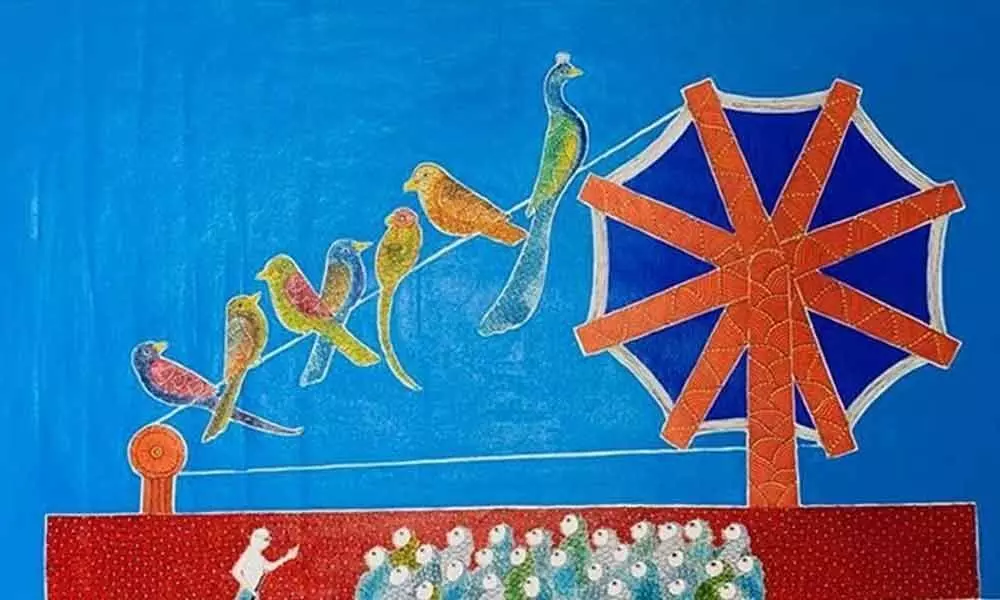 Highlights
What was started by Mahatma Gandhi as resistance to the Raj and as 'Swadeshi' movement has now become a muse of fashionistas… Khadi in this day and age continues to inspire and astonish people across the world…
Khadi has come a long way. From the symbol of freedom in the Indian independence movement to most revered handloom in fashion.
Father of the Nation MK Gandhi is credited with being the pioneer designer and ambassador for khadi clothing. What was instigated by him is now spreading rapidly and globally! It has now become a hep thing in fashion for people of all ages.
Khadi is a hand-woven natural fibre fabric that is made primarily of cotton and may also include silk or wool. During the Indian independence movement, khadi became a symbol of self-reliance and for Indian pride.
Khadi had the idea that the cotton we grow can be spun and knitted to form clothes and that money should not be wasted buying lush and expensive clothes.
Today, khadi fabrics are not only limited to cotton, and they have many aspects. Khadi mixes with other fibres to make raw silk khadi, matka khadi, poly khadi, tussar silk amongst others.
The fabric that was initially available only in a single almond tone now comes in around 30 seductive tones. The fabric has gained worldwide recognition with the courtesy of the fashion industry that promotes the fabric in a way like never before.
The fabric has captured the attention of international fashion designers as well. And many fashionistas vouch for the fabric.
Gandhi and khadi
Dr Sharmila Nagraj N, who is founder of Kaumudi Studio, former director at Woxsen School of Arts and Design, former professor at NIFT, Hyderabad, says that she was attracted to khadi when she was a teenager.
"I started wearing khadi when I was 17 years old and that was because khadi always had huge discounts. As a teenager, who was doing a lot of work around the fabrics, I felt khadi was the most accessible fabric."
Dr Sharmila thinks khadi is a phenomenon; an experience, which you need to indulge in. "It is not a fabric, which you just go to a store, pick up and wear it. You get attracted to khadi because there is consciousness in it… that is the pure intent because khadi cannot happen if the person, who is spinning the yarn or who is weaving the fabric doesn't want to do it.
Spinning is a very meditative process as much as weaving on handloom is. People who constantly use khadi, do so because they are therapeutically and spiritually connected to the fabric.
Once you wear it…it is like candy to the skin; you don't want to leave it and for that kind of experience to happen, I think people have to be conscious of the way they are living; the way they go about their day; and what they intend for the world.
Khadi does not fit into your materialism. It is a broader and deeper life essence."
Dr Sharmila adds, "I very often reflect upon on why I am so head over heels about Gandhi… I am yet to arrive at that… I think khadi and Gandhi are two sides of the same coin. Gandhi is a phenomenon and philosophy.
It is so great that we have been given 150 years of legacy and this man was born on this land. What better can we do than going to a store and pick up khadi products! Youngsters should pick up khadi and keep legacy alive."
Khadi prices in the recent past have escalated; in this regard she states: "What we have offered to people earlier was just not in line with what the fabric was.
To make it available widely, the government gave subsidies and discounts which was not respectful to the fabric. Khadi was sitting in the stores and people were not buying because it was not appealing.
Today, there might be some extravagance happening… but by far I think khadi should be a luxury in the form where you can buy it. If you want to experience it, you need to go and spin and make your fabric, which is also a luxury.
We need to look at the spinners and weavers; their minimum wage is very less. You need to stand there and calculate how much time it took to make the fabric and after you see that, the price will seem only fair."
About her favourite khadi outfit, she says: "I don't do much of khadi saris but wear khadi kurtas. Because in khadi sari you do not experience the fabric as a whole on your body.
In kurta or kurtis it feels like the fabric is sitting close to your skin and has a beautiful weight and doesn't need a lot of lining. Once you do not have a lining that means you are experiencing the goodness of khadi. I like to wear khadi kurta's and trousers."
Heritage factor
Hyderabad's fashion designer Gaurang Shah states, khadi is our heritage, and preservation of heritage is utmost important to each one of us. "We have been able to transform the dull khadi to adorable fashion in the modern era.
It is softer, falls beautifully and is more colourful now. To celebrate the beauty of khadi we have recreated 30 iconic unseen paintings of Raja Varma on khadi sari pallu.
We will be showcasing these today at National Gallery of Modern Art (NGMA) in Mumbai coinciding with 150 years of Gandhi Jayanti."
Bharatanatyam and Kuchipudi dance exponent Ananda Shankar Jayant, says: "Nowadays plain khadi is woven into linen and tussar. I am a sari person and I wear it mostly and sometimes kurtis. I like khadi saris, which are finished.
I find it nicer that way - when it is mixed weave, it falls better for me. Khadi by itself is nice to wear but difficult to maintain."
Pratiksha Prashant, CEO Kishandas & Co, says that she has always been an ardent sari lover.
"I was introduced to wearing khadi about 6-7 years back by Gaurang. 'Khadi' breathes with your skin. And I'm most confident as an Indian and my skin is most comfortable in it. My favourite is an off-white khadi sari with a yellow border...its fresh and one of my favourites from the many khadi outfits I have."
Beauty of Ponduru khadi
Ratna Rao Shekar, who is a handloom lover, writer, editor and art curator, informs that the best khadi is made in Andhra Pradesh and Telangana. "I know many women in Congress used to buy their saris in Hyderabad in the Khadi Bhandars."
Khadi in recent past has become a new fashion statement, Ratna says: "Now, of course, khadi has become high fashion, and so they carry out so many experiments with the fabric, natural dye, jamdani, even get kalamkari done on it.
That's the thing about khadi, its versatile. And as you drape and wash, it becomes softer and takes the contours of your body. Besides, its a fabric that breathes and is lovely to wear during summers."
She shares that her favourite sari in her collection is a Ponduru khadi, which is exquisite, to say the least. "It's simple and yet classy. When I wore it for a wedding, it was so different that everyone was asking me about it!
Also, Ponduru khadi is completely handwoven, from the yarn to the weaving. It's almost moving to see the women working in the little verandah of their modest homes! Mostly these have a story to tell, and I believe khadi like yoga is one of India's gifts to the world.
Imagine Gandhi urged everyone to work on the charkha for a few hours to spin their own cloth, as a way of fighting British mill-made textiles. We should try the charkha; I believe it is one of the most meditative activities," Ratna says.
The go-to fabric
For Mamata Reddy, hand-painted Kalamkari revivalist, khadi is her go-to fabric. "When I was in college, I would wear khadi during all seasons. That's the reason I love khadi. Sari is my favourite outfit in khadi."
Sreedevi Devireddy, CEO, SR Innovation Exchange, Warangal, says: "Since college days I am wearing khadi kurtis… they are my usual office wear. The day, farming and weaving become sustainable; that day, we will be paying true tribute to Gandhiji."
Patriotic fervour
Hyderabad-based designer Ganesh Nallari shares that khadi reminds him of patriotism. "As children, we are introduced to khadi as fabric from the 'swadeshi' movement.
Khadi evokes a sense of patriotism in each one of us. However, if we look closer, one understands that the fabric is breathable and best for a tropical country like ours.
The versatility of the fabric lies in its quality of keeping cool in summers and warm in winters."
What makes khadi special to him? "Everything is handmade, handspun yarn and handwoven into the fabric. Over time Khadi has evolved from basic neutral colour to a wider brighter colour palette.
Newer blends, weaves, prints and various surface ornamentation techniques are introduced to make our humble khadi take centre stage in high fashion."
Dr Latha Thanneer, who resides in New York, USA, says that khadi holds a special place in her heart. "Khaddar means childhood to me. I grew up watching my dad wear khadi kameez and dhoti to work at State Excise Department every single day.
The fabric has a special place in my heart and is my comfort fabric. I got my daughter to wear them too. The recent khadi kurtas by designer Ganesh Nallari are my current favourite.
Wore it for the first day of Navratri festivities to attend a Golu at a friend's place here in New York."
- With inputs from Rajeshwari Kalyanam