Tigress from Bobbili to bring change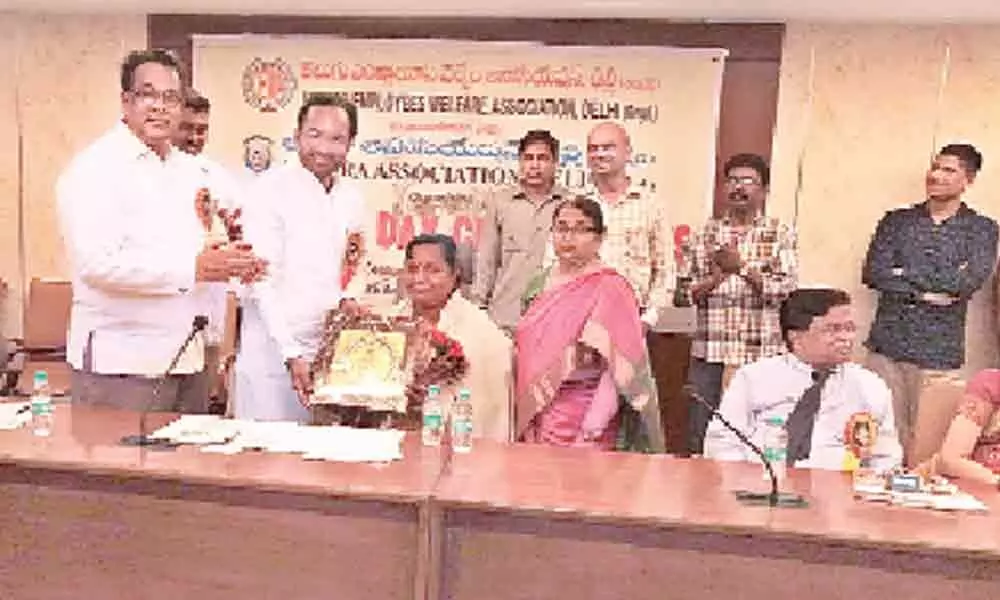 Highlights
A 41-year-old woman from the small town of Bobbili in Andhra Pradesh with 18 years of experience in imparting knowledge to the young minds, Chittimoju Usha Rani recalls how she initially wanted to become a doctor but learnt later that teaching was her true calling
Bobbili is considered as an educationally forward area with many private schools scattered all around. One is curious then, how did Chittimoju Usha Rani manage to convince people to enroll their children in a government school?
How did a woman step out of the comforts of her home and built a whole empire? How did the drive bring a change in the emergence of a true leader one would remember for years to come?
Speaking to the Hans India, Usha Rani says, "After 18 years of experience in this profession, I can proudly say I might have made as much difference in the society as a doctor would've made."
Her school Sri Venugopala Municipal Elementary School is located in Bobbili, Vizianagaram district where she is the headmistress. To her, it still feels like a dream.
It hasn't been a cakewalk for her. She recalls the initial days when she would go knocking door to door, telling people what her school has to offer. But it was difficult to get people to listen.
But she knew that the digital content for which the corporate schools take Rs 2000 per month from each student was being offered in her school for free of cost and word of mouth would eventually spread the information. They even began printing pamphlets with teachers' qualification and sending them out to parents.
All such efforts which were aimed at providing people quality education at low cost have over time brought many students to her premises. These bright faces who enter her school gates with hope in their eyes are her remuneration.
Not only this, but her school also prepares students to crack the examination of Navodaya scholarship. Based on an entrance examination, the government awards a scholarship to meritorious students. Many expensive coaching classes are run to prepare students to clear the exam but Venugopala school offers free of cost training to students.
The instances like these that reinstate one's faith in humanity that there are still people out there who are ready to make the society better and not simply mint money.
The headmistress says that in relatively remote and smaller places like these, it is very difficult to make parents understand the value of education as it doesn't get you immediate money.
After thinking a lot, Usha Rani came up with a unique concept –"Subodhini" which is her YouTube channel where she uploads videos.
The content of these videos is an area of interest. She invites people from varied professions (lawyers, doctors, policemen) to come and address students and hold an interactive session with them.
For instance, she recently invited army personnel to talk about the lives of soldiers when the nation saw the brutal Pulwama attacks and the subsequent war-like situation.
It is these sessions that get filmed in videos, uploaded on the YouTube channel and later shared with other teachers as well. She believes this activity will infuse her students with the will to take up jobs and become financially independent.
She says,"Children interact freely, ask all sorts of questions but I know they are beginning to realise what impact education can create in your lives."
Usha Rani encourages the holistic development of students. She keeps organising various events regularly like Design for change, Walk for water and others. This year she organised something called the learning fest, which was an event comprising of seven aspects.
Some of which were, a cultural amalgamation of students that they learn to appreciate diversity, inculcating moral values, art and craft sessions and so on. It was highly appreciated by the locals and was covered by the media on a large scale.
She even holds Vedic Maths classes in her school which are a rare sight in that area plans to start Bhagwat Gita classes and Yoga sessions very soon. She also mentions that this year, they celebrated the Ganesh Chaturthi festival in an eco-friendly way.
In order to encourage clay statues, they showed the making video to the students on YouTube and provided them with the required resources. So children saw it on loop and tried making clay models, she remarks proudly.
Although she has achieved success in a lot of fronts, she says there is one battle she has to fight every day. Venugopala school has an all-female faculty as this poses a major hindrance to convince parents that it is an equally efficient school.
The mindset that women cannot give their wholehearted commitment to a project because their focus is split between the home and work which is a very difficult one to change.
She says, "All of us, when we sit in a staff room and talk, it is always about our students, administration, likewise. We know how to maintain a balance between personal and professional lives, only if people knew better."
Rani had been honoured with the award of the best teacher in the district. It is wonder how she handles so many projects simultaneously.