Women excel agriculture at Bapatla College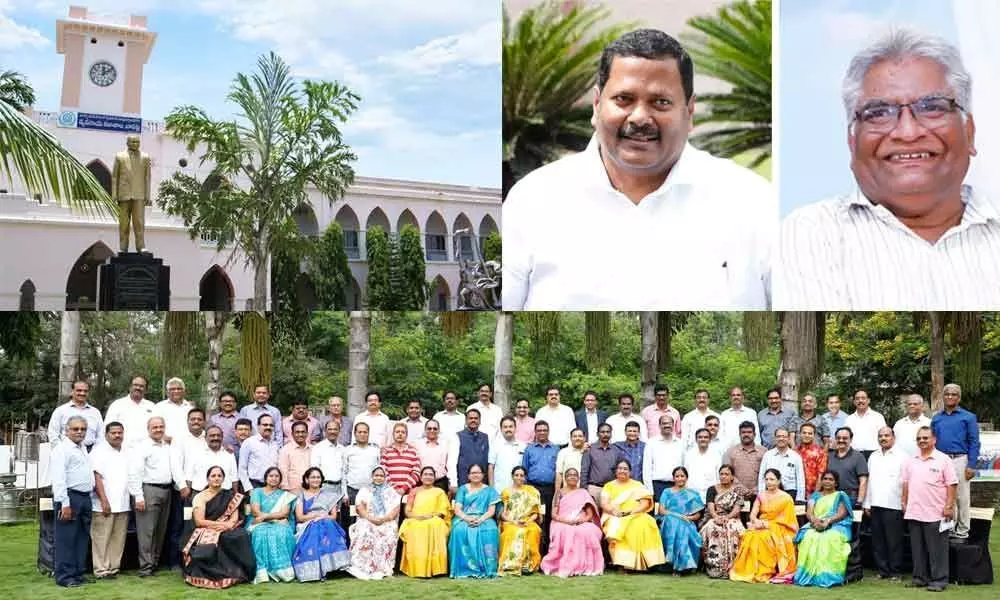 Highlights
After medicine, agriculture has come to be a popular course for girls in Bapatla Agriculture College where almost 70 per cent of the graduates are...
If you thought an academic course in Agriculture is not popular with women, here's another thought coming. There is a College of Agriculture in Andhra Pradesh where almost 70 per cent of the graduates are women.
And the women go on to become noted professionals in diverse fields from agriculture, teaching to policy and administration.
Bapatla Agriculture College is a name that is taken in a reverential and loving tone by generations of students who have crossed the hallowed portals, proud and knowledgeable.
The College is all set to celebrate its Platinum Jubilee in a few months, having been set up in pre-Independent India in the then Composite Madras State.
Instituted with the aim of training young people in agricultural skills so that they can contribute to the reconstruction activities in the post-World War era, it is the oldest among all Agriculture Colleges in the Telugu States and is housed in a building that stands as a witness to a long history and heritage in agriculture.
Affiliated to Andhra University in 1945, the first batch of students graduated seventy years ago in 1948. Subsequently set up on a sprawling land near Guntur at Bapatla, the College quickly multiplied its credentials with permissions to give Post Graduate Degrees (M Sc) in Agriculture as well as Genetics, Plant Breeding, Entomology, Soil Sciences, Agricultural Economics, Plant Physiology etc.
It was brought into the fold of AP Agricultural University, later on to be called Acharya NG Ranga Agri University until the State was divided. Ph D programmes, Agricultural Engineering and Home Science were quickly added to the repertoire of the institution.
More than 10,000 students are estimated to have graduated from the College. The College had received accreditation from the Indian Council of Agricultural Research, New Delhi.
As preparations are underway to celebrate the glorious occasion of Platinum Jubilee, one of the most vibrant batches that the College has ever seen, the class of 1980 recalls its time in the Institution with heartwarming pride.
The batch has, in fact, many firsts to its credit, including turning out the largest number of Civil Servants, a record hitherto unbeaten, and of instituting the first-ever gold medal for a girl student at the under-graduate level.
The class of 1980 has deposited an amount of Rs 2.2 lakh in the University account, making an endowment for the Gold Medal.
"Our batchmates are in the departments of Agriculture and Horticulture and in ICAR," says Gopichand Valeti, of the same Class. Most of his batch mates got into key policy-making posts and have risen to high posts such as General Managers in national banks.
The AP Forest Chief Pradeep Kumar, Telangana State GST Chief Purushottam, Principal Secretary in Punjab Government, Venu Prasad, AP Special Rehabilitation Commissioner Baburao Naidu, Income Tax Principal Commissioner Hemalatha Devi, Customs Commissioner D Polu Naidu, NTPC ED Nanduri Srinivas, NABARD Karnataka Head Suryakumar, IIOR Director Vishnvardhan Reddy, Odisha Forest Senior Officer Mohan, Gujarat Forest chief Yadaiah and agri scientist at IEG Institute of Economic Growth, NCS Rao are among the prominent members of the 1980 batch.
The 136-member group has now produced an album, entitled ChelimiPodion the occasion of completing 40 years after Graduation, compiling pictures starting from their Intermediate passport size photos till date.
"The album is such a wonderful bouquet, it is as if we have tattooed our memories on our hearts," Gopichand smiles. There are even six couples in the same batch.
"We want to send the message across that education is crucial to a successful life. We want to give awards to those students who do well and set up a trust for welfare activities," explains Purushottam.
"After medicine, agriculture has come to be a popular course for girls, followed by Veterinary Sciences and we consider it a significant development in the field of education.
Now, about 70 per cent of all admissions into agriculture are girls. And we would like to encourage more girls to excel," says Gopichand.
Most students move on but this batch never lost fondness for the institution that stood them in a good stead in life. "We keep revisiting the college, have reunions every year and have resolved to give back something to the college that taught us everything in life," adds Gopichand.
"In our last reunion, we had our teachers calling us out by our names and our roll numbers. It was thrilling."
Women are not new to agriculture. Some 70 per cent of all agricultural activities are done by women. And they're rapidly making their way into key policy positions in development verticals as well. And Class of 1980 of Bapatla College is more than eager to help make it happen.Usha Turaga-Revelli
Subscribed Failed...
Subscribed Successfully...