Tollywood News: Film stars' insensitivity to public issues in real life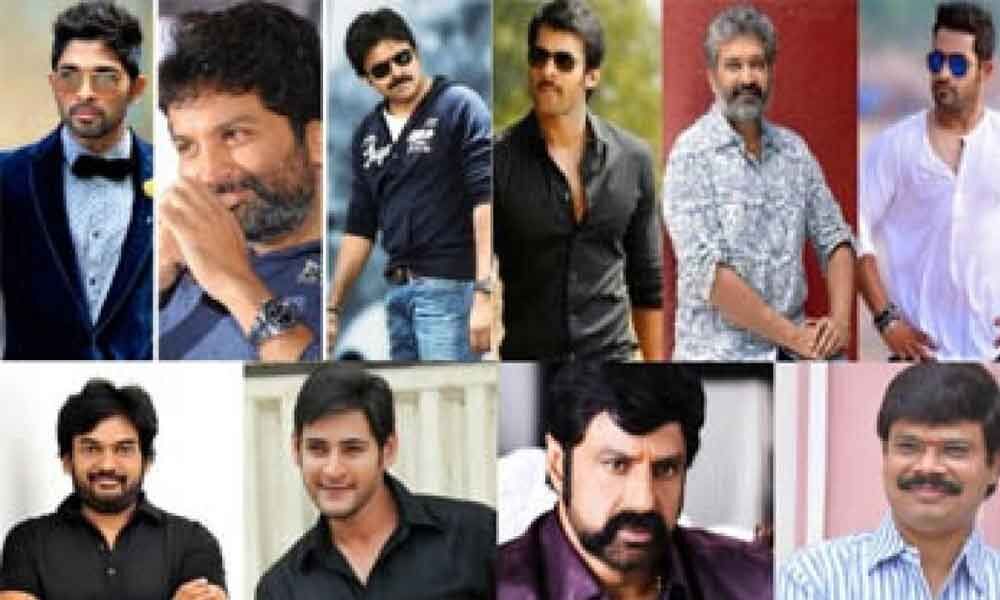 Highlights
Tollywood News: For most Indians, movies have become an integral part of lives, so much so that we eat, sleep and breathe movies, taking vicarious...
Tollywood News: For most Indians, movies have become an integral part of lives, so much so that we eat, sleep and breathe movies, taking vicarious pleasure idolising our onscreen heroes in different walks of life.
Our reel-life protagonists' charming virtues and histrionics in reducing the antagonists to dust, energetically sorting out family issues amicably, in addition to romancing and winning the heroine's heart have impressed many a filmgoer.
Thus, film stars have become onscreen role models for many youths. Thereby, giving confidence and propagating messages to many youths that any feat is achievable and accomplishable in life.
All sounds good and impressive in disseminating all these social causes with relevant messages. But how much of it is actually put into effect and practice in real life by these reel-life heroes?
It is because of the moviegoers that these so-called actors have attained riches, fame, and celebrity status. A very few realise that life is not always about taking but also giving it back, if not paying forward.
Today, the stark reality of real life is it is different in comparison with reel-life. There are so many social issues and ills prevailing in the society that none of these reel-life protagonists either stand up against/for nor do they speak openly, let alone come forward and support the cause, either out of fear and backlash from political and government machinations in the form of Income Tax raids, throttling of film industry levying penalties, narcotic cases, denying permissions on personal properties, etc. and for fear of trolls on social media and mainstream media.
They lack courage and moral stand to even express their opinion or to stand up against atrocities that are happening around them. Such is the hypocrisy. Here, we all filmgoers and fans without even batting an eyelid come in defense of the heroes on social media and take the law into our hands.
Their silence and 'care a damn' attitude for what is happening around them and their unwillingness to stand up and condemn what their fans are doing to those who speak or say anything against the so-called heroes, speaks volumes about their lack of grit and character.
So, it becomes imperative for the film stars to be setting high standards by condemning such incidents and ward future occurrences.
A major chunk of the present film industry is nepotistic with only certain families calling the industry shots. They force their star kids on filmgoers until they get accepted despite their box-office failures.
In spite of this, the filmgoers have been patient, faithful and loyal to their stars. These very celebrities who bask in the glory of their fans and filmgoers do not want to raise their dissent or voice when their fans are in embroiled in issues.
They give priority to appease the governments in power. Such is the irony.
Interestingly, many of the first families of Telugu film industry hail from Guntur and Krishna districts. There have been protests by farmers in Amaravati and adjoining districts to boycott Telugu films, for not expressing solidarity in their struggle against shifting of capital from Amaravati, among many other issues.
Celebrities are looked up by fans and filmgoers in the same fervour and so what they say or do impact many a life, more so when it entails prevailing social issues and causes.
Their silence, in the wake of these burning issues is not going well with the film populace and has rubbed salt on wound of the sufferers.
In Amaravati, over 26,000 farmers gave their lands under the scheme of land pooling for constructing the capital city of Andhra Pradesh. For the last five years, they cherished their dreams about the capital city and their future.
But recently, the new Chief Minister of Andhra Pradesh, Jagan Mohan Reddy gave a shock to them by announcing his scheme of three capitals ostensibly to shift the capital from Amaravati to Visakhapatnam.
The farmers were startled by this development unfolding and lost their sleep. More than 40 farmers died. Not caring for food or anything, they took to roads in a bid to save their capital city. They were also seeking support from different sections of the society including film stars.
Pawan Kalyan, a film star-turned-politician stood by them, while his brother Chiranjeevi came up with a big shocker by supporting the three capitals formula of Jagan, eyeing a Rajya Sabha seat nomination.
Tollywood film stars, who show incredible powers in the films like Baahubali, Maharshi, Khaidi No.150 etc. could not open their mouths when the farmers were in a life and death situation.
Celebrities expressing solidarity and coming together only for natural calamities fund raising campaigns alone is not enough.
They should stand up and express solidarity for political issues and social ills arising and affecting the society at large, be it – Telangana formation, CAA, Amaravati capital shift, farmer suicides, CASH/POSH, rapes, etc. to name a few.
In contrast, their Bollywood counterparts have the spine to stand up and be vocal either for or against raging issues irrespective of their awareness on the subject.
What also ails these Telugu film stars is their social responsibility towards the very same society which has given them this celebrity status, calls for introspection.
On an equal note, the fan clubs and moviegoers should also think twice about their blind adulation about their favourite film stars and their contribution to society.
The fear of IT raids and intimidation by the governments in different forms are attributed to be the reasons for the silence of the stars.
It would be better if there is isomorphism between the real life and reel life of film stars. This silence by the Telugu film fraternity either out of sheer ignorance or to steer clear from controversies is an enigma and needs to be watched closely, as time will only tell.
Subscribed Failed...
Subscribed Successfully...