Invasive lionfish threaten, ecosystems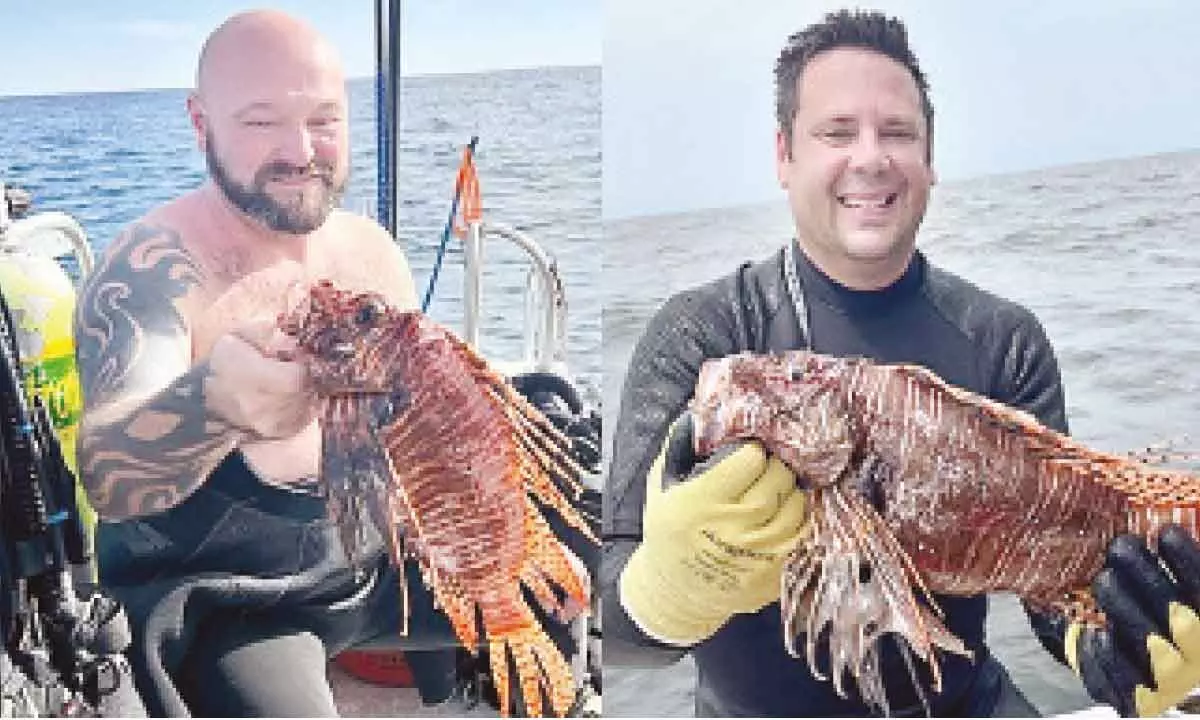 Highlights
A 2011 study found that lionfish on reefs in the Bahamas were larger and more abundant than their Pacific counterparts. Lionfish thrive in many marine habitats, from mangroves and seagrass beds to deepwater reefs and shipwrecks. They are aggressive, persistent hunters that feed on smaller fish, including species that keep coral reefs clean and others that are food for important commercial species like snappers and groupers
Brazil's coastal waters teem with a rich array of species that paint a living tapestry beneath the waves. This underwater world is particularly special because many of its species are endemic – they are found nowhere else on Earth.

The southwestern Atlantic is home to 111 endemic reef fish species, each of which plays a crucial role in the intricate web of marine life. An uninvited guest has arrived in these tropical waters: the Pacific red lionfish (Pterois volitans). Renowned for its stunning appearance and voracious appetite, the lionfish was first detected off of Florida in 1985 and has spread throughout the Caribbean, killing reef fish in large numbers. Now it has breached a formidable obstacle: the Amazon-Orinoco river plume, which flows into the Atlantic from northeastern Brazil. This massive discharge of fresh water has long functioned as a barrier separating Caribbean fish species from those farther south along Brazil's coastline.
Since then they have spread throughout the Caribbean Sea, the Gulf of Mexico and northward as far as Bermuda and North Carolina – one of the most successful marine invasions on record. A close relative, the common lionfish or devil firefish (Pterois miles), has invaded the Mediterranean Sea and is spreading rapidly there. Lionfish can be eaten safely if they are properly prepared to remove their venomous spines. In Florida and the Caribbean, lionfish hunting tournaments have become popular as a control method. However, lionfish move to deeper waters as they grow, so hunting alone can't prevent them from spreading.
Marine scientists have anticipated for years that lionfish would someday arrive along the eastern coast of South America. A single sighting in 2014, far removed from the Amazon-Orinoco plume, was likely a result of an aquarium release rather than a natural migration. Then in December 2020, local fishermen caught a pair of lionfish on coral reefs in the mesophotic, or "twilight," zone several hundred feet below the mighty Amazon River plume. A scuba diver also encountered a lionfish in the oceanic archipelago of Fernando de Noronha, 220 miles (350 kilometres) off Brazil's tropical coast.
A 2011 study found that lionfish on reefs in the Bahamas were larger and more abundant than their Pacific counterparts. Lionfish thrive in many marine habitats, from mangroves and seagrass beds to deepwater reefs and shipwrecks. They are aggressive, persistent hunters that feed on smaller fish, including species that keep coral reefs clean and others that are food for important commercial species like snappers and groupers. In a 2008 study, when lionfish appeared on reefs in the Bahamas, populations of small juvenile reef fish declined by 80 per cent within five weeks. Brazil's northeast coast, with its rich artisanal fishing activity, stands on the front line of this invasive threat. Lionfish are present in coastal mangrove forests and estuaries – brackish water bodies where rivers meet the sea. These areas serve as nurseries for important commercial fish species. Losing them would increase the risk of hunger in a region that is already grappling with substantial social inequality.
The COVID-19 pandemic further reduced field research because of lockdowns and social distancing measures. Making up for lost time Brazil has a history of inadequately monitoring for early detection of marine invasions. The lionfish is no exception. Actions thus far have been reactive and often initiated too late to be fully effective.
As one of many Brazilian scientists who warned repeatedly about a potential lionfish invasion over the past decade, I'm disheartened that my country missed the window to take early action. Now, however, marine researchers and local communities are stepping up. Given the length of Brazil's coast, traditional monitoring methods are often insufficient. Brazil missed its initial opportunity to prevent the lionfish invasion, but I believe that with strategic, swift action and international collaboration, it can mitigate the impacts of this invasive species and safeguard its marine ecosystems. (Research Fellow in Aquatic Ecology, Charles Darwin University, Australia)