The vital role parks play in our lives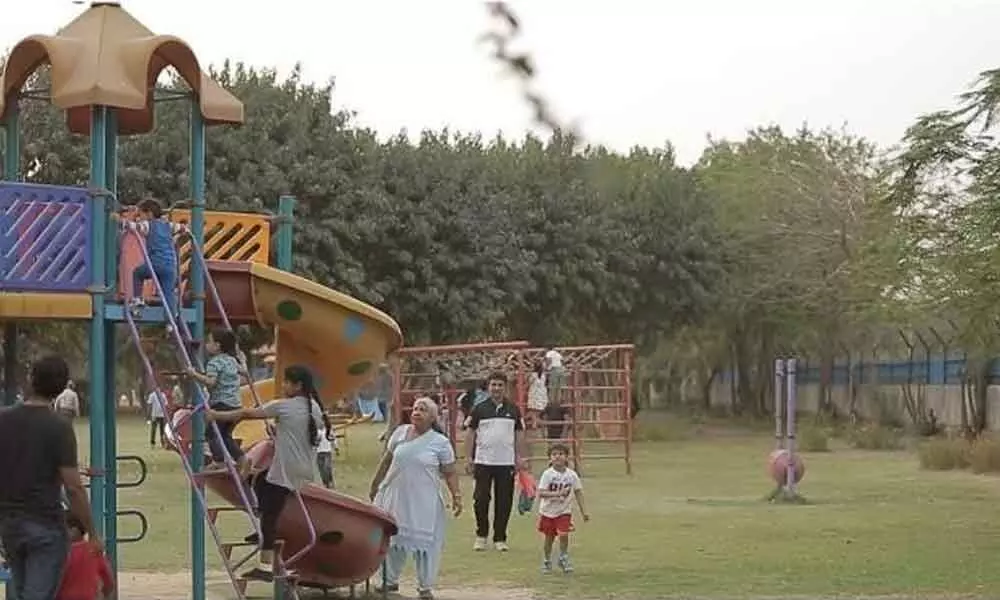 Highlights
One of the major concerns which humanity is addressing today is unbridled urbanisation. For the first time in history, more than 50 per cent of the world's population now lives in towns and cities.
One of the major concerns which humanity is addressing today is unbridled urbanisation. For the first time in history, more than 50 per cent of the world's population now lives in towns and cities. By 2050, this number is expected to increase to 66 percent. The shift from rural to urban areas, mainly in Africa and Asia, is on account of poverty and related socio-economic factors.
For the most part, the rapid expansion of cities is not informed by a sound land use planning strategy with regard to the limitations of the supportive infrastructure. The resulting human pressure has highly damaging effects on forests, landscapes, as well as green areas in and around cities, contributing to health hazards. The resultant environmental impact is intensified by climate change and leads to increased atmospheric pollution, decreased availability of food and resources, as well as increased poverty and frequency of extreme climatic events.
As cities become more and more populated and challenges relating to climate change and pollution are being viewed with anxiety, the importance of parks and their potential to help address critical urban infrastructure and public health issues is being increasingly recognised in the effort to build healthy, liveable and sustainable habitations.
Parks are emerging as important public health solutions in urban communities. Evidence from research has confirmed that parks, gardens, urban forests and green spaces, promote health and wellness. They also contribute to the effort at providing a balance between development and environment. Studies have shown that they encourage people to exercise and also aid quick recovery from illnesses and surgeries.
Parks not only provide precious lung space for cities and improve the physical and psychological health of people, but also make cities more attractive for living and working. Many of them also provide recreational opportunities, especially for children. As they attract large numbers of people, they increase the value of the properties in the surroundings.
With changes in the pattern and quality of social compulsions, childhood experiences are undergoing significant changes. Absence of leisure for outdoor play and increasingly sedentary lifestyles, are causing a disconnect from the natural world. Parks and green open spaces offer a significant avenue of relaxation, socialisation and entertainment for the elderly also.
The majority of the elderly reside in their own homes or with relatives. Whether in a facility or at a personal home, particular symptoms of decrease in the quality of life begin to show in them over time. The symptoms include boredom, helplessness, and loneliness. Fortunately, many, if not all, of these symptoms can be improved with gardening and exposure to outdoor spaces.
Large parks, well-kept with playing fields and greenery where people can enjoy walking or cycling, contribute significantly to active lives and avoidance of chronic diseases. Equally important is the role of small parks and nature spaces for health. Jogging and brisk walking in clean surroundings are widely accepted as the ultimate stress busters.
According to a study from 2010, time spent outdoors makes people feel "more alive." Bonding with Mother Nature can lead to an increased sense of vitality and energy, which in turn can help boost resilience to physical illness.
Many studies have confirmed the beneficial impact of urban-area vegetation on ambient air quality as it contributes to containment of air pollution. Trees and other plants often do a better - and cheaper - job of scrubbing pollution from the air than technological solutions, according to a study led by an Ohio State University engineer. Trees can help mitigate some of the negative impacts and social consequences of urbanisation, and thus make cities more resilient to these changes.
Well-maintained parks can also serve as tourist attractions, be showcased as community signature pieces and act as a marketing tool for cities to attract businesses and conventions. When a modest fee is charged for entry and the facilities provided, they can also become self-sustaining economically. The trees in a park also absorb a lot of water from the ground, thereby reducing the flow of water into overburdened storm water pipes, thus reducing the expenditure on the management system of drains.
A city with well-planned and well-managed green infrastructure becomes more resilient, sustainable and equitable in terms of nutrition and food security, poverty alleviation, livelihood improvement, climate change mitigation and adaptation, disaster risk reduction and ecosystems conservation.
In the cities based in the tropics, urban open green spaces are of particular importance as they offer shading and cooling, to mitigate the urban heat island effect and with regard to air pollution.
Citizens of the twin cities remain indebted to the public spirited initiative of K Vijay Bhaskar Reddy the then Chief Minister of Andhra Pradesh, and the spontaneous reaction of the then Prime Minister P.V. Narasimha Rao, who combined to convert 300 acre plot of forest land, belonging to the family of the Nizam, in the heart of the metropolis into a National Park – literally overnight, and in a dramatic manner to overcome pressure from non-officials and officials alike. People, literally in the thousands, swarm the place for walks – many as early as 4 am. So popular has it become over time that, when it was shut down for a short while recently, while (following the lock down in the wake of the Covid – 19 virus), there was a collective cry of disappointment in the city.
Wherever I have been in the world, one of my first of tasks has been to locate the nearest park for walking and jogging. I enjoyed the fruits of such an investigation in many places from metropolises such as New York and London, through cities like Brasilia and Ahmedabad to small district towns like Chittoor in Andhra Pradesh.
The Cubbon Park in Bangalore, the Public Gardens in Hyderabad, the Nehru Park in Chanakya Puri, New Delhi and the Botanical Gardens in Chennai are examples of lush green parks which offer most of the advantages we have just noted.
A somewhat relatively less known benefit of parks is their ability to act as great levelers. When for instance, did you think about the political persuasion, religious faith or racial background of the persons you met in parks in recent times? In fact, it is quite common to see people getting together to participate in community events (such as laughter clubs or office picnics) organised in parks irrespective of their economic status or social backgrounds. Clearly parks and open spaces have a significant role as instruments of social connection.
Parks, and their importance to the various aspects of social and economic life, have gained so much importance internationally that some vast networks have sprung up to promote the idea of raising, promoting and maintaining them in good shape.
One of the earliest was the International Federation of Park and Recreation Administrations (IFPRA) which was started in 1957, in London, at the 1st World Congress in Park Administration. It ceased to exist, when merged with the International Urban Parks and Green Space Alliance (Parks of Life) to create World Urban Park (WUP), a new international organisation representing the vibrant urban parks, open space and recreation sector.
At a time when urban growth will see 70 percent of the world's population living in urban areas by 2050, sharing knowledge and providing a collective voice for all people and organisations engaged in green cities, open space, recreation, health and related activity is vital.
In similar lines the Parks Action Group (PAG), was launched in the UK as part of the government's response to the House of Commons Communities and Local Government Select Committee report into the future of parks and green spaces to help England's public parks and green spaces meet the needs of communities now and in the future. PAG includes experts from the world of parks and green spaces and is tasked with bringing forward proposals to address some of the issues faced by public parks and other green spaces across England.
There has never been a time, in the history of mankind when the people of the world did not face one threat or other. Despite all the strife and conflicts that have always divided the world, a spirit of cooperation and unity invariably came to the fore in times of crises and ensured that those challenges were overcome.
What we have discussed in this column today, however, is the sort of thing that should become a continuing concern that needs to inform the effort of countries across the world to provide to people an environment that will enable them to stay active and healthy.
The species of homo sapiens is known to be the only one that is capable of endangering the environment that protects and sustains it. Creation of green, open and thickly vegetated spaces, however, is one method of mankind showing to itself that it is capable of doing the opposite thing too!
(The writer is former Chief Secretary, Government of Andhra Pradesh)