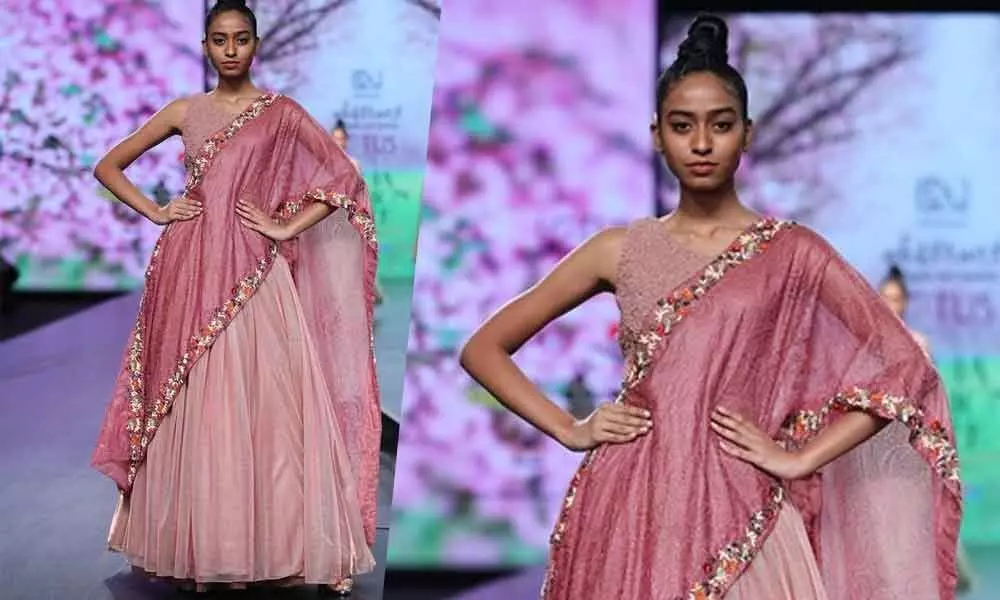 Highlights
Designer Gazal Mishra's collection evokes the nostalgia of school days among the audience at India Fashion Week
Designer Gazal Mishra's show on the second day of the Lotus Makeup India Fashion Week Spring/Summer 2020 was an instant hit as soon as the iconic song "School chale hum" started playing in the background, evoking the nostalgia of school days among the audience.
Mishra presented her collection "Pathshala", which was inspired by the memory of her school days. The line-up comprised easy-breezy silhouettes, rendered mostly in cotton and linen fabric.
The models sashayed on the ramp wearing umbrella dresses, kurta with trousers and stoles, peplum jackets, multi-layered "anarkali" dresses in powder blue, navy blue and indigo and the classic black shoes with white socks.
Designer Anju Jain presented her collection "Brahmaputra" on the ramp, rendered mostly on organza which the designer believes "showcases the fresh purity of water".
The line-up comprised gowns, skirts with blouses in mostly aqua colours of green, blue and ivory. Jain used a lot of frills and ruffles to represent the liquidity and waves of the majestic river.
Former beauty queen and actress Zoya Afroz strutted the ramp for the designer, wearing a short white princess dress with a trail and feathered sleeves, accesorised with a crown.
Designer Megha Jain Madaan also showcased her collection titled "Campo De Fiore", inspired by the magnificent and alluring meadow of flowers in ancient Rome, which has now been transformed into a flower market.
The collection comprised gowns with capes, drape sarees in sheer fabrics and worn over cigarette pants in shades of pink, lavender and aqua green.