Stay warm, yet trendy this season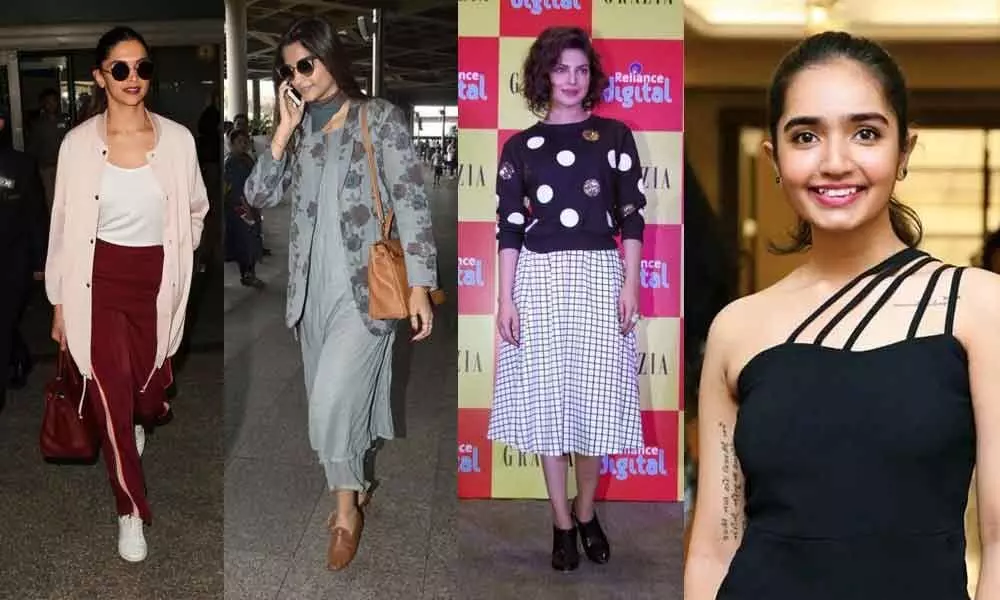 Highlights
Get your look right; here's a lowdown on tips to nail the winter look from experts
Get your look right; here's a lowdown on tips to nail the winter look from experts
Winter is a time when keeping yourself warm is not the only criteria. It is that time of the year when we decide to flaunt our jackets, cardigans, sweaters.
Keeping in mind the changing fashion, few fashion experts bring together a look book to help you look stunning even in warm looking outfits in addition to a few looks that celebrities are seen sporting.
With winter setting its chills amongst people, women get to choose varied collections off the rack and get trendy with the season.
While we look into the options that we have for winter fashion, let us check out the looks of a few celebs and what they have chosen from their wardrobe.
Be super comfy in a monochrome maxi dress and pair it with a loose fit floral printed jacket. You can add a scarf too for extra warmth around the neck or to simply manage your unruly hair like the style icon Sonam Kapoor
Sneakers, track pants, mid-long cardigan jacket, all convey cozy, comfort afternoon. Enter bold lips and aviator shades, and you are bound to be noticed even in a crowd like the all-time beauty Deepika Padukone
Priyanka has beautifully paired full sleeves sweater with check flared skirt. Knitted sweaters is very trendy option to flaunt.
All the Bollywood divas are going for it and the time has come to flaunt your coolness with a knitted sweater. Invest in branded knitwear as cheaper options often lose their shape and can pill quickly.
A cardigan with ripped denim, styled them with brown shoes. The best thing about Cardigan is that it gives you the option of layering, and can be dressed up or down, depending on your outfit, and that is how Alia Bhatt nailed her winter look.
Designer Deepali Jain gives her trend tips to get through the season in style. "A woman can be trendy in winter by layering a long pastel coat over cropped ankle jeans that show off your favorite ankle boots.
Wear with a perfect blow-out and a chic clutch purse. Puffer coat and leggings is another great option for winters. You can also wear maxi dresses with slouchy boots.
Pantsuit is the best option for professional days! Winter dressing doesn't have to mean dark colours. Stand out in the crowd by choosing fashion separates in lighter colours, such as pretty pastels, for cold days."
To know more about winter fashion from a designer's point of view, here are ten ways to stay chic this winter from designer Jayashree Patel
Layer, Layer, Layer
Style tip: Purposeful layering is the perfect way to achieve warmth while putting together a chic look. Layering allows you to play with a mixture of patterns.
The key is to get thinner pieces that offer maximum warmth (such as cashmere), layer on scarves to pull the looks together, and playing with varying lengths to flatter your body shape.
Go over the knees- Boots
This is the perfect strategy if you happen to come across a six-inch patent leather pair that you might have been inspired by on the runway but stick in the back of your closet when it comes time to wear them.
Instead, I recommend opting for a flat or low-heeled boot in shades and materials you feel comfortable wearing.
Get a chic and trendy look by either wearing the pair with matching pants (black-on-black, tan-on-tan, etc.), or making a skirt or dress more weather appropriate by pairing a skinnier shaft boot to cover more leg.
Take a walk on the wild side
When it comes to winter months, (fake) fur is one of those sartorial no-brainers when it comes to keeping warm. From faux fur options all the way to fox fur; fur pieces (when worn tastefully) immediately elevate your look.
Consider substituting a peacoat or jacket for a fur coat. The change in texture creates a more high-end look that keeps you warm and au courant with this season's trends.
Make a statement
Style tip: If you're willing to make a statement with shoes, bags, and necklaces, a great next step is to make a statement with a coat.
Skip the gray and black and opt for a statement coat in either a bright hue or the leopard prints. The key to pulling this look off is by keeping the rest of your look neutral and simple. Let the coat do all the talking.
Wear white
Most people shy away from white during the winter months. Much like the statement coats above, white jackets and coats can actually brighten a look and still feel winter appropriate.
Pair your white piece with darker prints (such as the dark floral print pencil skirt below) or dark solids for a contrast that is still lively.
Keep your head warm
During winter, quite a bit of your body's heat can be lost by not protecting your head. So, a hat is absolutely essential when the temperatures get really low.
Think of this as an opportunity to invest in a hat you know you will want to wear and that flatters both your look and face shape.
Another chic option is a wool wide brim hat. It keeps your face free, while the wool hat keeps your head warm.
Drape and belt
Create dramatic shapes and flow by opting for a draped cardigan. The additional material is a great option for keeping you warm and allowing you to feel like you are wrapped in a toasty blanket.
However, to keep it closed, either opt for a belted cardigan or select a coordinating or contrasting belt.
Pair the heavier, draped top with leggings, slim leg pants, or a sweater dress to create a more flattering silhouette that is not too bulky on the top and bottom.
Statement scarf
Style tip: Scarves are a winter must have and offer an opportunity to add color to a dark look.
Statement scarves can either be oversized or regular sized pieces, but they usually have a variety of textures (such as the fur scarf below) and/or offer bright prints and colors.
If you notice that you have a very dark and/or plain look that needs a little more life to it, consider a statement scarf to create a higher impact look.
Put a cape on It
Style tip: Capes are always the perfect choice when you want a dramatic and chic piece that requires very minimal effort.
From jeans to leggings to dresses, a cape is a nice way of pulling a look together while still keeping you warm.
As usual, pay attention to proportions when styling your cape. For many body shapes, keeping the bottom leaner and less bulky is key to pulling of this look.
All you need are gloves
Long gloves are the perfect opportunity for you to wear shorter sleeve coats and jackets.
Don't feel confined to wearing only black pairs, opt for some color (like the pink and brown pairs below) that will not simply blend in but bring a life of their own to your look.