Food Safety Matters!!! Let's leave Safer Foodprints….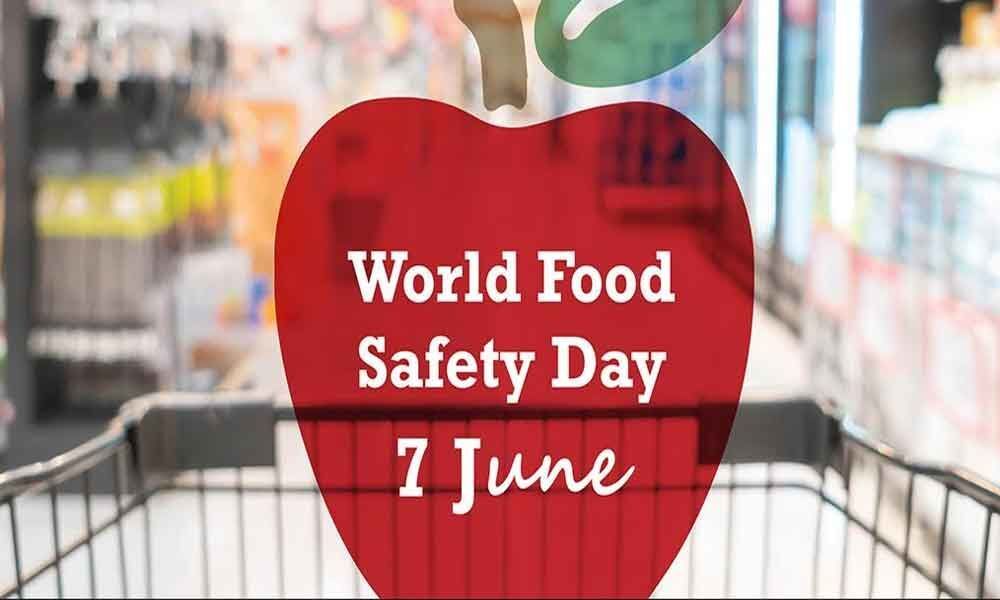 Highlights
We derive energy from air we breathe, water we drink, food we eat, sunlight we absorb.
We derive energy from air we breathe, water we drink, food we eat, sunlight we absorb. The ever-growing food value chain in this interconnected world, food safety becomes increasingly complex. The question is: Is our food safe? NO. It is a matter of concern to everyone. Hence, United Nations thought it appropriate to designate June 7, as World Food Safety Day to focus and draw attention to food safety with the theme: "Food safety, everyone's business." India says: If it's not safe, It's not food!
June 7, 2019 will be the first-ever observance of World Food Safety Day due to the adoption of the United Nations (UN) General Assembly and a joint-venture between the World Health Organization (WHO), and the Food and Agriculture Organization (FAO).
World Food Safety Day is an unprecedented opportunity to strengthen systems that guarantee safer foods across sectors and across the world. Unsafe food subjects' humans to misery, sickness, hospitalization and even death. As per WHO, diarrhoeal diseases are responsible for 94% of food borne illnesses, 63% of related deaths and 57% of disease burden leading to millions of sick days impacting human & animal health in turn impacting economy, trade, tourism and environment.

The solution lies in the Teamwork concludes Dr. Dorit Nitzan, Acting Regional Emergency Director, WHO, Europe. He said, "From handwashing, cooking and storing food properly, to surveillance and international regulation – every piece of the food safety puzzle affects lives, economies and whole communities. World Food Safety Day is an opportunity to say out loud that it's teamwork that will make the difference."
Food packaging is a non-negotiable component as its main function is to keep the content and consumers safe, both humans and animals. This calls for 'Clean Packaging', free from unknown chemicals and those substances that can be safely used in direct food contact.
Food Safety & Sustainable Development Goals
Among the SDGs, four SDGs become concern with respect to the Food Safety. They are Goal No.2 – Zero Hunger, Goal No. 3 – Good Health & Well-being, Goal No.12 – Responsible Consumption and Production & Goal No. 17 – Partnerships for the Goals.
The Food Safety and Standards Authority of India (FSSAI) has been established under Food Safety and Standards, 2006 which consolidates various Acts & Orders that have hitherto handled food related issues in various Ministries and Departments. FSSAI has been created for laying down science-based standards for articles of food and to regulate their manufacture, storage, distribution, sale and import to ensure availability of safe and wholesome food for human consumption. "Safe, wholesome and hygienic food will create 'Swasth Bharat'. This has to be cornerstone of the efforts of FSSAI." said, Shri Narendra Modi, Prime Minister of India.
I bring this day to the attention of all of you and appeal for appropriate observation by way of teaming up towards continuing the actions in the days to come. Let us build capacities of consumers to make healthy food choices ensuring food safety. Let's make it simple and put safer Foodprints – local production and local consumption enabling global impact. Act now to make lasting difference to self & others.
Author: Pragnanand, Food Therapist, Psychologist, Yoga and Life Coach and Founder of M/s AVINASHH, a Health, Healing & Wellness Institute.