October Festivals of India -2019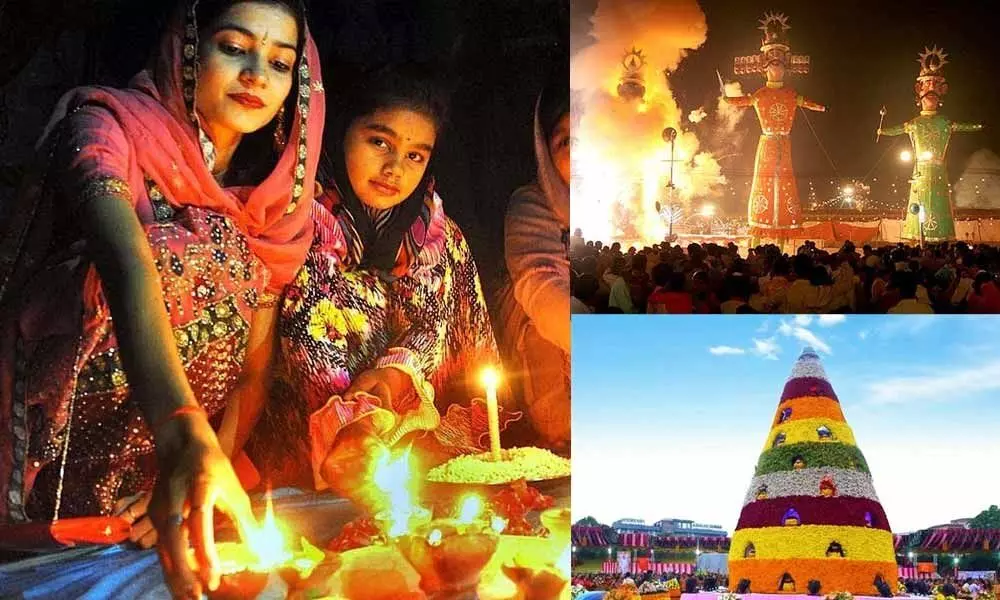 Highlights
October is a very exuberant time in India. The monsoon rain has eased in most places, and the festival season is in full swing! Come to India in...
October is a very exuberant time in India. The monsoon rain has eased in most places, and the festival season is in full swing! Come to India in October and take part in events filled with lights, music, and dance. Here's the best of what's on in October in India (in date order).
Ramnagar Ramlila
The world's oldest Ramlila, which reenacts the story of the Hindu epic the Ramayana, has been running for nearly 200 years. It commences with the incarnation of Lord Vishnu as Rama, to save humanity from the demon king Ravana. The Family takes place over a month every year from Anant Chaturdashi and ends on the full moon night.​
When: September 12–October 13, 2019.
Where: Ramnagar, on the banks of the Ganga River opposite Varanasi.
Abhaneri Festival
The annual two-day Abhaneri Festival is held to promote rural tourism in Rajasthan. It features cultural performances from a number of states across India, Rajasthani song and dance, puppet shows, camel cart rides, and a fairground. The events take place against the evocative backdrops of the Harshat Mata Temple and ancient Chand Baori (step well).
When: September 30–October 1, 2019.
Where: Abhaneri village, Rajasthan (on the Agra-Jaipur Road).
Navaratri
Navaratri is a nine-night festival that celebrates the Mother Goddess or Shakti in all her manifestations, including Durga, Lakshmi and Saraswati. Worship and fasting take place in the daytime, while the nights are reserved for feasting and dancing. The festival culminates with Dussehra, the victory of good over evil, on the tenth day. In Delhi, the feature of Navaratri celebrations are the Ramlila plays that take place all over the city. The festival is celebrated as Golu, with the display of dolls, in South India. In Kolkata, it's Durga Puja.
When: September 29-October 7, 2019.
Where: Across India.
Bathukamma
The state festival of Telangana in South India, Bathukamma is a flower festival that celebrates life and the Mother Goddess during Navaratri. It's devoted to Goddess Maha Gauri, an incarnation of Goddess Durga that's considered to be the life-giver and goddess of womanhood. She's worshipped in the form of Bathukamma, a floral arrangement stacked to resemble a temple tower. Women sing old folk devotional songs and take the Bathukammas out in procession to immerse them in the water on the last day.
When: September 29-October 7, 2019.
Where: Hyderabad, Telangana.
Kabir Yatra
Back for the fifth edition this year, the Kabir Yatra is a travelling folk music festival in Rajasthan. It will feature more than 50 artists from across India who will perform music from different genres. Attendees will also be able to listen to poetry from Bhakti and Sufi saints such as Kabir, Mira, and Bulleh Shah. The festival will showcase the work of painters, sculptors and photographers inspired by this tradition as well.
When: October 2-6, 2019.
Where: Jodhpur, Jaisalmer and Bikaner.
India Music Summit
The three-day India Music Summit returns for its third edition this year. Started by a group of India's top music professionals, this event provides an outstanding opportunity for music lovers and musicians to engage with music from diverse genres. It's a wonderfully immersive event with morning baithaks (informal performances/gatherings), masterclasses, concerts, conversations and night sessions.
When: October 4-6, 2019.
Where: The Fairmont, Jaipur, Rajasthan.
Durga pooja
In honour of mother goddess Durga, beautifully handcrafted statues of the goddess and her children are installed in podiums in almost every lane of the city during this festival. People flock to the streets to view the displays amid mesmerizing light shows, drumming, and aromatic food stalls. On the last day of the festival, the statues are paraded around the city before being submerged in the river. Read more about the Durga Puja festival and the best ways to experience Durga Puja in Kolkata.
When: October 4-8, 2019.
Where: Kolkata, West Bengal. Durga Puja is also widely celebrated in neighbouring Odisha.
Ashwa Poojan
Known as the Worship of the Horse, this unique Rajasthani festival is grandly celebrated by the Mewar royal family of Udaipur on the last day of Navaratri. It honours the special relationship between warrior and horse. See the royal horses being worshipped by the current head of the royal family, accompanied by the palace band. A highlight of the festival is the mouthwatering Rajasthani cuisine.
Complement the celebration by staying at the Shiv Niwas Palace hotel or Fateh Prakash Palace hotel in the Udaipur City Palace Complex.
When: October 7, 2019.
Where: Udaipur City Palace, Rajasthan.
Dussehra
The day after the Navaratri festival is known as Dussehra. It widely commemorates the defeat of the demon king Ravan by Lord Ram. Huge effigies of Ravan go up in smoke all over India. However, there are other more unusual celebrations of the festival too. Some start at the beginning of Navaratri, such as Mysore Dasara, while others kick-off on the main day of Dussehra and continue on for weeks. Not all are associated with Lord Ram and Ravan. Some are tribal and some are regal. Goddess Shakti is worshipped in various forms too. See ways and places to celebrate Dussehra in India and photos of the Dussehra festival.
When: October 8, 2019.
Where: Across India but particularly in northern India.
Rajasthan International Folk Festival
This eclectic festival, which is the first of its kind in India, showcases regional roots music and the arts. It's a heady fusion of interactive educational events, staged performances, and late-night jam sessions. Performers include singers, dancers, instrumentalists and storytellers from various Rajasthani folk communities, as well as nationally and internationally recognized artists. The festival has an outstanding location in and around the imposing Mehrangarh Fort.
When: October 10-14, 2019.
Where: Mehrangarh Fort, Jodhpur, Rajasthan.
Marwar Festival
The Marwar Festival recognizes the culture of Rajasthan's Marwar region. It's held for two days over the full moon, in memory of the state's medieval heroes. The highlight of the festival is classic folk music and dance, which brings alive the myths and legends of the area. The festival also includes horse riding, horse polo -- and bizarrely -- camel tattooing.
When: October 12-13, 2019.
Where: Jodhpur, Rajasthan.
This festival, celebrated at an ancient and secluded snake temple in Kerala, is sure to leave an impression. The unusual temple is a pilgrimage center for devotees of serpent gods and has Brahmin woman chief priestess. The temple's multitude of snake idols are taken out in grand procession to the Brahmin ancestral home, where special prayers and offerings are made.
When: October 23, 2019.
Where: Mannarasala Sree Nagaraja temple, Harippad, Alleppey district, Kerala.
Diwali
Diwali, the biggest festival in India, celebrates Lord Ram and his wife Sita returning to their kingdom of Ayodhya after Ram and monkey god Hanuman defeated demon king Ravan and rescued Sita from his evil clutches (on Dussehra). Lots of small clay lamps (called diyas) and candles are lit and placed in houses, and fireworks are let off everywhere, giving Diwali its name as "Festival of Lights". See ways and places to celebrate Diwali in India and photos of Diwali in India.
When: October 27, 2019. It's observed a day earlier in south India, on October 26.
Where: Throughout India, except in the southern state of Kerala.
Bhandara Festival
This festival involves an astonishing amount of turmeric being thrown all over the temple premises by energetic devotees, who also sing and dance. At noon, the temple deity is taken out in procession and given a holy bath in the nearby river, which is the main highlight of the occasion. The festival happens on Somvati Amavasya. This is a new moon day that falls on a Monday. It usually occurs two or three times a year.
When: October 28, 2019.
Where: Khandoba temple in Jejuri, about an hour and a half southeast of Pune in Maharashtra. It's possible to visit it on a day trip from Mumbai if you hire a car. However, travel time one-way will be about five hours. Hence, it's more convenient to go there from Pune
Tawang Festival
The annual Tawang Festival is organized by the Arunachal Pradesh Tourism Department to showcase the culture of the state and promote adventure tourism. Highlights include a huge fair, chanting by the monks of Tawang Monastery, and folk and tribal dances.
When: October 29-31, 2019.
Where: Tawang, Arunachal Pradesh
Subscribed Failed...
Subscribed Successfully...